Ahead of tomorrow's 24 hour endurance race at the Nurburgring Nordschleife, Aston Martin has unveiled its new 'CC100 Speedster' concept car.
The first of Aston Martin's eventual plethora of commemorative concept car, the CC100 has been built to celebrate the company's centenary this year.
Fans of vintage automotive racing will undoubtedly see the aesthetic resemblance to the 1959 DBR1 racing car, which won that year's 24 Hours of Le Mans and the Nurburgring 1000km races at the hands of Carroll Shelby and Sir Stirling Moss respectivley.
The official press release, though, states the CC100 hints at the brand's "potential future design direction", which could come as a relief to some members of the petrolhead community who feel Astons look too similar nowadays.
Of course, some design elements would be hugely impractical in a more mainstream sports car – the Ariel Atom/BMW Just4/2 Concept-esque holes in the side obviously wouldn't be seen in a road car, but it would be interesting to see styling cues like the front grille and the sweeping headlights on, say, the next V8 Vantage.
If that doesn't end up being the case, though, the CC100 will still be connected to the Vantage family. Though Aston Martin hasn't officially confirmed this, the Speedster's overall size and proportions indicate it's based on V12 Vantage architeture.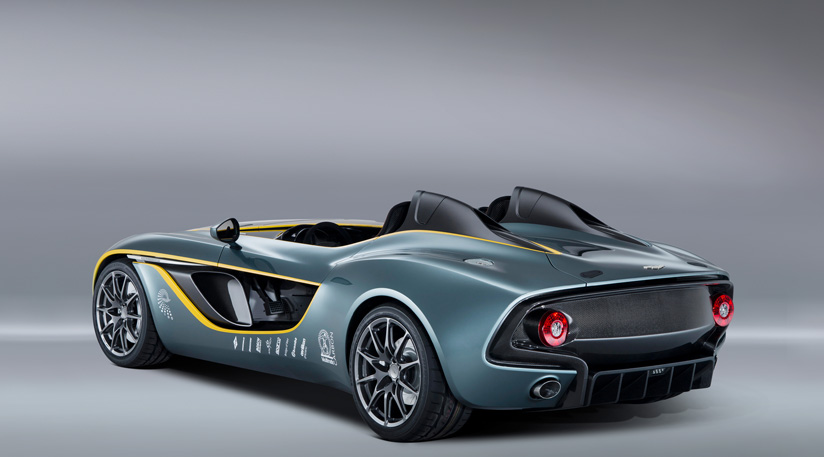 Performance is also fairly similar too – aided in part to the 5.9 V12 (Aston hasn't quoted any power figures, though we assume somewhere near 500hp), the Speedster can allegedly crack the 0-62mph run in four seconds, and head on to a claimed top speed of 180mph.
With connections to the track and Aston's racing heritage, there were obviously going to be some nods to the circuit, whether it was the colourscheme and the decals, right down to the gutted-out interior, the single-clutch six-speed paddleshift transmission and the dizzying array of toggles and switches dotted about the cabin.
Rumours did suggest that Aston Martin would build two CC100s (one as the show car, the other inspired by Moss's Nuburgring-winning car), but it seems only one has been produced, and shall be retained by the company as a self-gifted birthday present.
Not that we blame Aston for doing this. After all, when it comes to celebrating a 100th anniversary, a stunning one-off concept car is a far cooler way than, say, recieving a signed car from Her Majesty…