The all-new Aston Martin hypercar project can trace some of its lineage back to a series of one-off design studies commissioned for the Gran Turismo games.
As stated during the car's official launch event, the new 'AM-RB 001' performance car that's been co-developed by Aston Martin and the Red Bull Racing F1 team is partially derived from the Red Bull X1 Prototype and the Aston Martin DP-100 Vision Gran Turismo concept cars.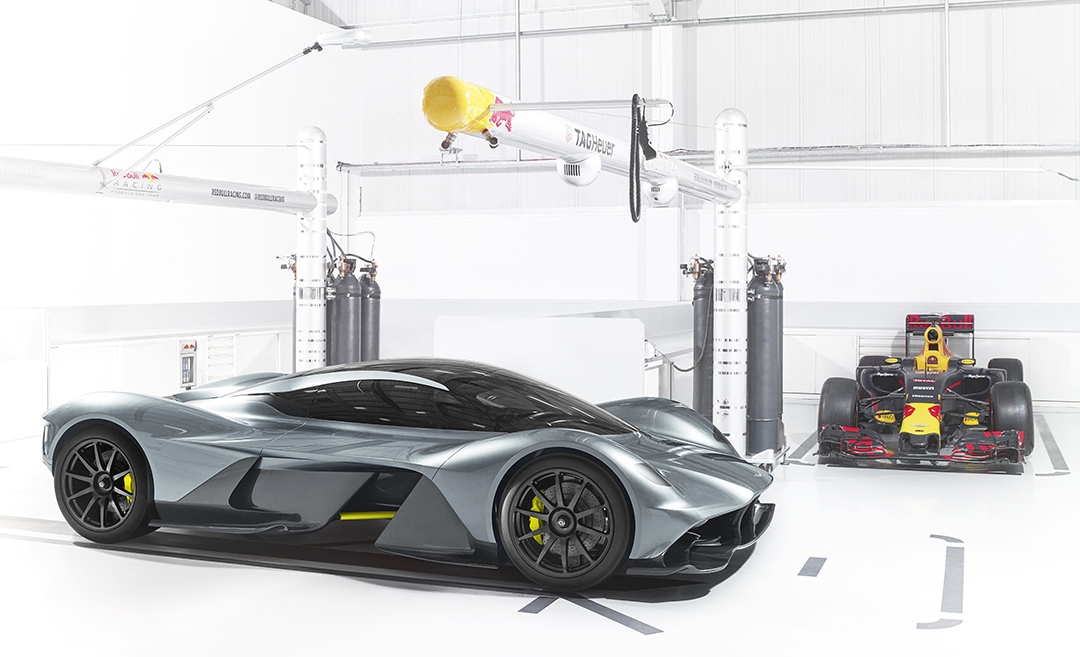 For instance, Adrian Newey (Red Bull Racing's Chief Technical Officer and AM-RB co-designer) stated on separate occasions that the AM-RB 001 was very much a manifestation of many of the ideas and concepts explored through the 'X-Series', with the sponson-esque housings for the front wheels and extensive emphasis on under-floor aerodynamics being the most obvious examples of this. Indeed, Newey went on to describe the AM-RB as a performance vehicle that is "in some ways a covered X1".
Aston Martin's DP-100 VGT was also influential in paving the way for the AM-RB 001. According to Marek Reichman (Aston Martin's Chief Creative Officer and AM-RB co-designer), the DP-100 was the one of Aston Martin's first serious attempts at experimenting with the idea of a mid-engined, high-performance two seater supercar from an engineering and design stand point.
The Aston Martin AM-RB 001 is the first product of a new technical partnership between Aston Martin and the Red Bull Racing Formula One team, with the main brief being to create a "ground-breaking hypercar…the like of which has never been seen before".
Due to the project's infancy, technical details are scarce, but it has been confirmed that the car will feature a "high-revving, naturally aspirated V12 engine", an innovative suspension design, an advanced under-floor aerodynamics package, a bespoke transmission setup and a power-to-weight ratio in the region of 1,000bhp-per-tonne.
An even more extreme, track-only version of the AM-RB 001 will also be developed, with the aim of this offshoot of the project being to build a performance car that's on par performance-wise with today's LMP1 endurance racers.
Prices are either version of the AM-RB 001 are yet to be announced, though Aston Martin representatives did state the expected figure for the road car will land somewhere between £2million and £3million. Pre-production prototypes are scheduled to hit the road in early 2017, with the first customer cars likely to be completed in the following year.
Support Team VVV on Patreon: www.patreon.com/TeamVVV