Absolute Drift, a minimalistic racing game where the goal is to (yup you guessed it) drift. The game was greenlit last August and has since developed greatly since the alpha demo that accompanied its greenlight campaign. It's now in closed beta and is due to be released on Steam Early Access in the coming weeks. Luckily I got into the closed beta…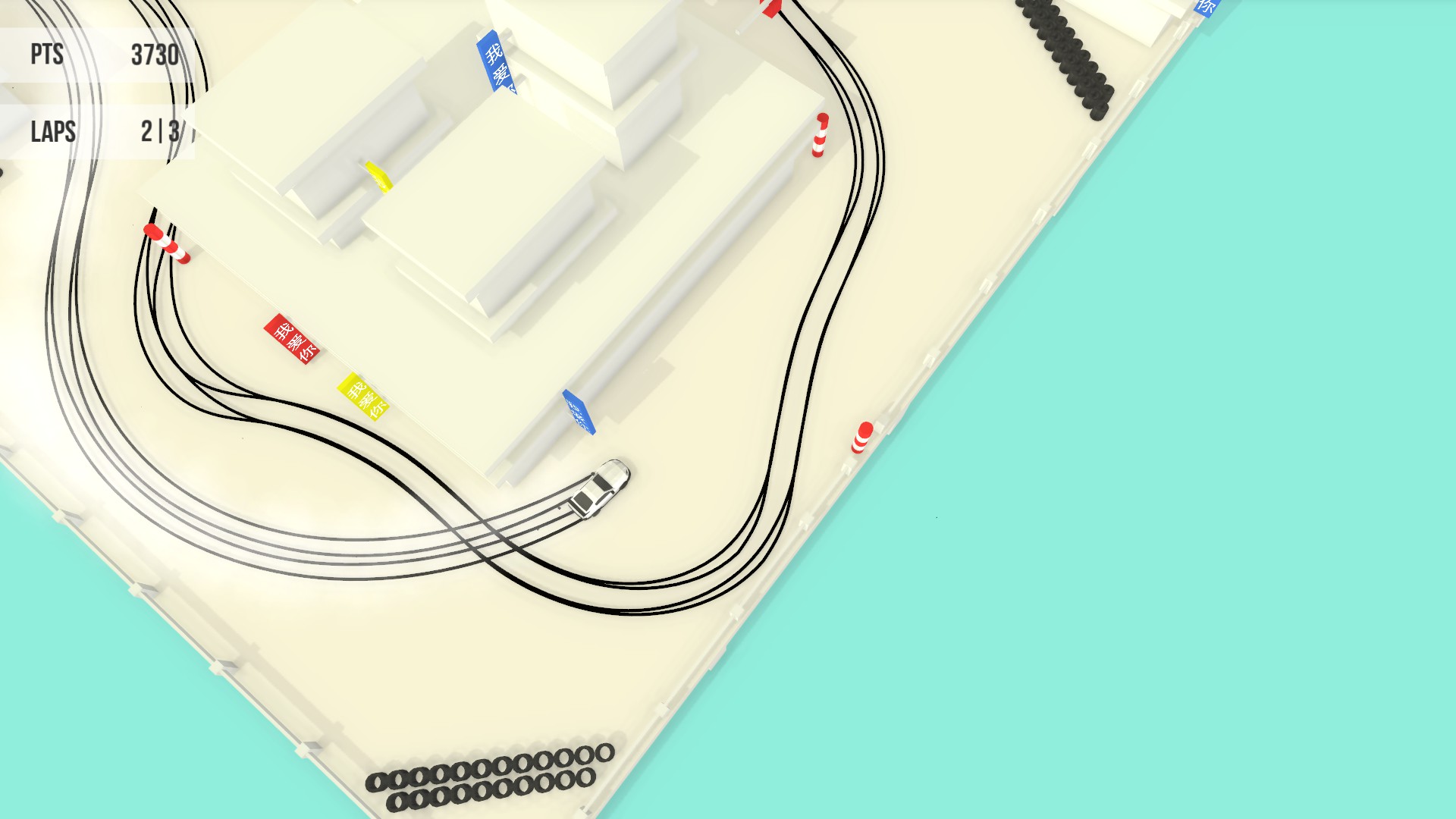 The handling is a classic case of easy to pick up, hard to master. The game even tells you at the start that you'll be crashing into walls a lot and even after nearly 6 hours of gameplay and completing the game I can still attest to that. (Note – new levels are still being added so the final game may take longer to complete.) However it's unbelievably rewarding going completely sideways round a tight hairpin mere inches from the wall when you manage it.
The aesthetic of the game is decisively minimalistic, with most of the game world sticking to a red white colour scheme (drifting = Japanese = red and white flag). Your car also constantly leaves rubber on the track – thankfully there's no tire wear because you'd have no tires after 5 minutes. However, the tire tracks are probably one of the most distinguishable features of the game, giving it a really abstract, artistic feel. Heck, you can probably draw things if you're good enough.
Trying to describe the aesthetic makes the game sound really boring, and on paper it should be. But it's really not, infact its addictive as hell and I can't quite put my finger on why. I can see this becoming my new game to play when I've got 5 minutes to kill. This is coming from someone who usually hates overhead racing games.

As I've mentioned, the game is currently in closed beta and the devs are updating frequently. The game is set to come to Steam Early Access in the coming weeks when most of the main bugs have been ironed out and a few features changed or added. The game is currently also available for pre-order at $9.99 on their website.
Personally I'm really looking forward to seeing how this game progresses. How about you?