Earlier this year, Thrustmaster launched the TSS Handbrake Sparco Mod, a racing peripheral that's been long-requested by the community. Officially licensed by Sparco, the mod serves as both a USB handbrake with progressive force and a precise sequential shifter.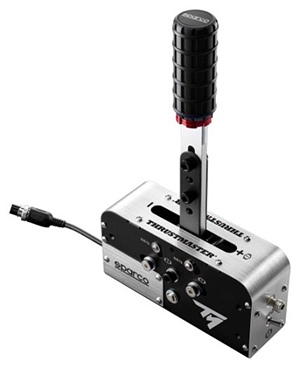 There is a downside, though: it's only compatible with PCs. At the time, Thrustmaster promised it will develop a solution for PS4 and Xbox One players. Now, the company has announced that a new version of the TSS Handbrake developed specifically for PS4 and Xbox One will be shown at E3 in June. It will also be PC compatible.
"It will be a full new packaging with proprietary cable needed and will take into account multi-equipment configuration," Thrustmaster wrote on Facebook. The company also revealed the new TSS Handbrake will launch between June and September this year, with more information to be announced at E3. No pricing has been announced, but the PC-only TSS Handbrake currently retails for £239.99 so it won't be cheap.
While it's great to see the new TSS Handbrake will support consoles, the news probably won't go down well with anyone who bought the original product with the hope it will be made compatible with consoles at a later date.