With just a week until the launch of 'Colin McRae Dirt 2', Codemasters is pulling out all of the stops with regards to gaining maximum exposure for its upcoming racing title. You'll have seen our initial hands-on and latest in-game videos, with lots more to follow, but now is the opportunity to meet the new man taking over this flagship franchise.
From the greatness of Colin McRae, step forward Ken Block. In just 4 years he's progressed from rookie status to being the hot property in the US X-Games Rally scene and, of course, the hugely popular Gymkhana reels.
So, packed and ready to go, I made my way to Silverstone Race Track. It's a nice enough day, but for some reason Silverstone is always a tad grey, chilly and windy (typical race track weather then!). As I head towards the circuit, I'm growing ever more keen to meet the man, find out where he came from and what developed him so quickly into this mighty racer.
The cab driver drops me off at the main gate, so now there's the long walk to Silverstone's scrutineering area. While on my journey, I note a range of different cars having a track day, which is always a great experience.
Walking seemingly forever – it always strikes me how big a track really is, with 1 minute in an F1 car translating into over an hour's walk! Finally making my way into the Dirt 2 area and Ken is sitting in his car ready to go, a crowd of journalists huddling around, trying to get some unique shots. Everyone just wanted to be near the action, and it must have been an awesome experience for the lucky few who got a ride in Mr. Block's rally-prepped Impreza.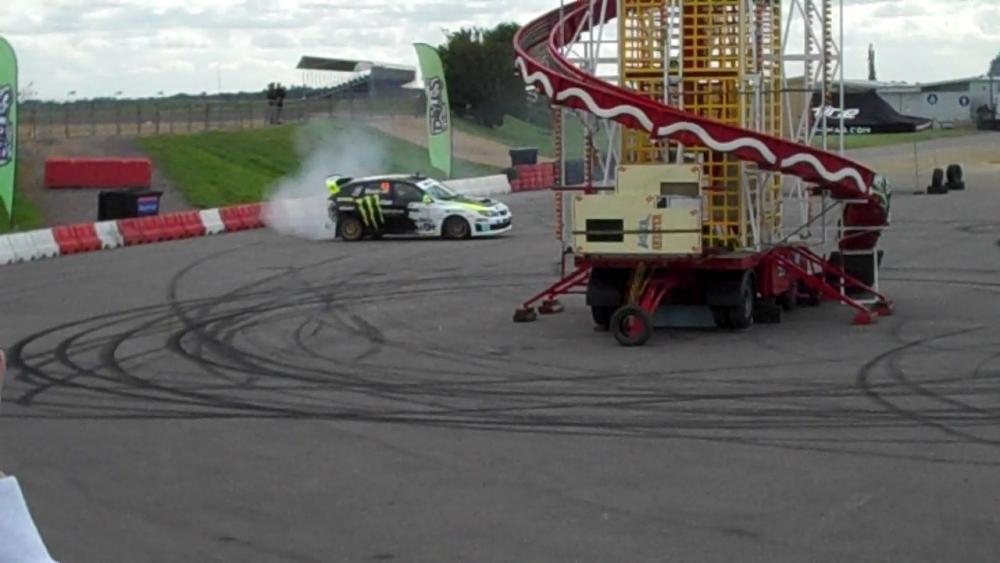 Whilst walking round the temporary track, I meet Codemasters PR man Adrian: "watch how he blasts out of the tunnel, its really something!". I stand excitedly and…BOOM! Ken's car comes shooting out of a tunnel and through the air. He's really attacking the circuit and seemingly having great fun too, though I can imagine it gets a bit boring after lapping it 20 times or so!
On saying, that, he appears to improve at the course all day – in particular, there was a considerable increase in speed when an attractive lass from 'Monkey' magazine jumped into the passenger seat, which certainly created a few rye smiles on the spectators' faces. "Oh look, additional doughnuts too" notice members of the crowd.
It's time for a break in proceedings and I take a wander, drinking far too many free cans of Monster Energy drink (I certainly needed it for the miles of walking!). Strolling into the pits. I notice some activity and have a nose around.
I spot one of our friends from Fueltopia, who is working on a special sort of Speed Dating show -essentially, it's good looking lasses asking the guys questions as they race round the track, then vice versa. Everyone seemed to be having a fab time, and I'll keep an eye out for the finished article.
Break's now over, and Ken was back on track. The big highlight was the big jump that was made for Channel 5's 'Fifth Gear'. It was good, but some of us felt the tunnel leap was the most exciting part from a spectator's POV.
Nevertheless, it was a fantastic day's driving and I couldn't wait to catch up with the man himself. Another wait ensued and I took the opportunity to take some pictures of Colin McRae's previous rally cars, including his WRC Subaru Impreza and his recent realisation of a rally concept car. All, of course, being a might tribute to a legendary man and an icon of rallying who will certainly missed by many.
Walking in to meet Ken, and my first glimpse of the Gymkhana king is of him busy playing Dirt 2. Again, I was keen to learn about the man, where he came from, his sudden rise through the rally ranks and some of the challenges of his career. Ken was quite jovial in his attitude to all things and grateful for his success.
You can see more on that in our forthcoming video, but for now I'll leave you with some pictures of the day including my nose around the BRDC VIP area.