Running up to the release of Race Pro earlier this year we welcomed a new racing developer taking on the competitive console market in the form of Simbin Studio's, but these guys aren't exactly new the new to the genre so VVV Gamer thought it would capture this opportunity to take a closer look at the new console dev on the block.
There aren't many developers that truly dedicate themselves to one genre but in having this devotion Simbin has built arguably one of the finest racing development teams in the world and had quickly established a worldwide reputation for high quality product despite only being founded in 2003. Racing is without doubt one of the most competitive markets and on the surface many would consider it a dead end genre when it comes to innovation while being almost impossible to carve out a unique reputation, especially with the likes of Turn 10 and Polyphony Digital already well established.
But in a world where the mass market customer is key, the true dedicated fans of racing are often left in the cold. On the surface this appears an odd and possibly ignorant approach, surely developers and publishers are missing a niche? This opportunity has given Simbin the racing line when it comes to the hardcore motor sport supporters, dedicated fans who will stick with one title from its release right up until any potential sequels hit the market.
This focused approach has seen an array of successful developments such as GTR and its range of sequels besides the hugely popular Race series. Simbin have a clear goal of bringing the real racing experience home in all of its unforgiving glory within the most detailed simulations possible and its ambitions don't stop at the gaming. Simbin are also proving their business savvy when it comes to their in-house development processes, even creating an in-house graphics engine called LIZARD™, according to Simbin this gives them a powerful and flexible development tool that can also potentially be adapted to use on other genres, including announcing their possible intentions for potential projects on the Playstation 3, either way this as with all development processes will see a period of evolution as Simbin refine and push the possibilities of current and future gaming hardware.
Simbin are also supporting their titles at a range of competitions and events, with a new major project being their "Game Room" innovation, currently sited only in Europe, should they prove successful we could look forward to seeing these kinds of locations spread to both the UK and US in the coming years. So with the company clearly established in the PC market and their obvious experience of the motor industry VVV Gamer took the opportunity to interview the founder and CEO of Simbin Studios; Henrik Roos. Not only a passionate gamer but three times Swedish champion in GT racing, on to hear all you need to know about Race Pro from the man that makes it happen!

VVV: Hi Henrik, thanks for sparing the time to give VVV Gamer a few words; Now you're the CEO of Simbin, tell us a bit about yourself, where and when did your racing career begin?
HR: I started with amateur racing in 1989 in a Porsche 911. I also raced in the Formula Opel Lotus and Porsche cups. In 1998, I turned professional and tested first in a Porsche Boxter, then decided to race in a Dodge Viper GTS/R. I was three times Swedish champion in GT Racing in 2000, 2001, 2002. Then I went for the FIA GT championship which was of course much harder and ended in eight place with my team in 2003. I only drove for one more season for a Dutch team "Zwaans Racing" and had my last race in FIA GT in Dubai in October 2004. After that, it's been 110% SimBin and virtual racing.
VVV: How did this lead into video games?
HR: In 2000, I already had the idea of developing my own game with GT racing as there were no good games on the market. So, in 2003, I set-up SimBin with a team of modders and we created our first game called GTR "The Fia GT game" and we released it in 2004.
VVV: Did you play many racing games in the past? What titles caught your eye and what separated them from the crowd?
HR: I was a fan of Microprose Grand Prix series.
VVV: Simbin has had great success on the PC with consoles seemingly left out of the true sim market, what made the XB360 the base to start?
HR: First of all, development for console is similar to PC development. Secondly, we believe console is the best platform for this type of game.
VVV: So let talk about Race Pro, we've been seeing development footage since 2006, firstly from THQ then Atari, many felt this would never see the light day, what caused the extended development period?
HR: First of all the THQ project was cancelled due to licensing issues with some car manufacturers. So Race Pro is a completely new game based on WTCC and GT cars.

VVV: Has this made Race Pro a better product?
HR: Yes, we believe so. We felt like we had wasted a lot of energy and money when the THQ deal fell through, but we learned a lot from this experience.
VVV: Do Simbin have future plans for console releases or is this just a tentative step?
HR: We want to broaden SimBin games not only by making them available for different platforms, but also in terms of gameplay, online features, and graphical experience. That's why we have invested in Lizard, our own game engine.
VVV: Race Pro is a serious real racing experience, is the simulation handling on a par with the PC versions or have SimBin taken a mass market approach, dumbing-down?
HR: We have actually done both: the game is easy to play but hard to master. That means that the step in is no harder or more difficult than other racing games, but if the player chooses to, he can get the simulation feeling – its up to the player to decide.
VVV: Let's talk more about in game action with some stats, how many cars and tracks? Can we expect to see more DLC?
HR: The game will have close to 350 variations' of cars based on close to 50 different car models and car manufacturers. We will have 13 different world famous racetracks. We are going to work a lot with DLC packages for our fans, both free ones and some for a small fee. There will be more information about DLCs after launch.
VVV: How many cars are on track in a race and why do PC games appear to suffer less lag? Why can you have 20+ cars online in a PC game yet barely half that in a console game?
HR: This is a technical question but the main reason lies in hardware limitations.
VVV: Regarding cheating, the racing community is all too aware of the length some players will go, wall riding, grass cuts etc. What system do Simbin have in place to prevent this and does it affect race times in race modes and time trial leader boards?
HR: We have tried to prevent it as much as we can with warnings and disqualifications.
VVV: What kind of car assists are available?
HR: ABS, AUT, ASC
VVV: Will time trial leader boards be broken down to display these assists?
HR: Yes, as we will have novice, semi pro and pro leader boards.
VVV: Relating to car handling, does damage significantly affect car performance?
HR:Yes, it can, if the player chooses so in the settings. This option can be turned on or off depending on the player's preference.
VVV: How repairable is the car's external and internal damage when the car takes a pit stop?
HR: If you can drive the car to the pit it will be repaired automatically.
VVV: What about tyre wear, how deep are the physics here and are they affected by ambient track temperature?
HR: Yes, if you have chosen to use tyre wear it affects the driving. Temperatures can go up if tyre pressure and wear is too high.
VVV: Can the amount of fuel affect car handling and performance?
HR: Absolutely, as it would in a real car.
VVV: What kind of weather conditions are included within the game?
HR: There are two conditions – dry and wet.
VVV: Are these dynamic, can we see weather change in real-time or even two weather conditions present within one race? Perhaps one part of the track dry with the other half wet?
HR: We have not included this in RACE Pro.

VVV: Has night racing been included?
HR: There is no night racing in RACE Pro.
VVV: Lots of communities now play online, why is this aspect often ignored by developers and it is possible to keep tuning set-ups secret?
HR: We understand that online play is very important to fans of racing games so we have included extensive multiplayer features with up to 12 players racing each other online, your tuning set up is kept secret.
VVV: The frame-rate looks set around the 30fps mark; does this represent the limit of the 360's performance? Can 60fps be achievable in the future?
HR: Our physics is quite demanding so we went for 30fps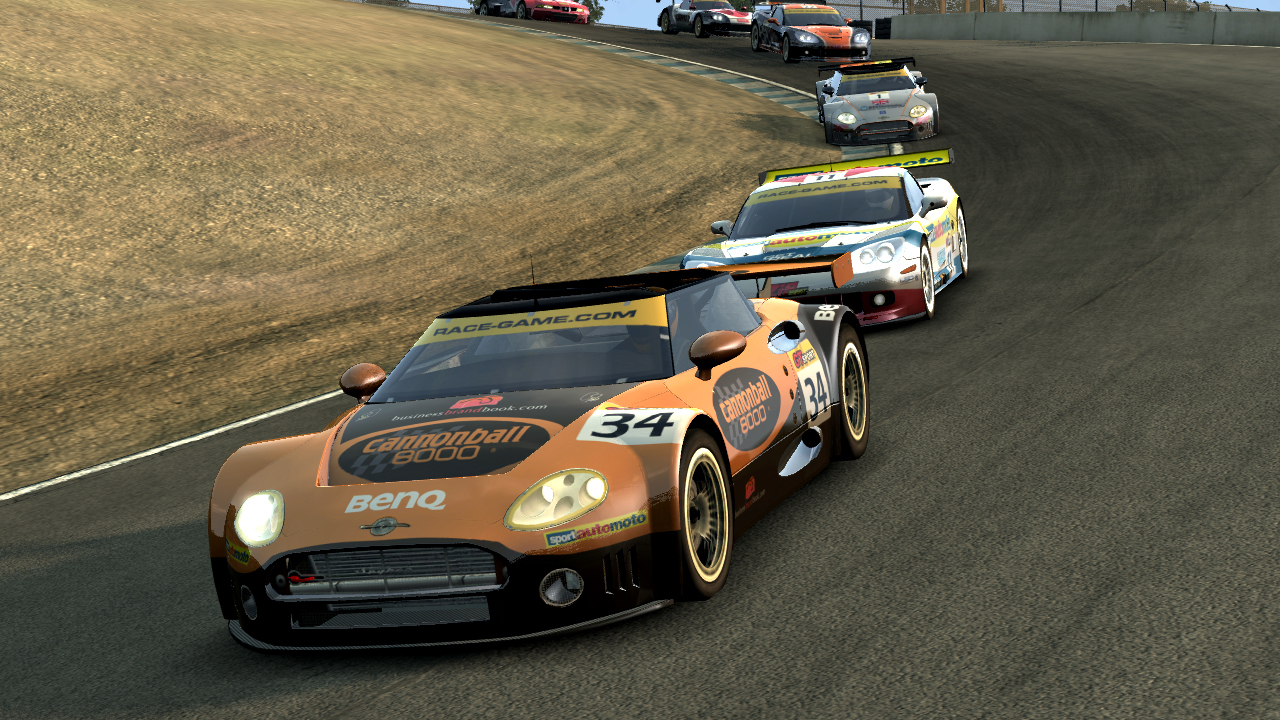 VVV: Does the game feature photo modes and replays?
HR: Yes for replays but no for photo mode
VVV: About replays, many games have failed to produce or replicate accurate TV quality; do Simbin consider this an important aspect of the package?
HR: Replay quality is important and we are happy with the quality achieved for RACE Pro, even though we know it can be improved even further for future games.
VVV: Finally, what aspects are you most pleased with and has developing this title?
HR: The sounds, the physics, the controls and the real race feeling – nothing gets closer to real racing than RACE Pro.
VVV: Thanks Henrik and we at VVV Gamer look forward to seeing the finished article!