Ride has high aspirations to be the Gran Turismo of bike games. But rewind back to 2006, and the developers of Gran Turismo had similar ideas. The result was Tourist Trophy, Polyphony Digital's biking equivalent to Gran Turismo featuring over 130 licensed bikes from a wealth of renowned motorcycle manufacturers, Gran Turismo-quality graphics and a deep, rewarding handling model. But despite demand, a sequel was never made. At one point, bikes were going to be included in Gran Turismo HD, the precursor to Gran Turismo 5 which instead turned into a free download to generate hype for Gran Turismo 5 Prologue, instead, but plans were sadly scrapped.
Nine years on, high profile bike racing games have been few and far between compared to car games, as publishers are seemingly less willing to support what they perceive as a specialist genre compared to the relatively easy sell of a car racing game.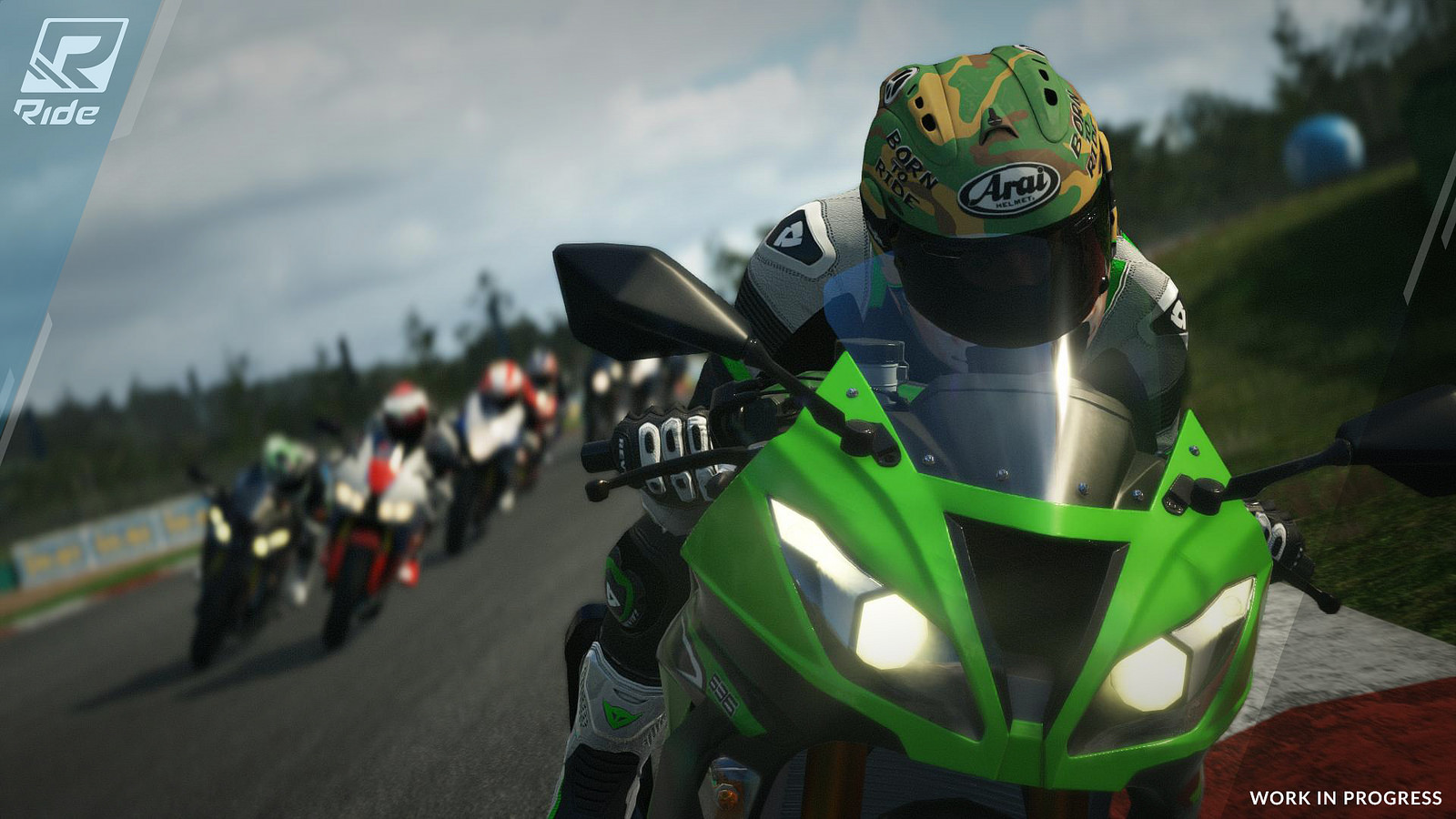 Consequently, motorcycle manufacturers have been sorely underrepresented in racing games. Yes, the MotoGP series has arguably filled the void of bike racing games for the past few years, but it caters for a very specific audience. That's not to say you have to be a follower of the MotoGP championship to enjoy it, but it does have its limitations as you can only ride race-spec bikes – if you want to ride road-legal bikes that you can actually buy in the real world, you're out of luck.
And while bike manufacturers such as Triumph and Ducati have lent their licenses to racing game developers in the past, they've largely been restricted to a few fleeting appearances in car-centric racing games such as Test Drive Unlimited and Project Gotham Racing that felt like an afterthought.
The motorcycle industry deserves more recognition in racing games, and bike fans have been craving for a current-gen equivalent to Tourist Trophy to cater for their two-wheeled tastes. Enter Ride, an ambitious bike racing simulation game featuring over 100 licensed bikes developed by the self-confessed bike fanatics at Milestone. It's a passion project made by bike enthusiasts for enthusiasts.
During a hands-on session at Triumph Motorcycle factory in Hinckley, I spoke with Game Designer Andrea Basilio who has worked on the MotoGP and MXGP brands at Milestone for the past four years, to find out more about the road to Ride and its impending influence on the motorcycle industry.
"We started thinking about Ride about two and a half years ago," Andrea recalls. "There was a strong demand from the community for Milestone to develop a new IP with road bikes. The concept and production of the project then started two years ago."
Milestone has a longstanding heritage with the biking industry and have become established as the leading developer of bike racing games, having worked on numerous SBK and MotoGP games since 1999, along with the more recent MXGP motocross series. It's surprising, then, that it's taken this long for a Tourist Trophy equivalent to emerge, particularly when the development team have such an unrelenting passion for biking.
However, Milestone's prolific library of bike games works to their advantage, allowing them to utilise their extensive experience when developing Ride. "We worked a lot on licensed games like MotoGP and SBK, so we were very busy," Andrea admits. "But by taking our time, we have acquired the knowledge to create the ultimate bike simulation and reach the goal of 100 bikes and different manufacturers."
For the last few years, Milestone has been strongly associated with their reputable licensed motorsport games, but Ride represents a new era for the Italian developer as the team take on their first new IP. It is part of a radical new direction the developer is taking, as this year will also see the release of their new rally IP, Sebastian Loeb Rally, their first rally game outside of the WRC license in five years.
Now free from the limitations of working with a rigid license like MotoGP, Ride has given Milestone the green light to utilise their creative freedom. "When you work on a license, you have to follow a strict structure and create something authentic," Andrea explains. "But when you have your own IP, the freedom is obviously enormous. Now we can create countryside roads based on real roads and use cities that we can't have with a license like MotoGP. But I don't know if I prefer working with a new IP or a license because they are two very different experiences – you have freedom in some areas but not in others. I loved working on the MotoGP series, but it's really fun working on Ride too. I'm really happy I can switch between them, because you can be more creative"
Don't think, however, that Milestone is abandoning licensed motorsport games altogether. "We're working on different projects at the same time," Andrea affirms. "So I think we'll continue working on the licensed games alongside our IPs. I think we're going down the same route with two different vehicles. We put the same passion into every project," he emphasises. Milestone may no longer be affiliated with the WRC license, sadly, (BigBen Interactive took over the license and handed the reigns over to French firm Kylotonn Games, who are currently prepping WRC 5 for release later this year), but there has so far been no official word on their involvement with MotoGP and MXGP. Watch this space.
Ride's track roster is an eclectic mix of real racetracks and bespoke fictional circuits inspired by real world locations that cater for Ride's wide variety of bike classes. "When we first started the concept of Ride, we understood early on that we needed real tracks because we have race bikes in the game as well as road bikes. So for some bikes you obviously need a racetrack to get the most out of it," Andrea explains. "But at the same time, we want to create the feeling of freedom riding a motorcycle gives you because the game is made by people who love bikes for bike lovers. So we wanted to recreate iconic sections that are synonymous with sunny Sunday bike rides."
"We wanted to recreate the iconic locations – Saveo for example is a famous road for Sunday rides. We also used a location in Japan and North Wales which is a really nice part of Wales on the black mountains. We studied the real life maps and created custom racetracks based on the real roads. Obviously, we had to change some parts because the roads we used are not designed for racing, but the soul is there."
In truth, the track list isn't as extensive as you would hope (you can find out the full track list here). The iconic Imola and Donnington tracks make a welcome appearance, but most of the 31 tracks based in 15 locations are entirely fictional. However, this mix of real and fictional tracks provides a lot of variety in the track types and racing styles, from the dusty trails of Nevada to a tight city circuit set in Milestone's hometown of Milan. Drag races are also said to be featured. The North Wales circuit looked like a particularly faithful reproduction right down to the authentic English road signs, while the scenic scenery and sweeping mix of sharp twists and turns made for an exhilarating ride.
And while we're on the subject of iconic tracks, there's one glaring omission which is frequently the most requested track in bike racing games: I'm talking of course about the infamous Isle of Man TT Mountain Course, the deadly street circuit that has claimed the lives of more than 200 rebellious riders since its inception in 1907. Sadly, Milestone confirmed the TT Mountain Course will not be in Ride, but didn't deny the possibility of it appearing later down the line.
"You are British, so the Isle of Man means a lot more to you," Andrea joked whilst probably cursing internally that I raised the subject. "I also really love motorcycles and used to live in the UK so I know how you like the Isle of Man, and I'm a huge fan of the race. But for now, it was out of the target. Ride is probably going to be a franchise, so we're thinking about what we can add in the next instalment."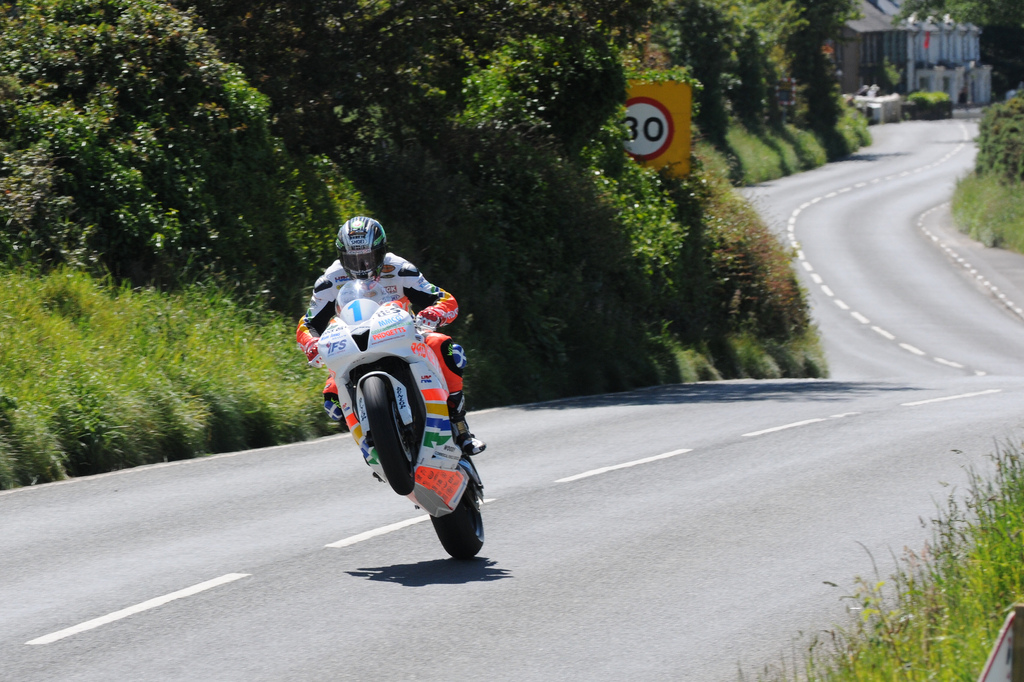 "We considered many different venues around the world and other locations in the US. I won't lie – we considered the TT too. But there wasn't enough time." He has a point: at 37.73 miles, the TT Mountain Course is over twice as long as the Nürburgring Nordschleife, so it would have taken a lot of resources to laser-scan proper. But it could still appear in the inevitable Ride sequel or even a DLC expansion if enough people request it, by the sounds of it. Frankly, the Isle of Man TT deserves its own standalone game.
To experience the TT Mountain Course in a racing game, you have to trace back to Jester Interactive's TT Superbikes: Real Road Racing released on PS2 back in 2008 (they still made PS2 exclusive games in 2008?), developed by the same people that made the cult classic Music 2000. Some of the developers had previous experience of racing bikes, and to this day it remains the most realistic reproduction of the terrifying TT Championship. Polyphony were recently spotted on location at the TT, however, so there's still a future possibility that both bikes and the infamous circuit may feature in Gran Turismo 7.
Milestone's new-found freedom has also been applied to Ride's versatile career mode which doesn't have to adhere to any license restrictions. Rather than chronicle the rise of a racing driver's career, Ride is all about evoking the thrill and freedom of a weekend bike ride. Indeed, freedom of choice plays a big part in Ride's career, allowing you to create your own path with any bike class you want. It sounds similar to Project CARS' customisable career, and that's no bad thing.
"MotoGP was strict as we had to represent the true evolution of a real rider from the lower class to the top," Andrea explains. "In Ride, you can buy any bike that you like or own in real life and just play with the bike that you like. So if you only want to play with a couple of bikes because you like Triumph for example, you can play the whole game with Triumph. Or if you just like Superbikes, you can just play with Superbikes."
"The career has more than 200 events, so you can choose the event that you like the look of and just play that. The game is designed to let you enjoy all classes, or you can progress from naked to race bikes if you wish. If you want to play in a different way you can do that too. It was very important to give players a freedom of choice."
Being a bike game, now would probably be a good time to talk about, well, the bikes. Let's just say there are lots of bikes. Lots and lots of bikes. 113 of them, in fact, available in four classes: Naked, Superports, Superbikes and Historic from 14 renowned manufacturers.
One such manufacturer is Triumph Motorcycles. For them, being featured in Ride gives them vital exposure to a generation of gamers who may not be familiar with the legendary 113 year old manufacturer.
"Motorcycling has an interesting challenge, and that's bringing new people into it as an interest", Simon Carter, Events and PR at Triumph Motorcycles, told us. "Our involvement in a game like this puts us in the mind-set of a different range of people; some of which may not be into motorcycling or consider it as a leisure pursuit, but it gives them a bit of exposure, and hopefully puts us in their mind-set further down the line should they go for a test." Other manufacturers that collaborated with Milestone for Ride include Apprilia, Bimota, BMW, Ducati, Energica, Eric Buell Racing, Honda, Kawasaki, Yamaha, KTM, Lightning, MV Agusta and Suzuki.
Ride's bike list is vast, but not comprehensive. The majority of the roster is made up of ultra-modern motorcycles released in the last year, but there aren't very many historic bikes to balance it out, which might disgruntle some enthusiasts, along with the lack of two strokes. Indeed, Milestone seem to revel in letting you ride the very latest road bikes on the market: "If you think of a recent bike, it will be in the game," Andrea assures. This will no doubt be rectified with post-release DLC, however. In fact, two Yamaha DLC packs have already been confirmed to be available at launch, the first adding some of this year's rides including the 2015 YZF-R1, YZF-R1M, and the R6, while the other focuses on the manufacturer's prolific past with a series of historical bikes. Expect more manufacturers to follow suit.
Milestone also seem to have been influenced by Polyphony's philosophy with their bike selection, as some bikes have multiple variants of the same model which seems unnecessary – just as Gran Turismo is often mocked for having an endless list of near-identical Skylines, did there really have to be four versions of the 2014 MV Agusta F4? The differences are minute, so even the most anal of fans will still probably just stick with the fastest model.
Still, at least Ride can claim to have the largest assortment of bikes in a racing game since Tourist Trophy, which should give bike manufacturers some significant spotlight in the game industry at long last. I just wish developers would focus on quality over quantity, instead of padding out the selection for the sake of statistical bragging rights.
Ride's comprehensive customisation plays a key part in resonating with bike enthusiasts, as you'll be able to buy parts from recognised real world suppliers such as Rizoma, Arrow and Barracuda. "We have more than 100 authentic after-market parts," says Andrea. "We recreated the real after-market parts and modelled that for every bike in the game. So if a bike has a particular exhaust for example, we use the actual exhaust, not a generic exhaust on every bike."
"Each bike has 20 customisable parts. Some are cosmetic – for instance we have different colours for rims. Others are technical like a new CPU system." Indeed, Ride's customisation options are compellingly comprehensive: you can tinker with the gears, brake discs and suspension, alter the liveries, handlebars and grips, and completely customise the engine with new exhausts, air filters and oil replacements. Each upgrade option reflects the manufacturer's official options, and every upgrade is available to apply from the start – you'll still need to earn credits to buy them, but there is no repetitive ranking system in place to unlock them. Mechanical upgrades will have a profound effect on your bike's performance, whilst changing the exhaust will noticably affect the audio of your bike when roaring around the track.
Even your rider can be fully customised with an array of authentic apparel from licensed brands including Dainese, Shoei and Alpinestar, allowing you to change your rider's helmet, visor, suits, boots, gloves, jeans, and jackets.
As you'd expect, the bike models in Ride have been draped in meticulous detail, looking every bit as authentic as the real thing, and also sound just as good as they look. "Working with the manufacturers was an interesting experience because we have to deal with different manufacturers with different ideas and different needs. All the manufacturers helped us a lot, and we were able to record the engines of every bike."
"With the recent bikes, we were able to use the real 3D data that the factories use for the production, so they are exactly the same in the game as they use the same models used in production. We spent around 60 days creating a bike from scratch. The bikes are the soul of the game, so we pushed a lot of the technical limits."
Unfortunately, the same painstaking attention to detail doesn't appear to have been applied to the tracks. Currently, some tracks look passable, but others look decidedly last-gen, with uninspiring texture detail, static spectators and flat lighting effects. It gives the environments a bland, sterile look, which isn't helped by the track textures – they look too clean to represent a well-worn racing circuit.
https://youtube.com/watch?v=W-ZCQqdEtqo%3Frel%3D0 Seeing lackluster-looking environments evokes a strong sense of déjà vu – it's a classic Milestone design trait that's becoming less tolerable with each passing release. Ride also runs on an enhanced version of MotoGP 14's graphics engine and Yebis2 lighting engine, and yet there are no weather effects or day and night transitions to liven up the race day atmosphere.
The framerate in the build I played was also worryingly unstable, and struggled to even maintain 30fps at times. It was particularly apparent when riding on the more intricate Milan city track, where it frequently stuttered and skipped frames. Granted, it was a work-in-progress build, but it's still cause for concern for a game due out in under a month. Milestone assure us the final game will run at a solid 30fps, however. Long loading times were also an issue, to the point the loading screen led to another loading screen – like it was loading a loading screen. Again, this will hopefully be optimised in the final build.
Anyone who has played any of the recent MotoGP games will find the physics in Ride familiar, yet different. You can apply the same difficulty settings (Standard, Semi-Pro and Pro – weirdly I couldn't change the physics settings in-game or in the pre-race menu and had to go back to the main menu) found in MotoGP, but Ride didn't have the same delicacy to the controls as MotoGP where staying on the bike after the first corner was an achievement. It's like MotoGP with stabilisers. As Andrea explained, that's not to say Ride is easier to play, but it certainly feels more intuiative.
"We worked on all the physics experienced when riding a bike like the g-forces and other real physics properties to improve the simulation. We worked on the suspension of the bikes and the structure of the models to create a more realistic simulation of the models, because we have really different models in the game – going from naked to superbikes is a big jump."
"When you play, you can sense that the game is communicating with you if something is wrong. For instance, if you're losing grip very fast, you can sense this with the animation and controller vibration, so you release the throttle a bit and save the situation. It was the most difficult thing to achieve, but we've done it."
Being a wider release not tied to a license means Ride has the challenge of having to appeal to a wider market as well as hardcore motorcycle enthusiasts. From my playthrough, the handling seemed accessible enough for novice players to pick up and play on the default setting. On the Semi Pro and Pro settings, bike enthusiasts will appreciate the added depth, but it still didn't feel as demanding as MotoGP. Even so, the handling characteristics of the different bikes appears to have been implemented well – the slow and sluggish Triumph Speed Triple contrasted heavily to the lightning fast Daytona 675 R.
Ride's online multiplayer also shows some early promise. While we weren't shown any of the online portions, Ride will feature online multiplayer for up to 12 players, but it's the new "Motoclubs" feature that's the real draw. Possibly taking its cues from DriveClub, Motoclubs allow players to form a club and take on club-specific events, which will also feature Milestone's new ghosting system that tracks club member's performance on the track and challenging rivals to compete with. It looks like Milestone is starting to play catch-up with this generation's focus on social integration, so we'll no doubt see more features like this in future titles.
There's still some last minute polishing to do, but Milestone have worked miracles before. So far, the evidence suggests that Ride will be the spiritual successor to Tourist Trophy you've been waiting for, and a significant stride in putting bike racing games back on the map. If successful, Ride has the potential to be the most influential bike game in the last decade and evolve into a future franchise that does for bikes what Gran Turismo and Forza does for cars.
Get ready to Ride on March 20th when the game wheelies onto PS4, PS3, Xbox One, Xbox 360 and PC.