The one driver in Formula One people across the world either love or love to hate is Lewis Hamilton. No one can deny he is one of the most talented drivers in the world and, in the current breed of F1 drivers, sits alongside Fernando Alonso and Sebastian Vettel. Yet his life away from F1 and the way he holds himself in the paddock during a race weekend is analysed through many column inches and more prominently through the world of social media.
I have a Twitter feed; I tweet random things going on in my life and about work. The difference is that I have 156 followers and the top drivers have over a million. My level of influence or interest in what I say is therefore somewhat limited (unless perhaps a new editorial role comes up at HuffPostUK). So when I tweet something in error or by mistake, no one is going to care. When Lewis Hamilton does it…all hell breaks loose.
In short, for those that didn't see it, he tweeted confidential details about the car during the Belgian Grand Prix weekend, and more recently tweeted to Jenson Button saying it was a shame that he had unfollowed him following Lewis' announcement of leaving McLaren – Jenson never followed Lewis in the first place. I lost interest very quickly in reading about it – if anything all it said to me was someone who had been forced into using Twitter but did not know anything about the power of social media. An F1 drivers job is to race cars – shouldn't we just let them do that?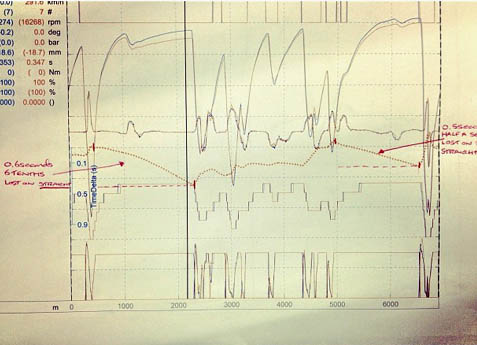 But I am going to contradict myself. I do like the use of Twitter in the sporting world. Twitter seems to have become the only way in which we get to see real emotions from F1 drivers today. Post-race, every driver is now prepped so much by their teams to say the corporate line you have no idea what race they are talking about. Yes we know every driver is thankful to the hard work the team has done for them but what do they really think?
When Lewis had another McLaren retirement in Singapore or his car developed a fault in Korea, I questioned whether he had forgiven the team and was already thinking of the next race. But then, is this a Lewis who has seen another World Championship disappear from his grasp, and the belief in McLaren in its current form just isn't there?
It is staggering that McLaren, a team recognised as one of the leading three teams in F1, has
not won a Constructors Championship since 1998. Their mission statement is to finish first in every race. Perhaps they should change that aim to finish first in every championship, because whatever they are doing certainly isn't working.
I sincerely hope that when Lewis is cut from the corporate world that is McLaren and joins Mercedes we get to see a new Lewis. One who can do what he wants and say what he wants. I have a hunch that we will see the emergence of a driver who will only get better and his career will be defined by what happens over the next three years.