All things considered, 2015 was a stellar year for racing games. The pivotal success of Project CARS brought hardcore sim racing to a new audience on consoles, while Forza Motorsport 6 proved to be another hit for Microsoft that improved on launch title Forza Motorsport 5's shortcomings.
Bike games also had a major revival, with the release of new IP Ride from Milestone which was the first game comparable to Tourist Trophy in a decade and the surprise release of DriveClub Bikes, which turned out to be one of the best bike racing games in years despite being an add-on for a car racing game.
2015 was also the year of reboots. Need for Speed attempted to re-establish the series' identity with its focus on illegal night time street racing hearkening back to fan favourite Need for Speed Underground, while the F1 and WRC series made their current-gen debuts, setting the foundations for future sequels to build on.
This year promises to be another memorable year for racing game releases, with the much anticipated console ports of DiRT Rally and Assetto Corsa, the return of Gran Turismo and new IPs from Milestone in the form of Valentino Rossi: The Game and the recently released Sébastien Loeb Rally EVO, to name a few. Whether you're a fan of rally games, serious simulations, accessible arcade racers or bikes, there's something for everyone to look forward to in the racing genre this year.
2016 also marks the dawn of the VR generation, with Sony, Oculus and HTC all releasing VR headsets that could potentially revolutionise the racing genre. VR technology will no doubt add a new lease of life to supporting titles like Project CARS and DriveClub, while also spawning new innovative IPs. We can't wait.
So, without further ado here's our exhaustive 2016 racing game guide of everything announced so far as well as a look back at earlier releases this year. Be sure to let us know your most anticipated racing games of 2016 in the comments below.
Announced/released
Hardware Rivals
Developer: SCE Connected Content Group
Publisher: Sony
Platforms: PS4
Release date: January 5th 2016
Remember Hardware: Online Arena? Chances are you probably don't. Originally released way back in 2002, Hardware: Online Arena was a vehicular combat game designed to showcase the PS2's online capabilities. As such, it stands as one of the first online PS2 games at a time when you had to attach a cumbersome network adaptor to your PS2 to go online. It was also online-only at the time, so if you still have a copy gathering dust it's best used as a drinks coaster.
Launched at the start of this year, Hardware: Rivals on PS4 is the sequel to Online Arena nobody asked for. Like its predecessor, players roam around arenas collecting weapon powerups and attempt to destroy each other in all manner of jeeps, buggies and tanks, with each vehicle offering their own advantages and disadvantages in combat – tanks are slow but deadly, whereas jeeps are nimble but more vulnerable.  Hardware Rivals is also noticeably more colourful than the original, with vibrant visuals that contrast heavily to the dirty look of Online Arena. Other than that, Hardware Rivals appears to be the same game you experienced back in 2002, for better or worse.
Hardware Rivals was also initially free-to-download for PlayStation Plus subscribers as part of the January Instant Game collection which no doubt gave it some extra traction in what was otherwise a forgettable release – we suspect Sony were hoping for a repeat of Rocket League's gargantuan success.
Sébastien Loeb Rally EVO
Developer: Milestone
Publisher: PQube
Platforms: PS4, Xbox One, PC
Release date: January 29th 2016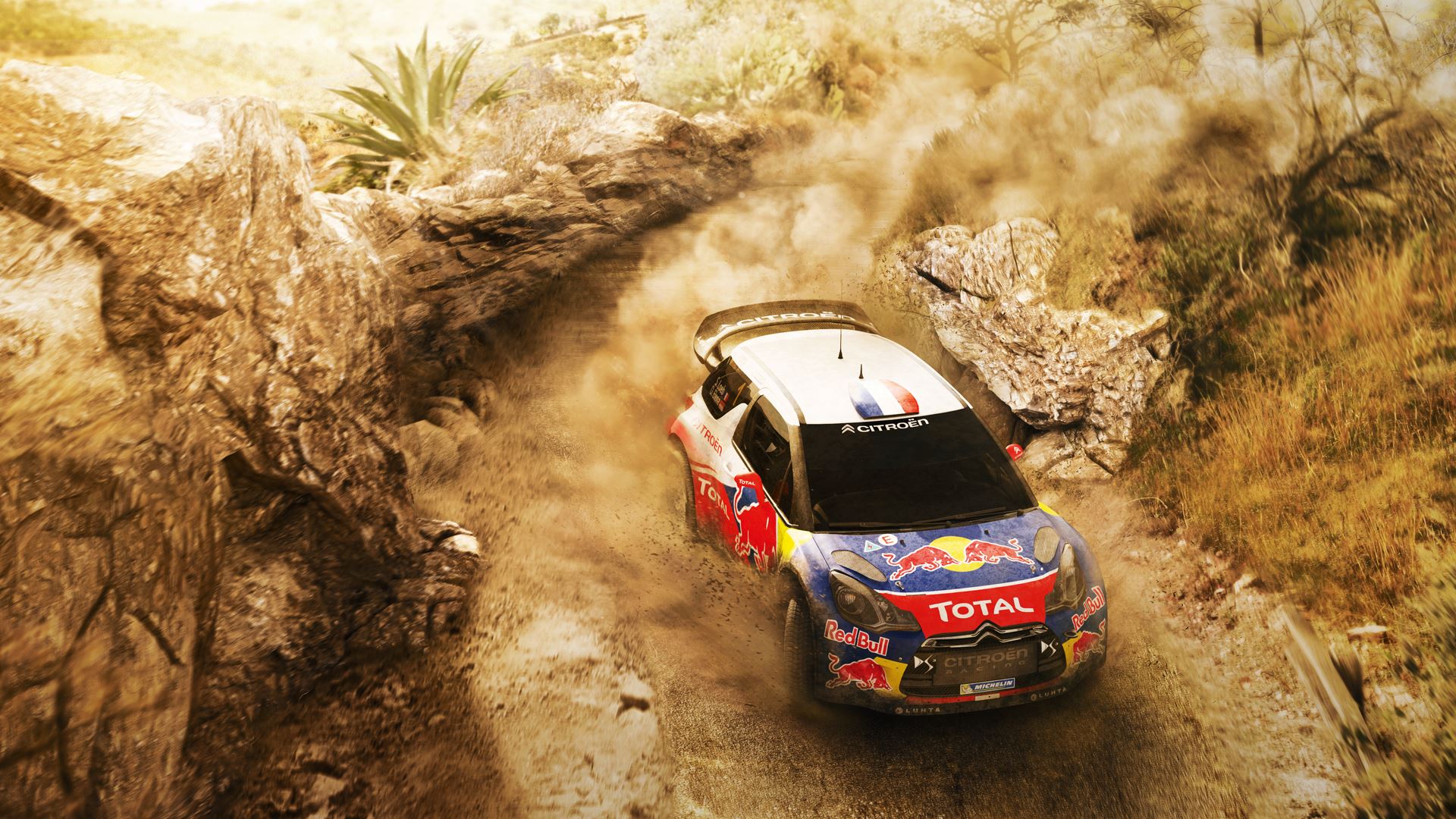 Rally game fans have been spoilt rotten lately. The surprise release of DiRT Rally managed to make rally games relevant again after a long absence, while the WRC series made its current-gen comeback with new developer Kylotonn Games behind the wheel of the fun but flawed WRC 5. And now there's yet another one to choose from just to make things more complicated.
Developed with the input of the rally legend himself, Sébastien Loeb Rally EVO is Milestone's new rally IP following their retirement from the WRC game series that has lofty ambitions to be the next Richard Burns Rally, a fan favourite that's often regarded as one of the best rally games ever made.
Richard Burns Rally's success lied in its painstaking authenticity, and Milestone have certainly followed in its tracks. The realistic driving physics require skill at the wheel to navigate the narrow stages, which are said to be mapped with 1:1 accuracy. Indeed, Milestone have outdone themselves here, as the team has painstakingly recreated over 300km of terrain from real rally stages.
Graphically, Sébastien Loeb Rally Evo is also a considerable leap from what we've previously seen from the Milestone thanks to increased development resources from the expanded team. Add in a comprehensive car collection spanning five decades of rallying, rallycross events and a career mode chronicling Sebastien Loeb's career path, and Sébastien Loeb Rally Evo has the makings of a definitive rally game experience.
Need proof of Sébastien Loeb Rally Evo's authenticity? Fire up the playable demo currently available for download and see for yourself – just don't complain when you careen off a cliff after the first corner. That's rallying for you.
Need for Speed
Developer: EA Ghost Games
Publisher: EA
Platforms: PC
Release date: March 17th 2016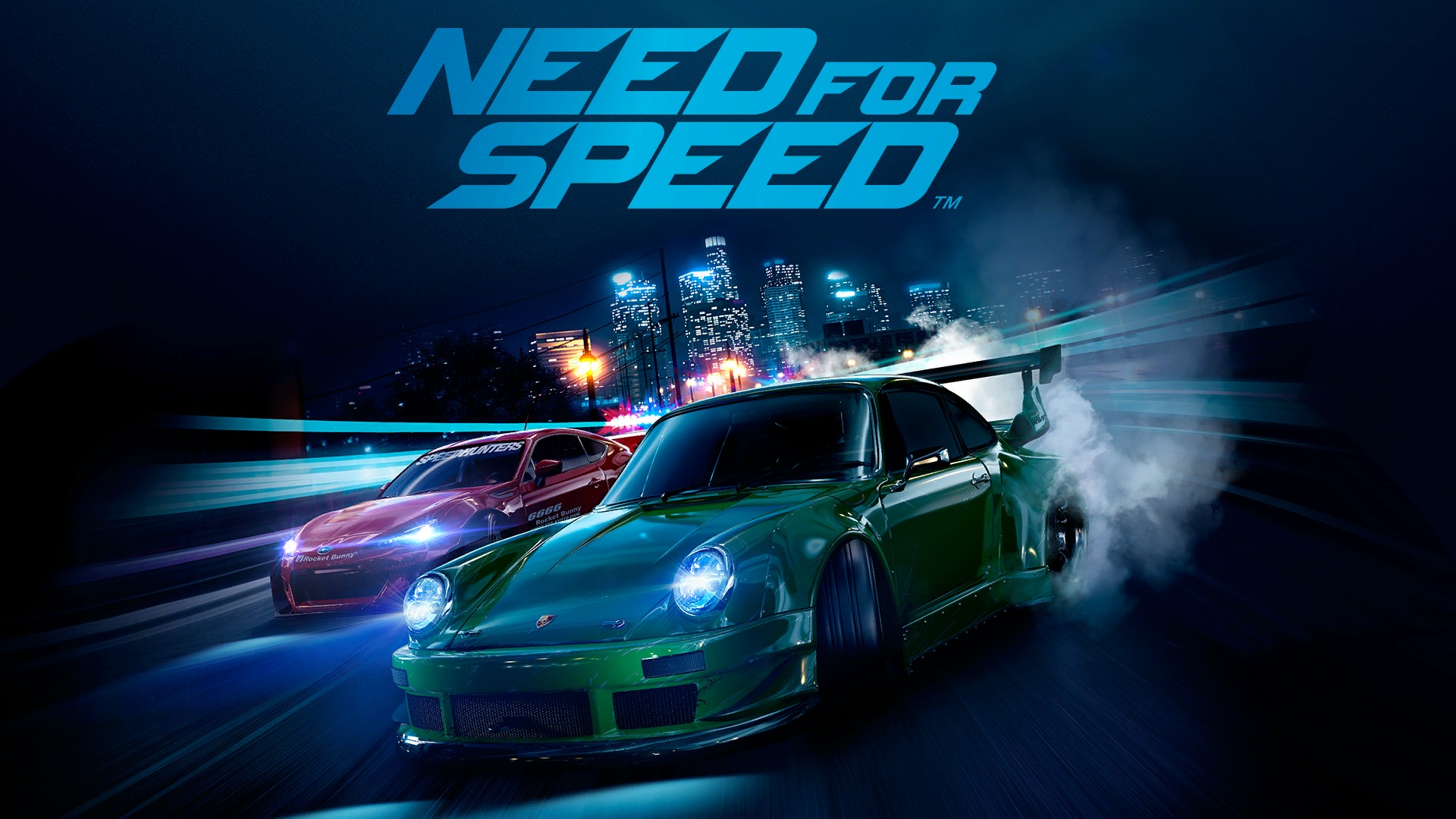 Last year's Need for Speed reboot probably wasn't as well received as EA Ghost Games would have hoped. Need for Speed was meant to put the flagging series back on track, marking a return to the illegal night time street racing setup and deep car customisation that made Need for Speed Underground a firm fan favourite in the long-running series. Unfortunately, what we ended up with was a game that was a shadow of its former self thanks to its lifeless city, mediocre car selection and disappointingly limited car customisation.
Need for Speed was subsequently delayed on PC prior to the console release, allowing Ghost Games some extra development time to polish it up. As such, Need for Speed will arrive on PC with several fan-requested features such as manual gears, an unlocked frame-rate and wheel support. Granted, these features should be standard in most modern racing games, but at least Ghost Games have taken the time to respond to fan feedback. Need for Speed was already a very pretty game, but the PC release will look even better with 4K support – this could be the future visual standard for PC racing games.
Hopefully the PC version of Need for Speed will become the definitive version of the game that rectifies some of the original release's shortcomings. In the meantime you can read our verdict on the original PS4 version in our extensive Need for Speed review.
Trackmania Turbo
Developer: Nadeo
Publisher: Ubisoft
Platforms: PS4, Xbox One, PC
Release date: March 24th 2016
The long-running Trackmania series is a shining example of 'easy to play but hard to master', and now it's returning to consoles for the first time in seven years with the release of Trackmania Turbo, originally set for release last November before it was delayed.
Trackmania Turbo will retain the same fun and frantic arcade-style gameplay of its PC predecessors with new updated graphics, over 200 tracks across 4 locations and of course the trademark track builder that will keep you playing for months to come shaving vital seconds off your lap times.
Trackmania Turbo will also be future-proof, with full VR support for Oculus Rift and PlayStation VR for added immersion (but hopefully not motion sickness). We feel giddy just thinking about experiencing Trackmania's nauseating twists and turns at insane speed in VR.
MXGP 2
Developer: Milestone
Publisher: PQube
Platforms: PS4, Xbox One, PC
Release date: March 31st 2016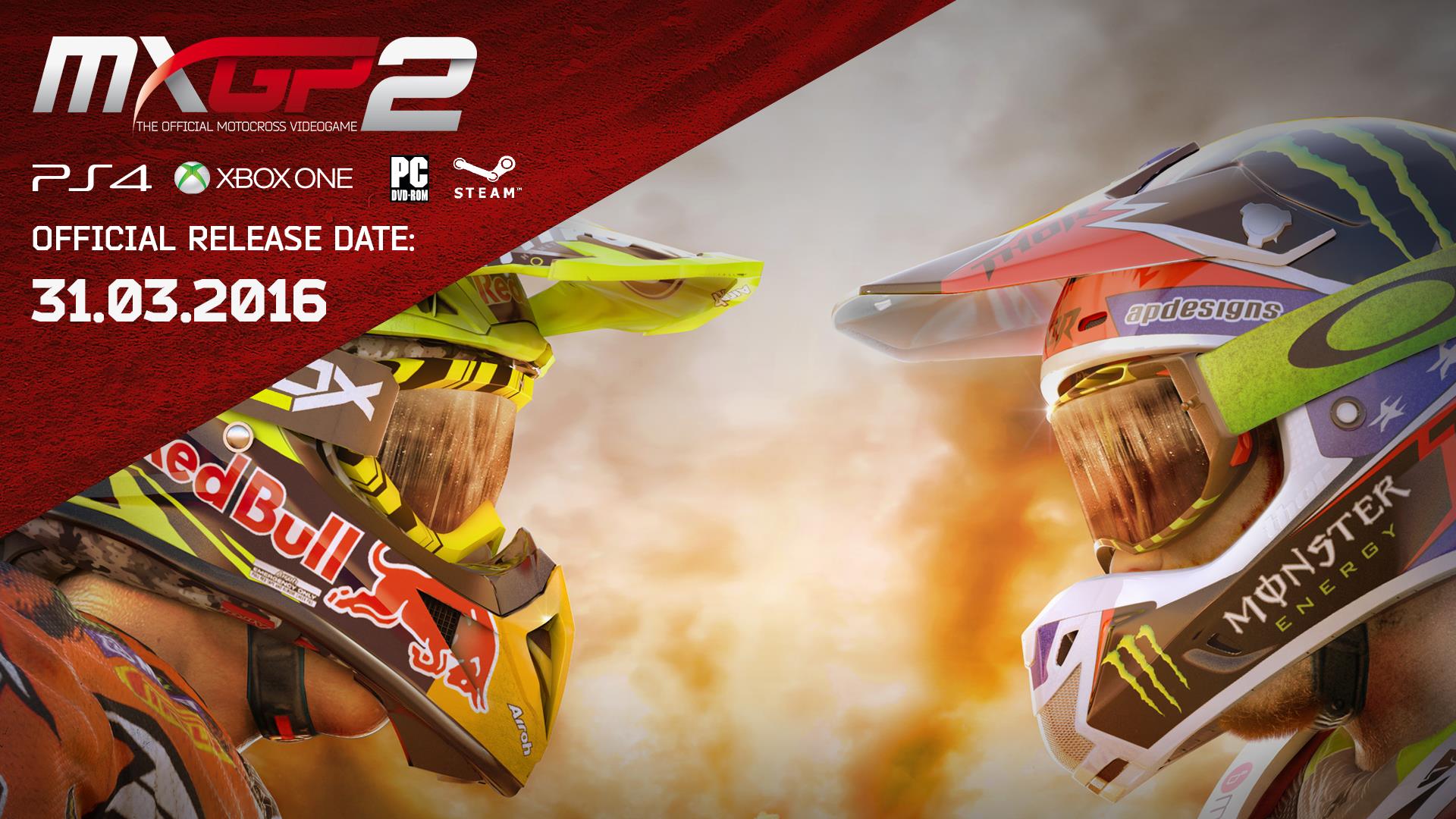 Milestone's yearly churn of officially licensed bike games continues with MXGP 2, a direct sequel to 2013's MXGP: The Official Game. MXGP's gritty dirt bike racing was a welcome alternative to the tiring tarmac racing of MotoGP, so we look forward to seeing how the sequel improves on the original.
MXGP 2 will be based on the 2016 championship featuring all the riders and 18 tracks and locations (you can view the full list here) which isn't exactly surprising for a licensed game. Indoor arena events will also make their debut in the MXGP series as part of the new Stadium Series mode, as well full rider and bike customisation which has been reprised from Ride and MotoGP 15 before it. It also goes without saying that we can expect a host of graphical improvements in the series' jump to current-gen, too.
It's a shame, however, that MXGP 2 is releasing mere days before the next highly anticipated game on this list. Oh Milestone, you never learn.
DiRT Rally
Developer: Codemasters Racing
Publisher: Koch Media
Platforms: PS4, Xbox One
Release date: April 5th 2016
Codemasters answered players' prayers last year with the universally acclaimed DiRT Rally, a hardcore rally simulation that went back to Codemasters' Colin McRae Rally roots. Unlike recent DiRT games which diversified into multiple off-road racing disciplines with an unapologetically American tone, DiRT Rally is a pure rally sim, focusing on challenging point-to-point stages and cars that are demanding to drive. The result was one of the best surprises of 2015 and quite possibly the best Codemasters game in years.
Since its release on Early Access last year, DiRT Rally has evolved with plenty of new content from the forests of Finland to officially licensed FIA World Rallycross content. By the time it crossed the chequered flag into its final release on Steam, the news that DiRT Rally was on course for consoles didn't surprise anyone. Demand for a realistic rally sim on console is high, but it will be interesting to see how DiRT Rally's punishing difficulty is received by the mass market on console.
DiRT Rally's console port is said to be near-identical to its PC counterpart: Codemasters are targeting 1080p and 60fps on PS4 and Xbox One, which they feel is crucial for a racing simulation. A slew of new content will also be included to coincide DiRT Rally's console debut, including seven new cars such as the Alpine A110, Peugeot 208 T16 Pikes Peak and Renault 5 Turbo, some iconic Colin McRae liveries and a vintage gravel version of Pikes Peak.
Forza Motorsport 6: Apex
Developer: Turn10 Studios
Publisher: Microsoft
Platforms: PC
Release date: Spring 2016
Surprise! After being bound to Xbox since it started over a decade ago, the Forza series is finally making its debut on PC with the free-to-play Forza Motorsport 6: Apex coming to the Windows Store this Spring as part of Microsoft's strategy to compete with Steam.
Forza Motorsport 6: Apex will allow PC players to sample what is essentially a cut-down version of the same game released last year on Xbox One: 63 cars will be available across a broad range of categories with AutoVista showroom support. There will also be 20 track configurations with day/night cycles and weather effects also confirmed. Furthermore, Forza Motorsport 6: Apex will take full advantage of powerful PC hardware, running on DirectX 12 technology with support for 4K resolutions. Forza will have never looked so stunning.
The only snag? Forza Motorsport 6: Apex won't support any steering wheels, which is potentially a huge setback for PC sim racing fans.
MX vs ATV Supercross Encore
Developer: Nordic Games
Publisher: Rainbow Studios
Platforms: Xbox One
Release date: May 10th 2016
If MXGP 2 wasn't enough, MX vs ATV Supercross Encore by new developer Nordic Games is finally bringing its brand of muddy motocross racing onto Xbox One this May following its release on PS4 and PC last year.
MX vs ATV Supercross Encore was essentially a re-release of last gen's MX vs ATV Supercross with spruced up graphics adding higher resolution textures and additional details, along with new content. Having said that, veterans of the series will recognise the "new" content: the 12 outdoor national tracks and two open world environments are lifted from fan favourite MX vs ATV Alive.
Assetto Corsa
Developer: Kunos Simulazioni
Publisher: 505 Games
Platforms: PS4, Xbox One
Release date: June 3rd 2016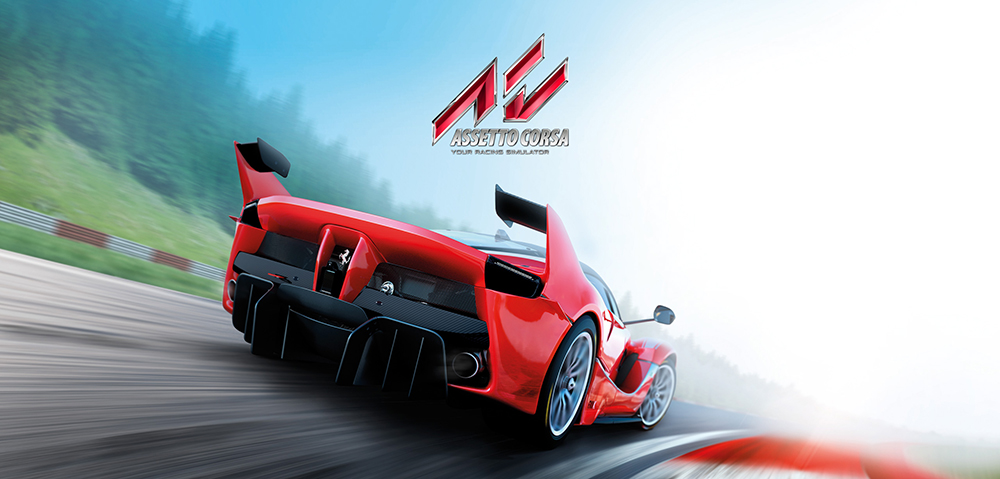 Kunos Simulazioni's sophisticated racing sim Assetto Corsa has built up a loyal fanbase since its PC release on Steam Early Access a couple of years ago. It's easy to see why: developed by a tiny team of just six people initially, Assetto Corsa was the PC's answer to Forza Motorsport and Gran Turismo with its emphasis on road cars, stunning graphics and hardcore driving physics to match its PC competitors. A steady stream of extra content in the form of Dream Packs adding desirable new cars and tracks have since kept players on the track.
This year marks Assetto Corsa's transition to PS4 and Xbox One. And if you thought the console versions would be heavily compromised compared to the PC version, think again: our recent hands-on session confirmed that the console port won't be compromised compared to the PC version: the graphics look near identical, while the ultra-realistic driving physics. Featuring 90 cars and 20 tracks out of the box, the console release of Assetto Corsa will also include all additional content released for the PC.
Project CARS practically paved the way for hardcore racing simulations on consoles to follow, and while Assetto Corsa may not have dazzling dynamic weather effects or the comprehensive car lists of its competitors, it more than makes up for it with its sublime driving physics, making it one of the purest driving simulations on the market and a viable competitor to the console racing titans Forza Motorsport and Gran Turismo.
Originally scheduled to race onto PS4 and Xbox One April 22nd, Assetto Corsa has since been delayed until June 3rd.
Valentino Rossi: The Game
Developer: Milestone
Publisher: PQube
Platforms: PS4, Xbox One, PC
Release date: June 2016
The annual MotoGP game series' lack of innovation has been a common complaint since Milestone reclaimed the license back in 2013. Last year's MotoGP 15 was a case in point, in what turned out to be a typically incremental annual sequel that did little to improve on its predecessor.
This year's MotoGP game promises to be different, however. Continuing Milestone's spate of new IPs following Ride and Sebastien Loeb Rally EVO is the imaginatively-titled Valentino Rossi: The Game, acting as this year's replacement for the MotoGP series.
MotoGP 2016 championship content will still feature, but the main focus will be on Valentino Rossi in a mode that lets you relieve the career of the nine-time MotoGP champion. Like Sebastien Loeb Rally EVO, Valentino Rossi: The Game will also represent the rider's other roles in motorsport, with rally events representing his involvement in the Monza Rally plus Flat Track races and the Valentino Rossi ranch.
Gran Turismo Sport
Developer: Polyphony Digital
Publisher: Sony
Platforms: PS4
Release date: Autumn 2016
Patient PS4 players have been eagerly awaiting the next installment of Gran Turismo, which hasn't been easy when there have already been two Forza games released since Gran Turismo 6 trying you to tempt you over to rival console Xbox One. The wait is nearly over however, as this year the series will finally be making its current-gen debut with the release of Gran Turismo Sport.
Gran Turismo Sport's announcement was somewhat ambiguous – Gran Turismo 7, this is not. That doesn't mean you should instantly write it off as another Prologue, though. Polyphony could be about to revolutionise the racing genre all over again, just as they did with the original Gran Turismo in 1998.
Gran Turismo Sport aims to blur the line between real and virtual motorsport like no game before it. It sounds ambitious, but Gran Turismo Sport is FIA approved, meaning that the two online championships you'll compete in will be recognised alongside actual motor racing. Campaign, Sports and Arcade make up the main modes, but details are extremely slim other than that.
Gran Turismo Sport will be hitting the track this Autumn, but expect a beta this Spring to get your engine revving.
Moto Racer 4
Developer: Artefacts Studio
Publisher: Microïds
Platforms: PS4, Xbox One, PC
Release date: Autumn 2016
Apart from officially licensed games like MotoGP, bike racing games have been pretty sparse for the past few years, but the recent release of DriveClub Bikes reminded us just how fun bike racing games used to be when they weren't so serious. One such series was Moto Racer, a series that encapsulated the high speed thrills of road and dirt bike racing without being too demanding.
It's a series that's been sorely missed in the absence of accessible bike racing games, but now it's making a belated comeback with Moto Racer 4, the first game in the series in nearly a decade.
Developed in partnership with series creator Paul Cuisset, Moto Racer 4 looks to recapture the essence of the series, with an eclectic mix of motorcross and road bikes, bike and rider customisation and a graphics engine developed with Unreal Engine 4. If the punishing nature of MotoGP turns you off, Moto Racer 4 could be one to watch for bike racing fans.
Obliteracers
Developer: Varkian Empire
Publisher: Deck13 Interactive
Platforms: PS4, Xbox One, PC
Release date: Autumn 2016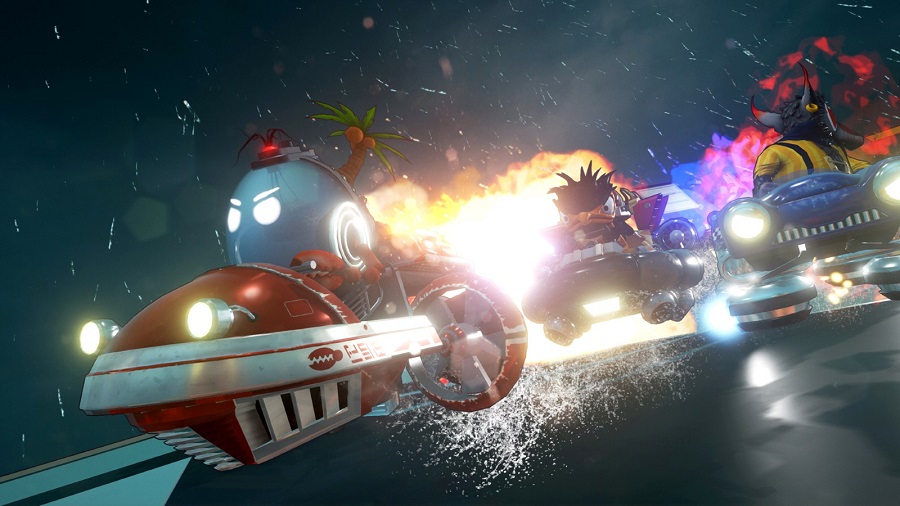 Already available on PC, Australian-based developer Varkian Empire will be releasing their award-winning party racer Obliteracers on PS4 and Xbox One later this year.
Easy to pick up and play but hard to master, Obliteracers is essentially a game of elimination, challenging players to stay ahead of the pack whilst avoiding falling off the edge of the track based in a variety of intergalactic locations.
Obliteracers features the usual single player and online multiplayer modes you would expect, but perhaps most impressive is the ability to race with up to 16 players simulltaneously in local multiplayer. Add in some highly customiseable party modes for online play and a range of powerups and you have a fun, addictive racer.
FlatOut 4 Total Insanity
Developer: Kylotonn Games, Tiny Rebel Games
Publisher: Strategy First
Platforms: PS4, Xbox One, PC
Release date: TBA 2016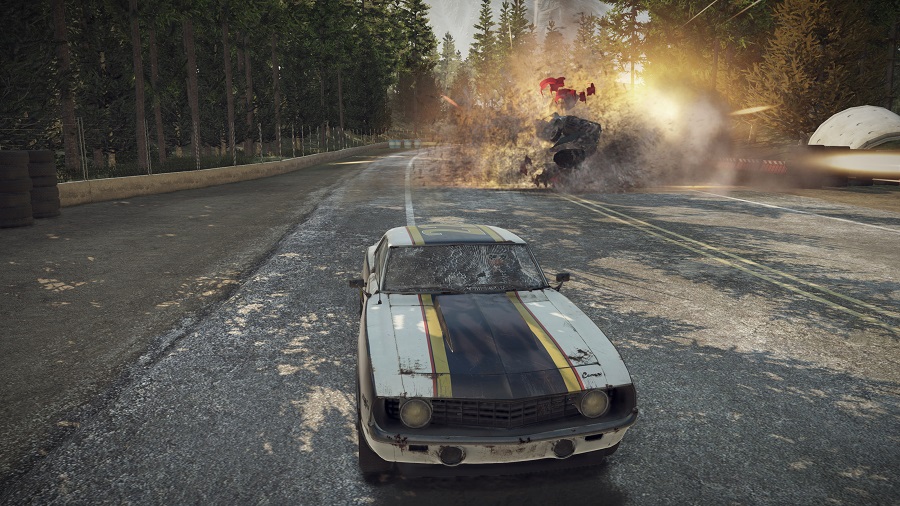 FlatOut's glory days are now a distant memory, sadly. FlatOut: Ultimate Carnage ranks as one of the best banger racing games since the days of Destruction Derby, but then developer Team6 Games took over the series from BugBear and released the godawful farce that was FlatOut 3: Chaos & Destruction which nearly wrote the series off for good. Seriously, look up the embarrassing trailer and try not to laugh at the audacity of the developers proclaiming FlatOut 3 as "the best racing game ever" during the glitchy gameplay.
With the wreckage now cleared up, Tiny Rebel Games and WRC 5 developer Kylotonn Games are rebooting the FlatOut series with FlatOut 4 Total Insanity, set to smash onto PS4, Xbox One and PC at some point this year. Tiny Rebel Games' involvement is particularly interesting – their release of mobile game Doctor Who: Legacy may not sound relevant to a racing game, but the developers' work on the Grand Theft Auto and Midnight Club series has us interested.
For FlatOut 4, Tiny Rebel and Kylotonn want to get the community actively involved with the development, starting with inviting users to vote for their favourite tracks from FlatOut Ultimate Carnage to inspire the development of a new track in FlatOut 4.
World of Speed
Developer: Slightly Mad Studios
Publisher: My.com
Platforms: PC
Release date: TBA 2016
You'd be forgiven for forgetting all about World of Speed, Slightly Mad Studios' free-to-play, massively multiplayer online racing project that's being marketed as a more accessible alternative to the hardcore simulation that is Project CARS.
World of Speed primarily focuses on team racing: players are assigned different roles so that success doesn't necessarily revolve around finishing in first place. With fictional city tracks set in famous locations like London, Moscow and Monaco along with real world racing circuits, an arcade-style driving model and online car clubs, World of Speed is looking like the lovechild of DriveClub and Project Gotham Racing.
Word on World of Speed has been worryingly quiet as of late which has made some people wonder if the project had been scrapped, but recent social media updates suggest the game is still in development. We're hopeful we'll see a final release this year before Project CARS 2.
NASCAR '16
Developer: DMI Games
Publisher: Dusenberry Martin Racing
Platforms: PS4, Xbox One, PC
Release date: Late 2016
NASCAR is getting another annual game release this year, but before you write it off, NASCAR 16 is being handled by a different developer which could breathe some new life into the series. Last year long-time developer Eutechnyx, who were responsible for all NASCAR games since 2010, sold the license to DMI Games, who are currently working on a new NASCAR game set for release this year on PS4, Xbox One and PC. Assets from Eutechnyx such as cars and tracks were acquired as part of the deal, but NASCAR '16 will be running on all-new technology and is being billed as a simulation.
The team that makes up DMI Games also has significant racing game pedigree to back these claims up, as the company's SEO's Tom Dusenberry and Ed Martin have a history with NASCAR games.  Dusenberry worked on NASCAR Heat which was considered a high point for the series at the time, while Martin was a previous executive for Papyrus, who worked on the original NASCAR series, as well as Atari and EA Sports who held the NASCAR license for over a decade before Eutechnyx took over. Having a US developer working on a NASCAR series probably makes more sense in the long-run, although it makes the prospect of a European release uncertain.
Indie Racing Games
While the big budget developers are busy working on familiar franchises for the most part, you'll find plenty of innovation from indie developers, from creative new IPs to spiritual successors of classic series that publishers refuse to resurrect. Here are some of the many indie racing game gems you can look forward to in 2016.
Super Toy Cars
Developer: Eclipse Games
Platforms: PS4
Release date: January 5th 2016
We've seen plenty of casual racing games featuring mini motors racing on handmade tracks lately, from Playrise Digital's acclaimed Table Top Racing, to Codemasters' Toybox Turbos, all competing to fill the void left by the classic Micro Machines series.
This year sees the genre continue its resurgence with Super Toy Cars developed by Eclipse Games, a PS4 port of the same game originally released on PC, Xbox One and Wii U last year. While certainly not the most original game ever made, Super Toy Cars looks like another fun entry in the casual racing game market, featuring 16 distinct cars, 15 tracks and a career comprising 48 events, plus a plethora of power-ups.
It's just a shame the Wii U's track editor hasn't been reprised in the PS4 version, and the lack of online multiplayer may harm its replay value.
Automobilista Motorsports
Developer: Reiza Studios
Platforms: PC
Release date: Q1 2016
While a lot of the high profile sim racing releases are heading to console this year, PC owners haven't been left out. Brazil-based Reiza Studios recently announced their new racing sim Automobilista Motorsports which is now available on Steam Early Access, the successor to their popular Stock Car Extreme series. Automobilista Motorsports was originally going to be a released as a substantial update to Stock Car Extreme before it became a separate game.
Like Stock Car Extreme, Automobilista Motorsports is a full-blown racing simulation that will delve into just about every Brazilian motorsport discipline such as Stock Car V8, Copa Petrobras de Marcas, Formula 3 Brasil and the Mitsubishi Lancer Cup.
However, Automobilista Motorsports will further expand the range of racing disciplines, from karting and F1 to rallycross and supertrucks. Its diversity has echoes of Project CARS: you'll be able to take on a full 24 hour endurance race and sample several decades of grand prix racing.
Fancy a test drive of Automobilista Motorsport? It was recently released on Steam Early Access.
American Truck Simulator
Developer: SCS Software
Platforms: PC
Release date: February 3rd 2016
The enduring popularity of SCS Software's simulation games has always baffled me, but there's clearly a market for these niche games. Case in point: Euro Truck Simulator 2 has sold over 3.5 million units to date. Not bad for a game where you spend the majority of the time driving on motorways, delivering cargo and never breaking speed limit. Actually, that sounds weirdly therapeutic.
Capitalising on Euro Truck Simulator's surprising success, this year sees the series venture outside European territories for the first time with American Truck Simulator, featuring faithfully recreated truck models from iconic manufacturers such as Peterbilt and Kenworth to haul around the sunny state of California and the sandy shores of Nevada complete with recognisable landmarks. Keep on truckin'.
Rocket League
Developer: Psyonix
Platforms: Xbox One
Release date: February 17th 2016
Rocket League really needs no introduction. One of the surprise hits of last year, the physics-based car football game is still just as addictive now as it was when it first launched on PS4 last summer. And now Xbox One players can join in the fun.
To commemorate Rocket League's kickoff on Microsoft's console Rocket League released on Xbox One with some Xbox-themed content including cars from Halo and Gears of War and a Sunset Overdrive-themed boost and antenna. See you on the pitch.
Bus Simulator 16
Developer: Astragon Entertainment
Platforms: PC
Release date: March 2nd 2016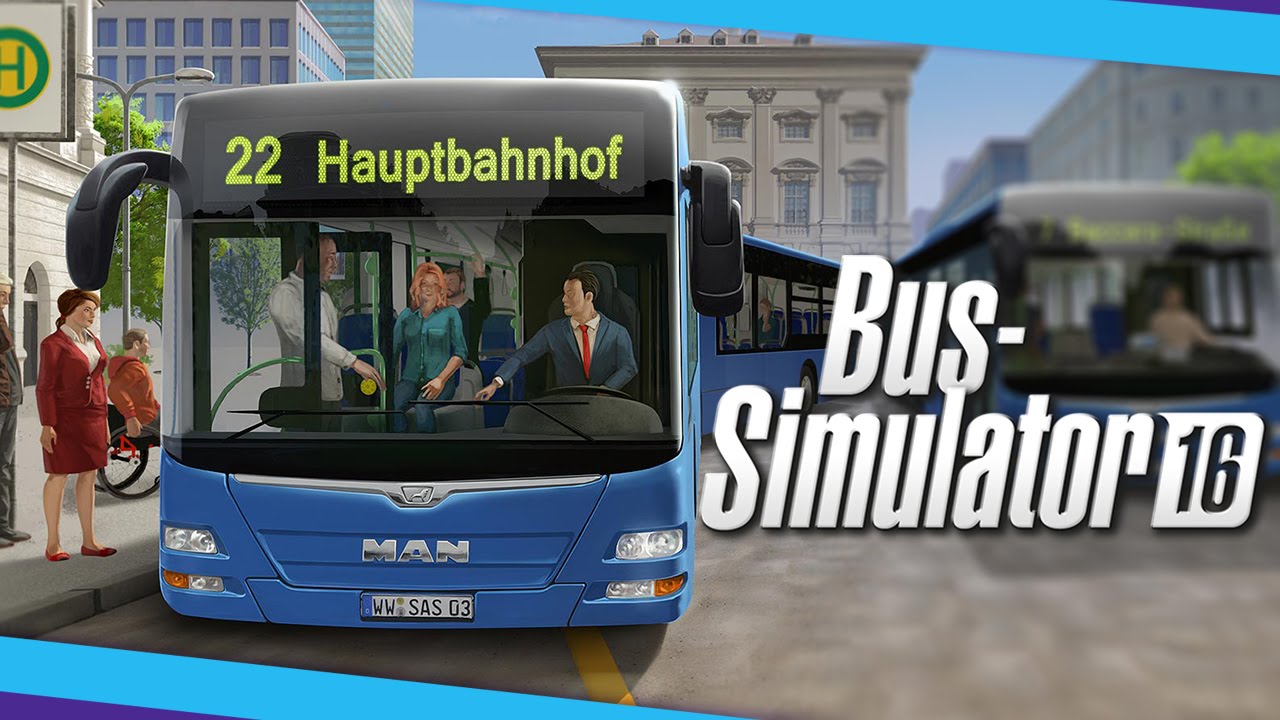 If American Truck Simulator doesn't take your fancy, there's always Bus Simulator 16.
Bus Simulator 16 lets you get behind the wheel of six licensed buses ranging from standard two-door vehicles to bendy buses, transporting commuters to their destinations across five distinct districts as fast and as safely as possible.
Indeed, don't expect any reckless Crazy Taxi-style gameplay: the speed limit must be obeyed and your passengers probably won't be very happy if you get involved in any traffic collisions. While this is probably the stuff of dreams for bus enthusiasts, it's a shame there aren't any Top Gear-style bus demolition derby races to participate in to spice things up. Now there's an idea for a game if any aspiring developers are reading this.
Still you can't deny its authenticity: Bus Simulator 16 failed to arrive on time, so at least it's a realistic bus simulator.
Table Top Racing World Tour
Developer: Playrise Digital
Platforms: PS4
Release date: March 2016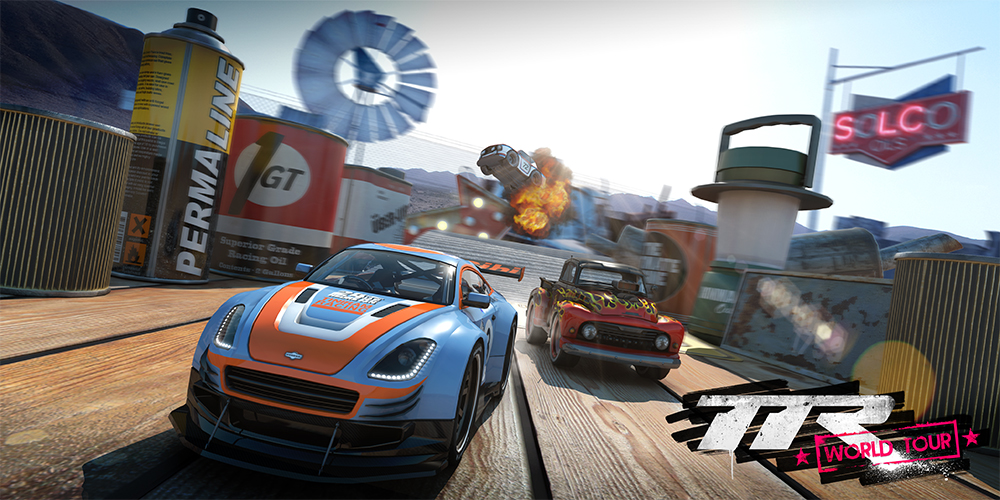 Table Top Racing was a runaway success in the mobile market: to date it's been downloaded over 9.5 million times across a multitude of platforms including iOS, Android and PlayStation Vita since its release 3 years ago. Table Top Racing was the work of Playrise Digital, a Liverpool-based studio founded by none other than Nick Burcombe – a man best known for creating a little-known series called WipEout which took the PlayStation by storm over 20 years ago.
Table Top Racing: World Tour marks the series debut on consoles, and while the formula of mini cars, power-ups and larger than life tracks hasn't been altered too much, the move to consoles means the audience has different expectations compared to the mobile market. As such, you can expect to see vastly improved graphics, more extravagant car and track designs and multiplayer support for network and 4 player split screen play.
As the monumental success of Rocket League has shown, mini racing games make for extremely addictive multiplayer experiences, so Playrise could have another hit on their hands. Table Top Racing: World Tour will initially screech onto PS4 before coming to PC and Xbox One at a later date.
Coffin Dodgers
Developer: Milky Tea Studios
Platforms: PS4, Xbox One
ETA: Spring 2016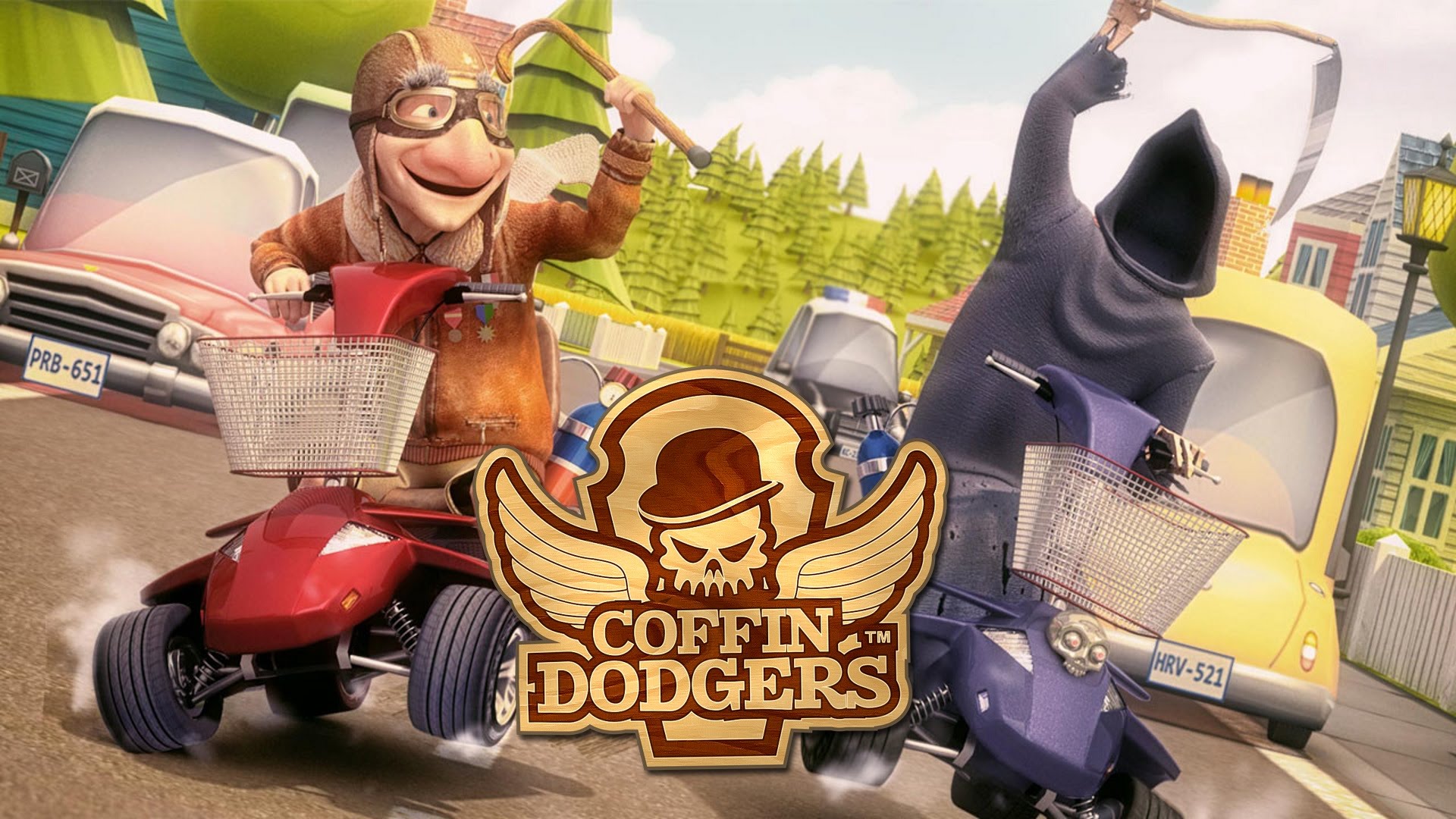 If racing games have become a bit too serious for you as of late, tongue in cheek kart racer Coffin Dodgers could be just what the doctor ordered.
Coffin Dodgers is certainly a unique twist on the kart racing genre: situated in a quaint retirement village, you're tasked with saving one of seven petrolheaded pensioners, racing round on souped up mobility scooters and fending off the grim reaper and his army of zombies with homemade weapons and gadgets. It's refreshing to see a racing game with a sense of humour again.
Formula Fusion
Developer: R8 Games
Platforms: PC, PS4
ETA: August 2016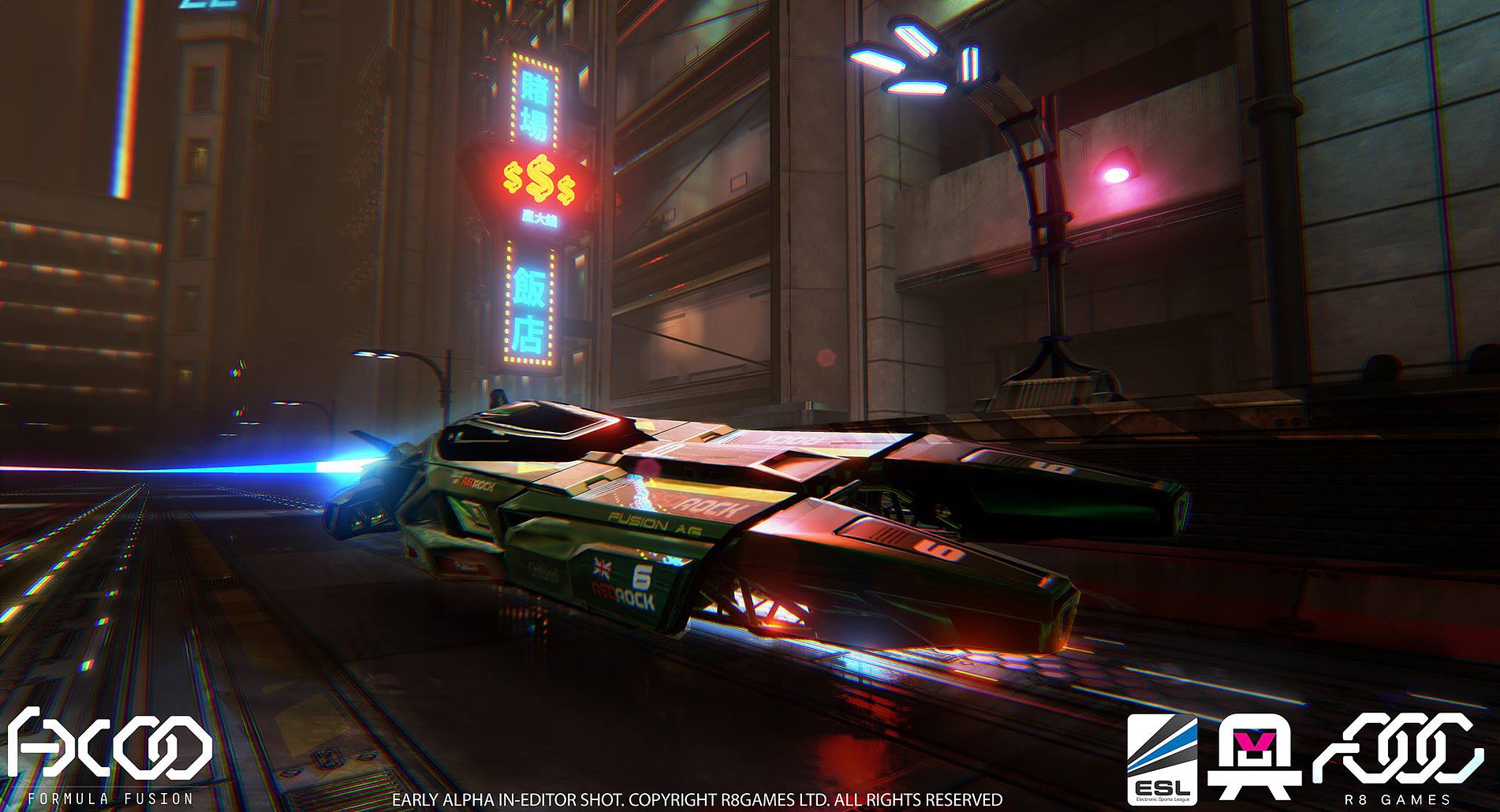 There have been plenty of new futuristic racing games released in the wake of WipEout's untimely demise, but if you're looking for a true WipEout spiritual successor then Formula Fusion is probably the closest you're going to get since developer R8 Games is made up of ex-Psygonosis Leeds Studio who worked on the underrated WipEout 3, along with industry veterans whose credits include Colin McRae, AutoClub Revolution, Carmageddon and Midnight Club.
And if the prospect of a WipEout spiritual successor wasn't already exciting enough, renowned graphic design studio The Designers Republic, who played a big part in realising WipEout's iconic style that become one of the original PlayStation's defining games, are also on-board for Formula Fusion.
Formula Fusion is set to continue where WipEout left off, with a familiar yet fresh take on futuristic anti-gravity racing. You can sample an early pre-alpha version of Formula Fusion in its current Early Access state, but the final game will contain upgradeable craft, 22 futuristic tracks and a track editor.
Like many indie developers, R8 Games has faced some setbacks during development, but now the team is back on track with plenty of new updates planned in the run up to its release on PC and consoles this August.
Redout
Developer: 34BigThings
Platforms: PC, PS4, Xbox One
ETA: TBA 2016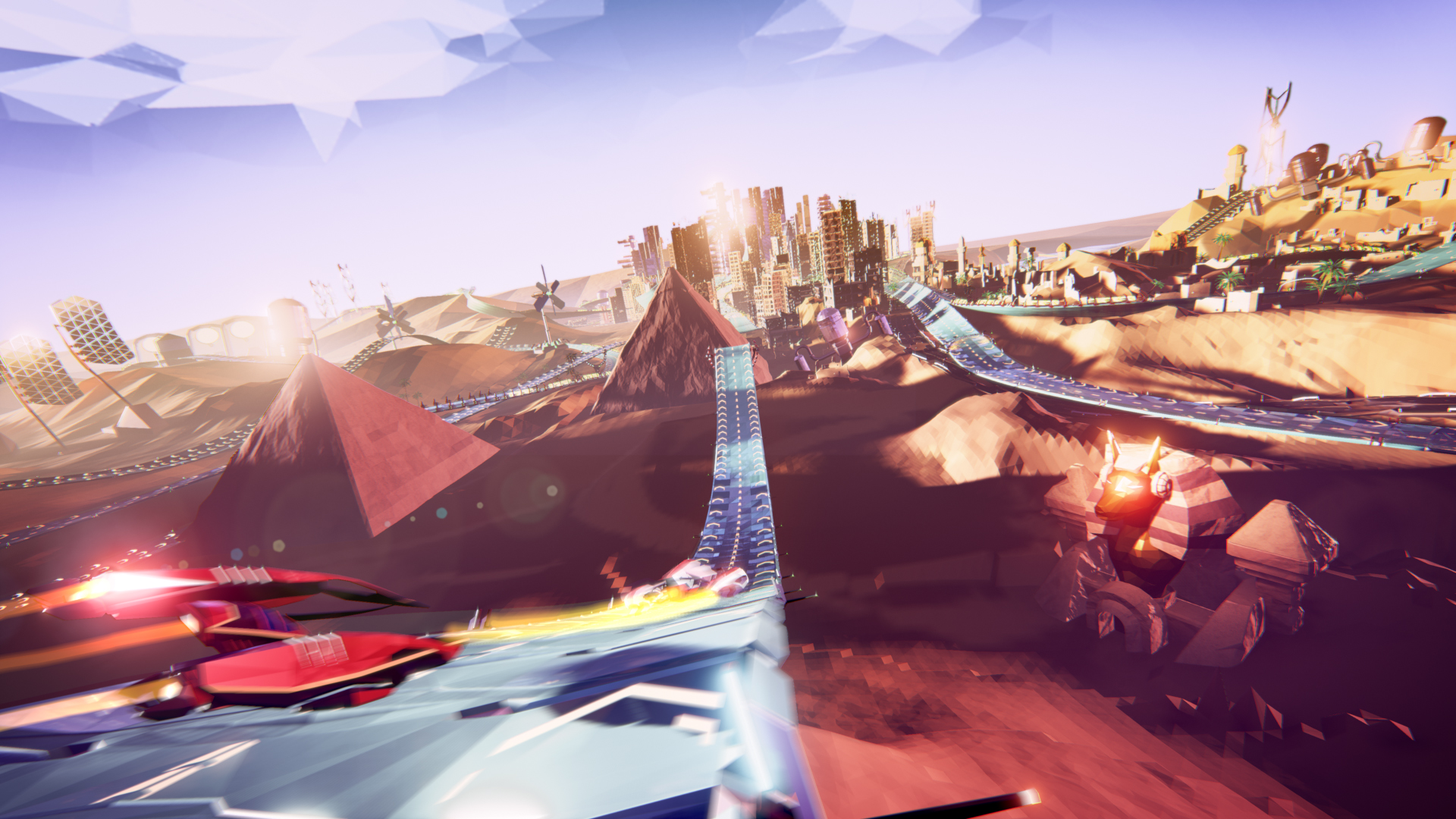 Redout is yet another WipEout-inspired futuristic racing game currently in development by 34BigThings, who recently released Hyperdrive Massacre. Releasing on PS4, Xbox One and PC, what's immediately striking about Redout is its stylish visuals and tracks that resemble rollercoasters more than race tracks.
An Early Access release has been confirmed for 2016 on PC with limited content, but the final game will contain a career mode with upgradeable craft with power-ups, 25 tracks and AI and local multiplayer for up to 4 players.
Distance
Developer: Refract Studios
Platforms: PC, PS4
ETA: TBA 2016
From the developers that brought you Nitronic Rush, Distance is a rather unique take on the futuristic racing genre. Set in a seedy neon-lit world, Distance is a survival racer where you control a car capable of jumping and flipping to avoid traps and obstacles. It sounds simple, but the vibrant visuals and sublime electronic soundtrack instantly remind you of Tron.
For added immersion, Distance is VR-ready with support for Oculus Rift DK2 in its current Early Access phase and PlayStation VR for its PS4 release later this year.
Bank Limit: Advanced Combat Racing
Developer: Tastee Beverage Studios
Platforms: PC
ETA: March 28th 2016
Another futuristic racing game in development with VR in mind is Bank Limit, which is also set to release at the same time as the launch of Oculus Rift in March alongside Radial G. However, in contrast to its rival, Bank Limit is a WipEout-esque combat racer. Thankfully, Bank Limit isn't a game where you'll be fretting about your overdraft limit: instead you'll be racing at ridiculous speed battling with rival ships using lasers and missiles. This makes Bank Limit quite possibly the closest we're going to get to experiencing WipEout in VR right now.
Placing you in the cockpit camera at all times, Bank Limit looks spectacular, with its blistering speed, intense combat and stomach-churning banks, turns and drops tailored for VR. Let's just hope it isn't literally a stomach-churning experience, as we don't fancy getting motion sickness. The AI is also said to be particularly advanced, forgoing the frustrating rubber-band AI in favour of opponents who react to your moves. 15 tracks from three different worlds will feature across single player and online modes with up to 24 ships at once.
If that all sounds promising and you already own an Oculus Rift, not to mention a powerful PC to handle it, you can sample a playable demo of Bank Limit from the official website.
GRIP
Developer: Caged Element
Platforms: PC, PS4
Release date: TBA 2016
Remember Rollcage? The cult classic racer that let you drive on walls without fear of flipping over and obliterate anything in your path is finally getting a modern-day spiritual successor with GRIP, a new car combat game from newly formed developer Caged Element.
From the vehicle designs and locations, to the soundtrack comprising of artists who contributed to the original game, it's clear that GRIP is wants to replicate Rollcage as closely as possible – the two founding members even worked on the original series published by Psygnosis.
Following a cancelled Kickstarter campaign, GRIP has just rolled onto Steam Early Access where you can access a handful of vehicles, locations and game modes. Caged Element are targeting a final release later this year on PC with a PS4 version also in the pipeline. GRIP could well be the game that finally revitalises the futuristic car combat racing genre.
Wreckfest
Developer: BugBear Entertainment
Platforms: PC
Release date: TBA 2016
Originally known simply as 'Next Car Game', Wreckfest is the work of the fine Finnish folk at BugBear Entertainmet, a talented team best known for the smash 'em up FlatOut series. After facing constant publisher rejection, Wreckfest is BugBear's attempt to restore the demolition derby genre, and what we've seen so far shows plenty of sign for encouragement.
Simply put, Wreckfest has the most advanced damage modelling of any racing game ever, thanks to BugBear's impressive in-house soft body technology that lets you demolish your car beyond recognition with astonishing realism. Like the FlatOut series, races take place both on tarmac and off-road, or you can crank up the carnage in arena-based last man standing demolition derby events. Wreckfest also features an in-depth car upgrade system which plays a big part in the career.
Recent Early Access updates introduced lawn mowers, rag doll physics and new tracks but we feel it's about time Wreckfest crossed the green light into its final release since it's been stuck in Early Access since 2013. Hopefully a console release is also on the cards.
Horizon Chase
Developer: Aquiris Studio
Platforms: PS4
Release date: TBA 2016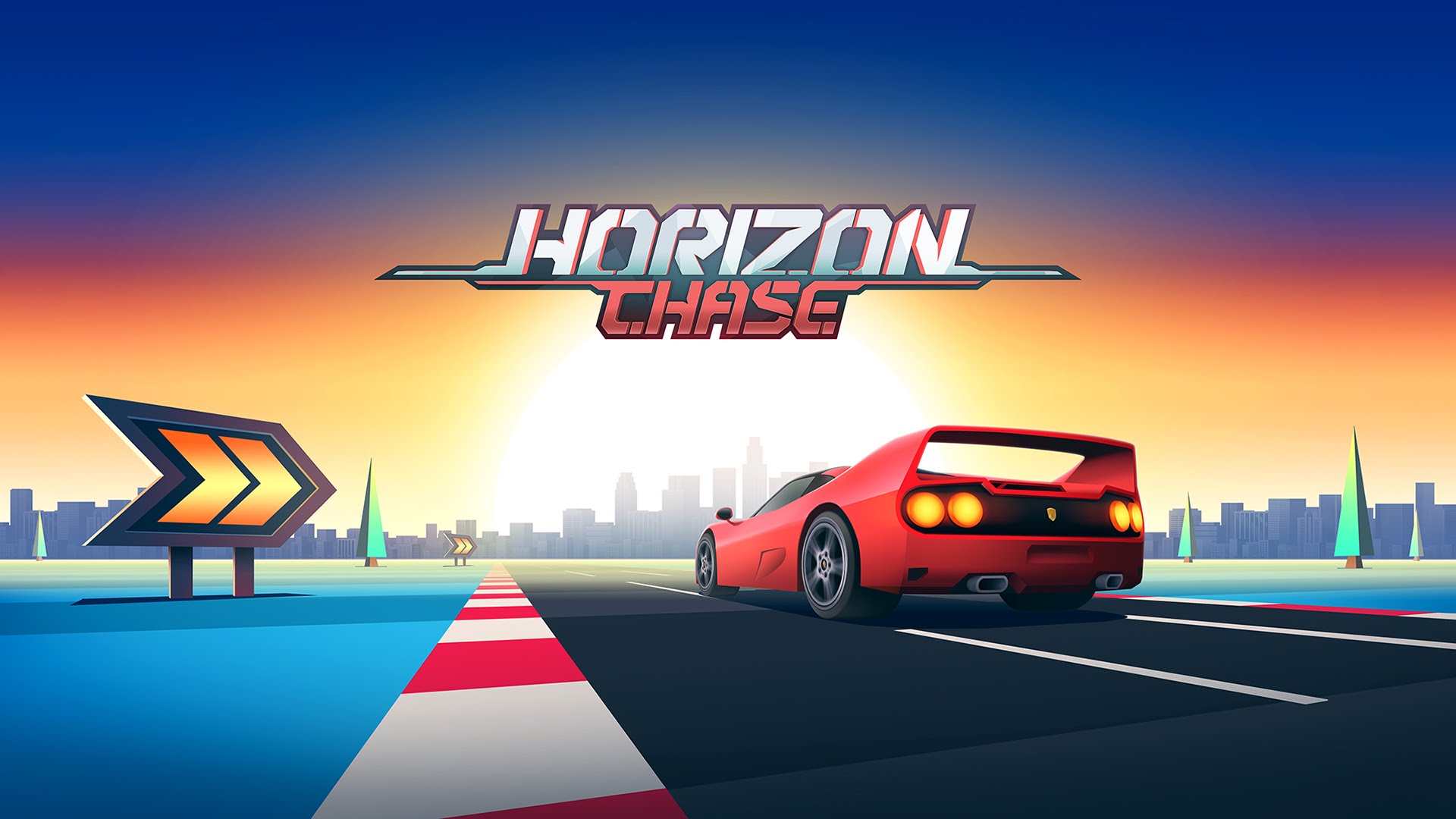 Another recurring theme we're starting to see is the retro-inspired racer. Last year saw the release of the highly acclaimed Horizon Chase from Brazil-based Aquiris Studioon iOS and Android, a game that evoked a simpler time when racing game developers weren't obsessing over glossy graphics, comprehensive car lists and ultra-realistic handling. Back then racing games were immediately fun and accessible, yet still had enough depth to present challenge and replay value: something that's arguably lacking in a lot of modern racing games today as developers push for photo-realism and realistic driving.
Inspired by 16-bit classics such as OutRun, Top Gear and Lotus Turbo Challenge, Horizon Chase plays like a love letter to the arcade racing games of yesteryear, with its comparatively simple graphics for modern-day standards, arcade-style driving physics and a globe-trotting tour taking you through over 70 different tracks. It even has a soundtrack composed by Barry Leitch who created many of the soundtracks used in games that inspired Horizon Chase.
Best of all, Horizon Chase doesn't fall into the free-to-play trap most mobile games suffer from, forcing you to grind for hours unless you're willing to cough up cash. Following its success on mobiles Horizon Chase is heading to PS4 at some point in 2016.
Drift Stage
Developer: Super System Software
Platforms: Windows PC, Mac, Linux, PS4, PS Vita
Release date: TBA 2016
Like Horizon Chase, Drift Stage also revels in its simplicity. The neon graphics are brash and blocky, the car handling is primitive and the rousing synthwave soundtrack is right out of the '80s. Normally these attributes would be criticisms, but here it's created a unique style for Drift Stage, which deliberately looks like a 3D remake of 2D 16-bit era racing games.
The visuals of Drift Stage instantly grab your attention, with its bright, bold colours that come as a striking contrast to the photo-realistic graphics seen in most modern racers. It's easily one of the most stylish-looking racing games we've ever seen.
As the name suggests, Drift Stage is all about the art of driving sideways, with points awarded the longer you can sustain your drift. Drifting feels initiative, fun and easy to pick up and play, yet there's still a degree of skill required to stay sideways and get the faster times. The cars also suit the era, with designs based on drifting staples from the '80s and '90s such as the Toyota Sprinter Trueno AE86 from Initial D, BMW M1 and Nissan Skyline.
Complementing the visuals is a soundtrack composed by Hugh Myrone, blending guitars and snythesisers to create a suitably '80s-style. Drift Stage is expected to slide onto a variety of formats sometime this year, but you can start driving sideways right now via a free alpha demo available to download.
Power Drive 2000
Developer: Megacom Games
Platforms: Windows PC, Mac, Linux, PS4
Release date: TBA 2016
Another '80s-inspired retro racer is Power Drive 2000 which is drifting to PC and PS4. We're guessing the developer is a keen Knight Rider fan: set in a gloomy, futuristic sci-fi world, Power Drive 2000 lets you drive an AI car that talks and keeps tabs no your health. Not to be confused with the iconic KITT, it's called CAT, which stands for Computerized Autonomous Technology. Clever.
You'll be spending a lot of your time drifting in Power Drive 2000: driving around corners sideways not only looks cool, but it's essential to charge up your boost and keep up speed. Several game modes are promised including races against player ghosts, an Outrun mode that has you dodging traffic and a hardcore Vaporiser mode where you have to avoid laser fences lined up against the track, but it's the stylish visuals and '80s-inspired soundtrack that draw us to this promising Sci-Fi racer.
The 90's Arcade Racer
Developer: Nicalis
Platforms: Wii U, PC
Release date: TBA 2016
It feels like a lifetime ago when we first reported on The 90's Arcade Racer. Originally announced in 2013, The 90's Arcade Racer is heavily inspired by classic 90's coin-ups such as Daytona USA and Virtua Racing, SEGA-style visuals, and a car selection that pays homage to arcade racers from the era.
The '90s Arcade Racer was originally developed by a one-man team after a successful Kickstarter campaign before joining forces with Nicalis. In addition to PC and mobile platforms, it's also slated for Wii U; a platform that isn't exactly brimming with new racing game releases. Porting The 90's Arcade Racer from PC to Wii U hasn't been without its challenges, but the developer has managed to get it running at 60fps and 720p.
The 90's Arcade Racer has been a long time coming, facing several delays and quiet periods leading to many thinking it had been scrapped. According to a Kickstarter update last November however, development for The '90s Arcade Racer is coming to a close, so we should hopefully be finally playing it this year.
Drive Any Track
Developer: Foam Entertainment
Platforms: PC, iOS
Release date: Mid 2016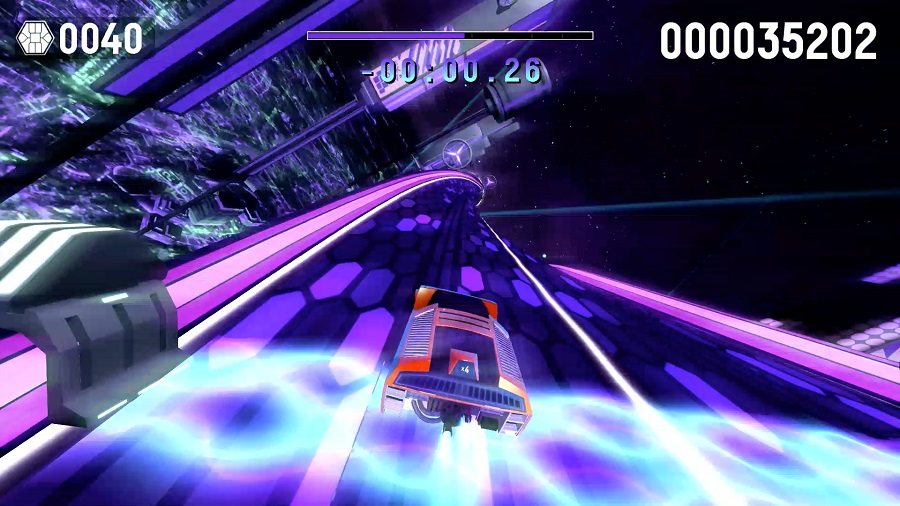 Last year the music rhythmic genre made a surprise comeback with the release of Guitar Hero Live and Rock Band 4. And yet there was a third entry you may have missed on the reunion tour: Drive Any Track. Think Vib Ribbon but with cars.
As the name suggests, Drive Any Track autogenerates racetracks and smartly syncs them to the rhythm of your custom soundtrack, fusing a Tron-style futuristic setting with fun driving that rewards points for stylish maneuvers such as drifts, jumps and rolls. The scenery even changes its theme depending on the genre of music you're playing, while the car designs are also inspired by different music genres.
From our play-through last year, Drive Any Track was a blast to play and thoroughly addictive when trying to beat other player's high scores. Drive Any Track is currently making some noise on Steam Early Access, with a final release planned for the middle of this year.
Carmageddon Max Damage
Developer: Stainless Games
Platforms: PS4, Xbox One, PC
Release date: Mid 2016
Buckle up: the controversial Carmageddon series is crashing onto consoles this year.
Following the release of Carmageddon Reincarnation on PC last year, Carmageddon Max Damage will be bringing its violent vehicular combat to consoles for the first time in nearly 20 years. Carmageddon remains just as willfully politically incorrect as before: as ever, your objective is to mow down hapless pedestrians in killer cars for points. Original developers Stainless Games are cramming in more cars and environments into Carmageddon Max Damage than ever before, with over 30 cars, 10 distinct environments and a variety of pedestrian types to murder.
While we doubt that Carmageddon Max Damage will have the same shock factor it did in its heyday day, it's still refreshing to find a racing game that doesn't take itself too seriously amongst the serious simulations, particularly when we don't have Twisted Metal to turn to.
Cel Damage HD
Developer: Finish Line Games
Platforms: Xbox One
Release date: March 11th 2016
Crazy cartoon car combat racer Cel Damage probably wasn't a game you'd expect to get the HD remaster treatment, but that's exactly what you got in 2014 with its great value PS4, PS3 and PS Vita cross buy release. Its absence on Xbox One was baffling however, considering it debuted on the original Xbox alongside the GameCube. Mercifully, Finish Line Games has now confirmed that Cel Damage HD is coming to Xbox One 14 years after its original launch.
The cel-shaded visuals and outlandish characters made it a blast to play, but Cel Damage HD is at its best when you're engaged in some local multiplayer mayhem shouting at each other on the sofa.
Road Redemption
Developer: Dark Sea Games
Platforms: PC, PS4, Xbox One
Release date: Q2 2016
While news on Dark Sea Games' Road Rash-style motorcycle combat game Road Redemption has been slow lately, be rest assured that the project is still alive and, er, kicking.
Road Redemption has had regular updates, with the most recent released last November to coincide with Thanksgiving, adding a new Quick Race mode and a host of improvements. Road Redemption first launched on Steam Early Access in 2014, with a final release planned for this Spring.
Road Redemption relies on a similar combat system to Road Rash whilst throwing firearms into the mix, but the stakes are raised knowing that you only have one life as events take place on a procedurally generated road: Road Redemption is truly a game of survival. Bike racing has never felt so brutal.
Road Rage
Developer: Maximum Games
Platforms: PC, PS4, Xbox One
Release date: TBA 2016
Just when we thought Road Redemption had the motorcycle combat genre all to itself, Maximum Games announce new IP Road Rage for PC, PS4 and Xbox One.
Like Road Redemption, Road Rage takes its inspiration from Road Rash, mixing bikes with weapon-based combat. Players take the role of Ace, a member of a motorcycle gang with aspirations to become king ping. Road Rage will take place across 40 story missions and feature 40 battle moves and 13 fully customisable bikes to tame.
Racecraft
Developer: Vae Victis Games
Platforms: PC
Release date: TBA 2016
From Vae Victis Games, the developer behind Victory: The Age of Racing (which is now mercifully free-to-play on Steam), comes Racecraft, an innovative sandbox racer that sets itself apart with its powerful procedural technology that can produce an endless number of tracks, providing new challenges at every corner. Tracks can be created saved and shared, as can your uniquely designed cars. It's no coincideIt's no coincidence that Racecraft was inspired by Minecraft.
Graphically, Racecraft is already looking leaps and bounds ahead of Victory which looked somewhat dated, and the handling felt fun and intuitive based on a hands-on session we had at least year's Gamescom. Racecraft will also further innovate with future VR support and a co-op multiplayer that assigns team roles for participating players including driver, team manager, track engineer, mechanic, car designer and more.
A playable alpha for Racecraft was recently released in the run up to its launch on Steam Early Access March 4th.
KartKraft
Developer: Black Delta
Platforms: PC
Release date: TBA 2016
Originally known as KartSim, KartKraft is currently in development by Australian studio Black Delta, a team comprised of just nine people. Black Delta was founded by ex-kart racer Zach Griffin, who was able to use his insight to create what was originally intended to be a university project.
KartSim aims to accurately simulate the thrilling world of kart racing, featuring fully laser-scanned tracks such as Atlanta Motorsports Park and Paul Fletcher International, a customisable sandbox career mode and hyper-realistic karting physics. And if you were worried that karts would be dull to drive, look no further the KZ2 class which can reach crazy speeds mere millimeters off the ground. These karts are capable of reaching 0 – 100 km/h in just 3.1 seconds – that's faster than a McLaren MP4/12C.
Racing series such as Project CARS and Gran Turismo have dabbled with kart racing in separate modes, but there's been a void in the dedicated kart racing game genre for a long time. It's a shame since many champions start out in kart racing, but publishers clearly don't see enough sales potential.  It's not surprising, then, to see an indie developer take the reign: KartKraft could well be the most authentic kart racing sim ever made when it slides onto Steam Early Access early this year.
Wincars Racer
Developer: DragonJam Studios
Platforms: PC
Release date: TBA 2016
WinCars Racer is a modern take on the classic karting genre from Spanish studio DragonJam Studios that's heavily inspired by the likes of '90s arcade racing staples such as Mario Kart, Sega Rally and Crazy Taxi. Despite being their first game (it's worth noting that DragonJam is made up of industry veterans from EA, Gameloft and Rovio) Wincars Racer has already gained attention after being declared the Best Debut Game at Madrid Games Week.
Wincars Racer focuses on online tactical team racing, with large-scale tournaments supporting up to 4000 players simultaneously to win prizes – DragonJam are even promising this will include physical prizes as well as digital.  Strategy is key: rather than rely on genre clichés like powerups, players must utilise the abilities offered from different car and driver combinations, collecting coins to charge up these abilities.
Wincars Racer was recently Greenlit for Steam – an extended beta test session recently concluded, but you can expect more opportunities to try out Wincars Racer soon.
Unannounced racing games
So, that's every confirmed racing game for 2016 we could track down so far. But there's still plenty more that have yet to be announced we can predict will be released this year.
F1 2016

Nothing has been officially announced yet, but Codemasters have already confirmed they are working on F1 2016 which will hopefully build on the foundation set by F1 2015 which was a little light on content, to say the least. Codemasters have teased we can expect "new and exciting features" in F1 2016 – an actual career mode and safety car would be a good start.
Intriguingly, Codemasters have also outlined how they want to get people involved with the development at a very early stage: could the series be heading to Steam Early Access for the first time? Time will tell, but it's likely we'll see F1 2016 race off the line this summer in the midst of the real life championship.
WRC 6
Again, nothing has been officially announced, but Kylotonn Games have previously hinted how they want to improve on WRC 5 in a future game if they retain the license. Considering WRC 5 is currently in the midst of its debut eSports championship, there's a good chance we'll be seeing WRC 6 from the developer in the not too distant future – although I can't help but think the series would benefit from an extended development for a couple of years rather than a rushed annual turnaround.
Forza Horizon 3
Forza has become a lucrative annual series for Microsoft, so it's probably a safe bet we'll see a new Forza game speed onto Xbox One this year. Traditionally the series has been handled by Turn10 and Playground Games with alternating development cycles, with the former handling the Forza Motorsport series and the latter on Forza Horizon to expand the Forza brand. Last year saw the release of Forza Motorsport 6 and 2014's Forza Horizon 2 was very well received, so a Forza Horizon sequel seems likely, if a tad too predictable.
Evidence of Forza Horizon 3 being in development keeps on mounting: rumours of an apparent leaked Forza Horizon 3 trailer point to the possibility of a new Australia setting, and a Windows 10 listing for Forza Horizon 3 was also uncovered. Meanwhile, Microsoft confirmed that the Lamborghini Centenario will be the cover car for the next Forza game set to be revealed in June at E3 2016
Beyond Cars
Criterion Games' new project codenamed 'Beyond Cars' has been shrouded in secrecy ever since its announcement at E3 2014. Following the studio's involvement with Burnout and Need for Speed and a studio restructure, Criterion announced they were working on a new IP that would take them beyond the realm of racing games.
Beyond Cars is being touted as an extreme sports sandbox game, allowing you to perform daredevil stunts in all manner of vehicles, including boats, ATVS, helicopters and even wingsuits along with cars. Criterion say they were inspired by the GoPro cam internet craze, which is why the game will take place entirely in first person.
Last year it was confirmed the project is still in development, so we can only hope for an update at E3 2016.
Like what we do? Support TeamVVV on Patreon: www.patreon.com/teamvvv