Another thrilling Belgian Grand Prix comes to an end, and despite a fantastic result for Jenson Button the headlines tomorrow will be the almighty – and scary – first corner smash and resultant penalties associated with it. Pastor Maldonado has a 10-place penalty for the next race and Romain Grosjean has been handed a one-race ban. Romain Grosjean is one of the nicest (and always smiley) drivers on the grid, but he should hang his head in shame at what he is guilty of today – having no respect for cars around him, and causing what could have been an horrific accident for Fernando Alonso.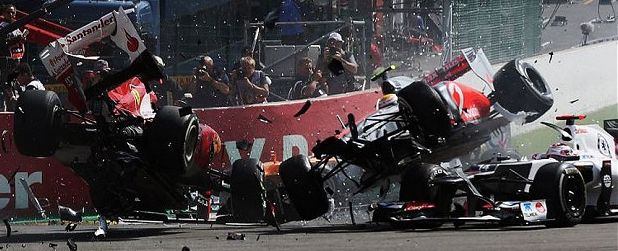 Turn over the race ticket to any motor racing event and it states, "Motorsport is dangerous". In the build up to the Belgian Grand Prix on Sky, Martin Brundle did a wonderful piece on the history of the Belgium race, pretty much highlighting the danger of Formula One.
Stirling Moss started by saying, "There is so much more to racing when its dangerous, because the exhilaration of success is far higher." Back in the 1960's though, being Neil Armstrong strapped into Apollo 11 was probably safer than driving the Spa-Francorchamps circuit.  So much so, that the drivers boycotted the race in 1969. However, one thing for me shone out that Martin Brundle said, "In 1966 Jackie Stewart had his worst ever accident – it took Graham Hill to give up his own race, borrow some tools off a spectator, to save Jackie Stewart. It took 25 minutes, and they didn't have medical support back in those days."

Graham's son, Damon Hill went on to say that drivers back then really got to know themselves and each other. Tremendous efforts have gone in to make F1 safer and we thankfully haven't had a fatality in the sport in over 18 years, but the overall respect that the sport is dangerous seems to be wavering.
Today again reminded that the sport is dangerous and the newbies into the sport need to be taught some harsh lessons. In contrast, there was some terrific car control and close racing from the likes of Schumacher on Vettel and Raikkonen – drivers who respect each other and know when to back out of a move. What is it with the new, PlayStation-generation of F1 drivers – Grosjean and Maldonado in particular? Could you imagine a driver today stopping mid-race to help a fellow competitor out from a car? Sadly, I cannot.
So, hearing that Romain Grosjean has been given a one-race ban will hopefully be seen as a warning to the wider grid. I wholly support it. F1 is dangerous, the PlayStation generation need to be reminded it's not a computer game – it is real.
As for Maldonado, just cool it down! He may bring $20m in sponsorship to his team, Williams-Renault and it was heart-warming to see the impact he is having on his home country of Venezuela – almost Senna-esque in their admiration of him, but he is quickly becoming a one-hit wonder. If Maldonado just turned down his hot-headed racing tactics he could become a quality driver. However at this rate, I'm sure Frank Williams can only take so much.
Roll on Monza next weekend, and some high quality driving at another legendary circuit.