Hardcore racing simulation games are traditionally reserved for PC, with iRacing, Assetto Corsa, RaceRoom Racing Experience and rFactor leading the pack. On consoles however, things are very different: a racing simulation that isn't called Forza or Gran Turismo is typically destined to fail, and even those fabled franchises lack the depth found in PC racing sims in order to attract a wider audience. Bravely, Slightly Mad Studios is aiming to change that and prove that there is a place for the hardcore sim racer in the console market with the much-anticipated release of Project CARS. It's a similar scenario to last gen's Race Pro by SimBin in 2009, itself a response to the lack of hardcore racing titles at the time.
And with still no sign of Gran Turismo on PS4 and Forza Motorsport 6 not arriving until later this year on Xbox One, now is the perfect time for Project CARS to infiltrate the console market. Indeed, the PS4 is a particularly ideal launch platform – while Forza Motorsport 5 has been out for over a year on Xbox One, Project CARS can safely proclaim itself as the first thoroughbred sim racer on PS4, setting itself apart from arcade alternatives such as DriveClub and Need for Speed Rivals.
Four years in the making, over 900 release builds and several delays later, the journey to Project CARS has been ambitious to say the least. I spoke with Slightly Mad's Creative Director Andy Tudor to find out more about its radical development and how Project CARS aims to set the future benchmark for console racing sims.
Founded in 2008 as an independent British studio, the passionate team at Slightly Mad Studios are no strangers to racing games, having worked on several high profile titles prior to Project CARS. "The Slightly Mad Studios team was born from a bunch of guys who were working around the world modding an existing game back in 2000," Tudor tells us. "They were doing liveries for a Formula One game at the time, and they wanted to take that to the next level more professionally. Over time, eventually they added not just artists who were making liveries, but engineers and sound people as well."
The team then formed SimBin, a developer best known for the acclaimed GTR series which is still often hailed as one of the best PC racing simulations of all time. "Through the ages, they created the GTR series, hired more people and became a prominent team.  GT Legends and GTR2 followed, then at a certain point the core team, i.e. the guys who were originally the modding team, split and formed Blimey Games." SimBin subsequently became Sector3 in 2014, and continue to work on RaceRoom Racing Experience.
Established in 2005 before becoming defunct in 2009, Blimey Games was sadly short-lived, but they were perhaps best remembered for BMW M3 Challenge, a free-to-play game that was downloaded 26 million times. "Soon after, we changed to Slightly Mad Studios because we'd started development on our current Madness engine on games for the PS3 and Xbox 360 at the time."
Slightly Mad's first hit was Need for Speed: Shift released in 2009, while work had already began on their passion project Ferrari Racing Legends. "Electronic Arts saw the tech that we had in an early version of Ferrari Racing Legends. They asked us to reboot the Need for Speed franchise that had been around for a while and was in gradual decline."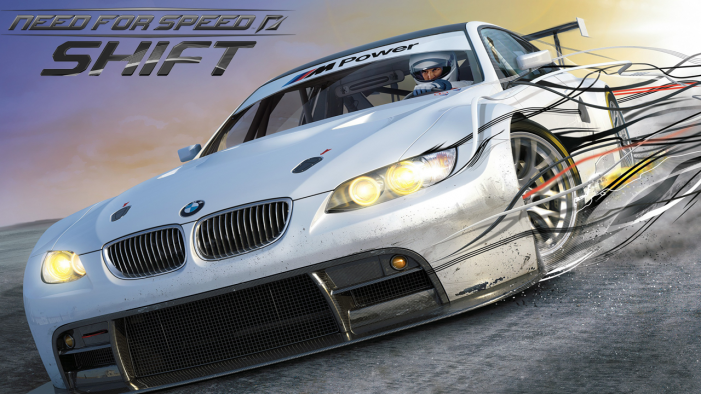 Indeed, Shift was a significant turning point in the long-running series. In contrast to the long-established illegal street racing and arcade driving physics you'd expect in Need for Speed, Shift introduced thoroughbred track racing and realistic driving physics. It went on to become the highest rated and best-selling Need for Speed game in eight years at a time when the series was starting to become stale.
However, while Shift successfully steered the series in a more realistic direction, you got the feeling that being tied to a publisher was holding Slightly Mad Studios back from realising their vision of a raw racing simulation.
"If you look at those previous games, there's a very definite journey we're on," Tudor explains. "If you look at the traditional Need for Speed fans who liked Underground and Carbon with illegal street racing, sliding round corners, not having to brake and all that kind of stuff, it would have been wrong of us to go 'here's a racing sim' – at the time it would have been alien to them. They wouldn't have known what the heck to do."
Shift therefore acted as a soft introductory transition for Need for Speed veterans, balancing its serious side with traditional arcade elements such as XP, stars, nitrous and zone meters designed to ease players into the more realistic physics model and sanctioned racing style.
Shift's success paved the way for a direct sequel with: Shift 2: Unleashed. Shift 2 came closer to their vision, removing some of Shift's stabilisers while adding the FIA license, drifting and a tighter handling model. The arcade elements designed to ease newcomers in were removed, replaced with a feature-set aimed at hardcore players. Night racing added to the challenge, and was particularly terrifying when played with the pioneering helmet cam, an innovative viewpoint that simulated the driver's head movements from behind the helmet. The result was a visceral racing game that captured the grit and intensity of motorsport like no other game at the time, let-down only by its over-dramatic driving model.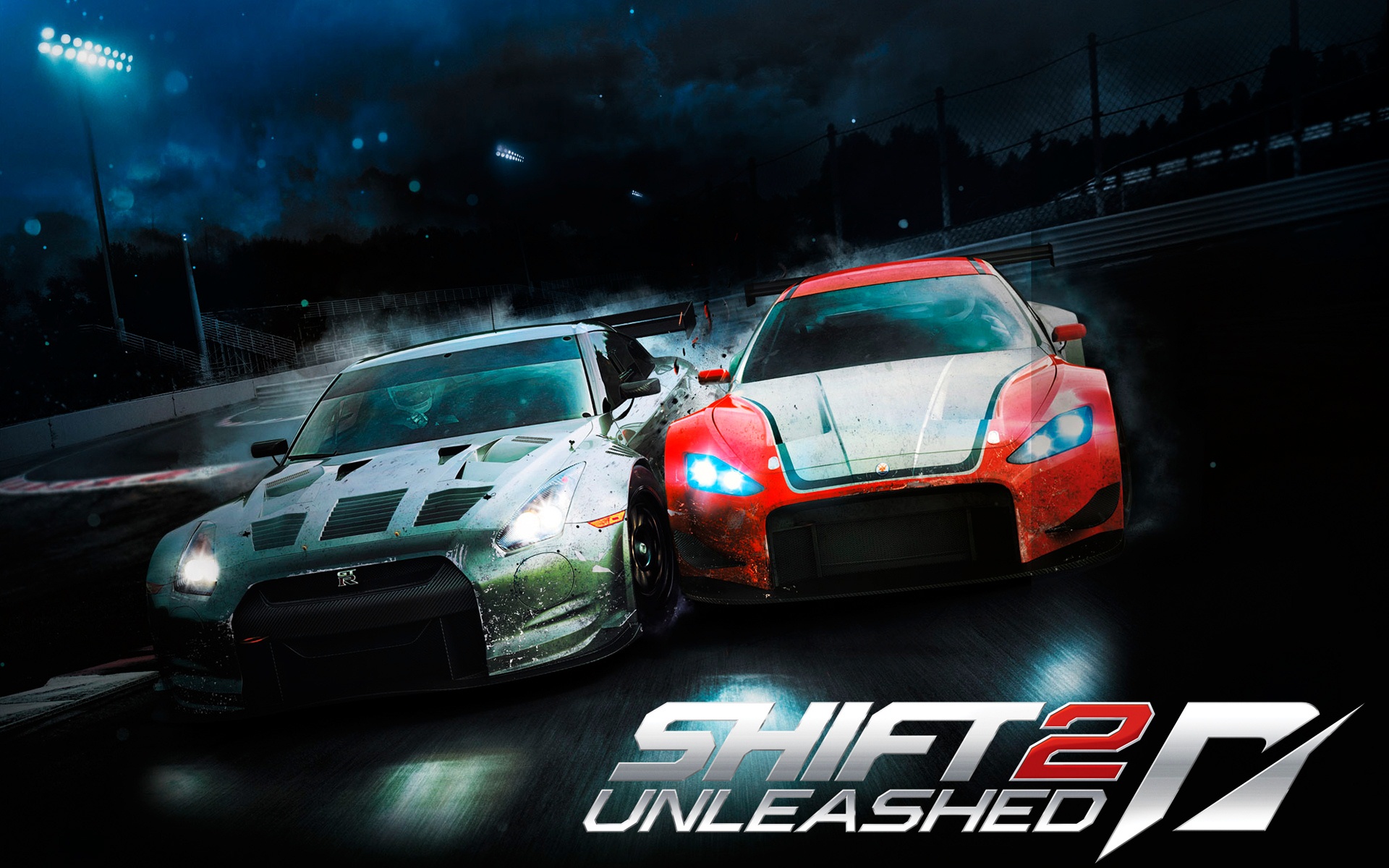 Indeed, Shift's essence lives on in Project CARS, as many of its features, such as the helmet cam, make a return: "When you look at Project CARS, we've been talking to the players from day one about that sort of stuff. There's a very definite journey – we weren't held back in Shift. Every step we did was very definite of transitioning players over to a sim racing game," Tudor asserts.
Finishing the Shift series allowed Slightly Mad to return to working on Ferrari Racing Legends which subsequently became part of the Test Drive brand. Featuring 50 Ferraris from the manufacturer's past and present, it was a fitting tribute to the prancing horse that improved on Shift with a refined handling model and a generous selection of tracks. Pity, then, that it went completely under the radar in the UK thanks to distribution issues. Rombax Games eventually published it months later, but impatient players had already imported a copy by then. "Once we finished Ferrari Racing Legends with the Test Drive franchise we thought to ourselves 'we've worked on two massive franchises now with three big games.' We wanted to do our own IP – that's where Project CARS came from."
Now free from publisher constraints, Project CARS represents the final leg of Slightly Mad's journey in their quest to make the ultimate racing simulation. "With Project CARS, not having a publisher behind us means we can just talk to the players. The players want an authentic, accurate simulator and that's always been our intention anyway – we've been getting to this point over the last few games."
To achieve this, the World of Mass Development was formed, an innovative crowdfunding system inviting the community to become actively involved with the development, providing feedback for regularly released builds to shape the game.
It was a staggering success story for game crowdfunding – over 80,000 passionate players signed up, and the project was successfully funded in November 2012 raising over $3 million in public crowdfunding, with the promise of backers getting a return on their investment. It wasn't all plain sailing, however: Slightly Mad found themselves under investigation by the Financial Services Authority, before reaching an agreement to halt any further public investment and offer refunds to anyone who wanted to stop backing the game.
Slightly Mad also enlisted the talents of real racing drivers, such as ex-Stig Ben Collins, touring car driver Nicolas Hamilton and Formula Renault driver Oli Webb to give Project CARS an authentic edge – particularly in the handling department. Project CARS (or simply C.A.R.S. as it was known in its inception standing for "Community Assisted Racing Simulator") certainly deserves its tagline "made by racers for racers,"
Coupled with Slightly Mad's own experience over the years, the constant stream of conflicting feedback and ideas proved to be a precarious perfect storm: "We were very conscious that a lot of our community have been playing racing games, and especially sim racing games, for many years, and therefore have a certain expectation level of what should be in Project CARS and a certain comparison they always do between our game and other competitors."
"But then the real life racing drivers were saying 'yeah the competitors do this, but actually in real life X, Y or Z is wrong, or the handling is a bit off there.' They gave us that extra 10% of realism that is not possible from just playing a video game or comparing us to competitors. It's a fine balance."
"We put in a very broad overview of what we thought our vision for the game would be back in October 2012. But some of those features were blown out of the water. Take weather: when you have weather, you want it to rain on one part of the track and not the other and to dry over time. If it rains it would be nice if you have some sort of warning, so we need a pit engineer to tell you about that. We've got so many motorsports in the game so it needed to be accurate to what actually happens in those particular motorsports as well. So it all snowballed with things like that."
The community effectively became an instrumental marketing tool for Project CARS – particularly when it came to showcasing the stunning visuals. Rather than producing in-house screenshots, Slightly Mad Studios released regular screenshot galleries comprised entirely of sumptuous snaps taken by the community: "They just took screenshots and photos, and word of mouth got around that Project CARS is a beautiful looking game. Suddenly you're being told by fellow players as opposed to the Marketing or PR department."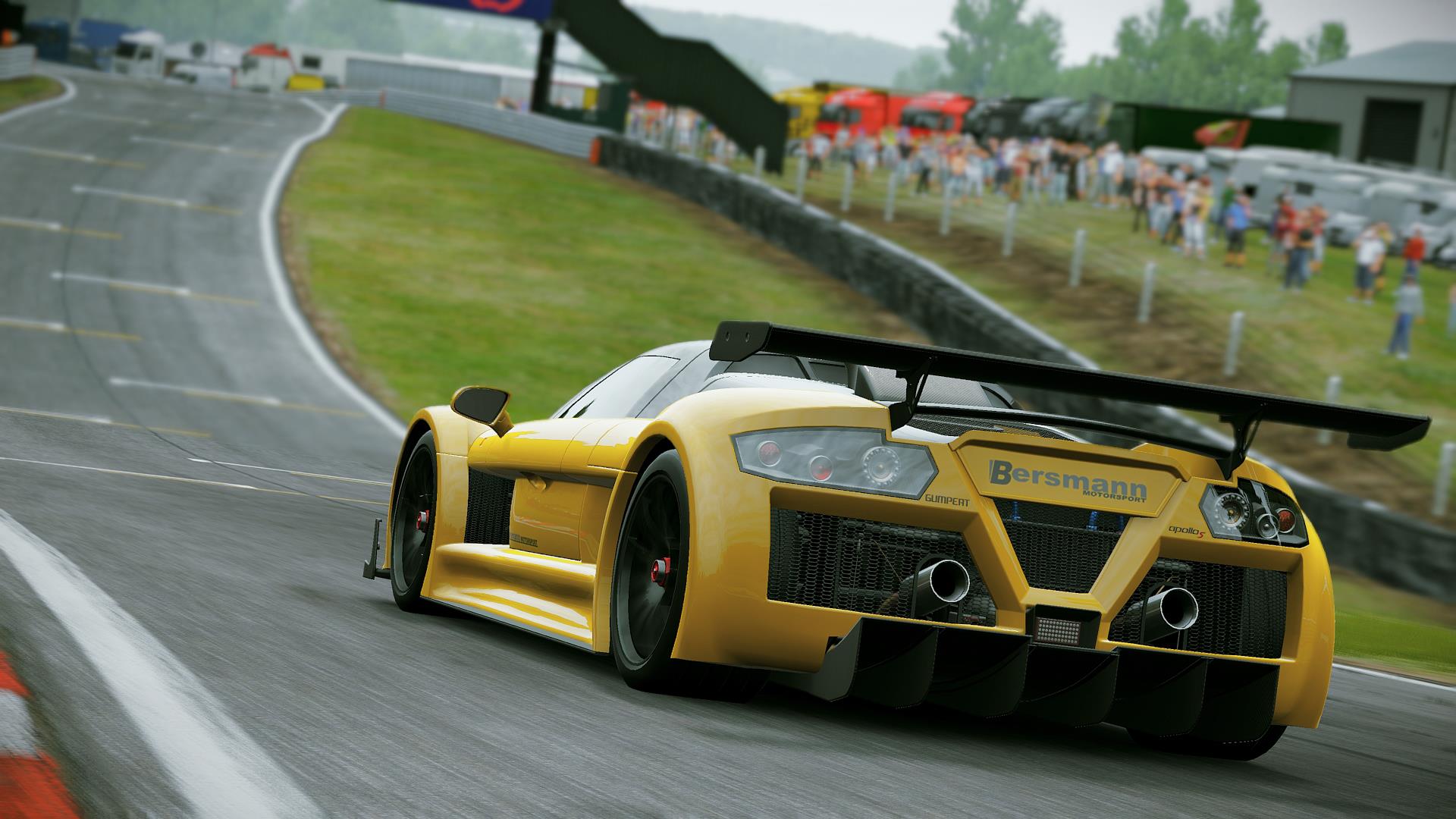 As with most ambitious projects, Project CARS' massive scope meant that several proposed features had to be left out. "We wanted to do rally," Tudor admits. "We classify rally as a loose surface: there's lots of gravel, mud and dirt. We proposed rally, but the community feedback told us to concentrate on tarmac-based stuff and add rally as additional content. I think a lot of Kickstarter games have stretch goals and they feel like adding more is always better. But in this case, taking rally out made the game more focused." Recent rumours suggest that we may have to wait until Project CARS 2 to experience rally, with rallycross being a possible new discipline.
Also helping Slightly Mad deliver their vision is Bandai Namco, who were announced as the official distributor for Project CARS last year to avoid the situation faced with Ferrari Racing Legends. "We are great at making games, talking to the players and getting features in that they want, but we don't have the expertise to get actually them on the shelf. We can release it digitally, but digital still only amounts to a small amount of people who will buy the game – people still like physical copies of games."
"Bandai Namco have a pedigree in racing games with Ridge Racer, they get stuff on shelves and they have great marketing department. They've been fantastic and we chose them for that reason, but we still have the freedom to talk to the players and not feel like we're being cohered into doing something that the players don't want to."

One product of Project CARS' unconventional development is its versatile and comprehensive career mode. Rather than making you start in a crummy car you have no desire to drive and work your way up, Project CARS lets you carve your own career path in any racing discipline you desire – every car is already unlocked, eliminating the need to painstakingly grind for cash. "If you look at gaming nowadays, I think we're quite old and mature in our experiences with racing games. I think we've all grown up with that mentality and traditional approach and at a stage now where we want to do something different," says Tudor.
"If you look at sports games like Madden and Fifa, you can jump straight into playing Man United or jump straight into running the England team if you want – you don't have to start off with Grimsbey Town or Blackburn and work your way up. But you can do that if you want, and you can do the same in Project CARS as well if you want. That's what gave us the idea of the historic goals."
"So if you want that traditional zero to hero kind of thing, you can start in Karts and work your way up to a very high tier discipline of motorsport. If you want to be like Michael Schumacher and jump into a specific motorsport and be dominating that championship again and again like he was in real life, then you can do that as well. That's the feedback we got from the community – they didn't want to be forced into a path that isn't appropriate for everyone. You can do them in any order. You can do all of them or none of them."
Success in races will attract new sponsorships as teams scout for top drivers. Suddenly, achieving those extra championship points directly affects your career path, resulting in offers to drive for higher racing tiers. You'll find yourself moving from Formula C to Formula B, for example – it's all designed to mirror a real racing driver's career and mentality.
"You start thinking like a driver", Tudor triumphantly says. "You start thinking of impressing people, signing sponsorship deals and being informed of your progress by your manager and race engineer. There's also a virtual social feed of your fans indicating how good or bad you're doing. There are accolades to win, so you might get invited to exhibition events because you're a prestigious successful driver. Again, this is all stuff that should sound like real life and it's stuff that happens in NBA, Fifa and Madden, but hasn't really been seen in a racing game."
"Even in Grid Autosport, which had a bunch of different disciplines you could drive in, you could move between them, but it didn't feel like you were a career driver in that respect. Breaking from tradition and not worrying about your bank balance helps you focus on the things that are really important to real life drivers."
While the car count may not be as high as some of its rivals, the rich diversity of racing classes more than makes up for it. Featuring everything from karting and touring cars, to GT cars and open wheel, there is truly something for every racing fan. It's a variety we haven't seen since Codemasters' TOCA Race Driver, which also featured a wide range of racing classes. You can't help but wonder if Project CARS would have been the current-gen game Codemasters would have made if they continued in that direction.
Such is the level of freedom in Project CARS, you can even take part in a full 24 hour Le Mans race if you so desire.  "The game is open to everyone. So if there are guys who want to do that, there might only be a small portion, but we're going to let them do it," Tudor asserts. "Codemasters were quite public in saying they weren't putting cockpits in Grid 2 because only 5% of people use it. Our attitude is we'll put that in because 5% of people are going to use it, so it's the same thing here."
"If you want to move your seat backwards and forwards, only one guy may have used that, but actually when it comes to setting up your sim rig, moving the seat forward, changing the view and calculating it properly is important. Maybe a small percentage of people will use it, but those guys need it so it's in there. It's the same for Ultra HD 12k: it's only going to be available for some people, but we're going to do it for those guys who use it. We want to make sure we don't exclude anyone and that there's an unrestricted access to everything in the game."
Indeed, Project CARS lets you delve deep under the bonnet, allowing you to adjust everything from your field of view and steering sensitivity, to toggling graphical effects such as lens fare and blurring. While PC players expect this level of customisability, it's an unexpected novelty in a console game. Again, it's part of Slightly Mad striving to separate the divide between PC and console players.
Despite being a thoroughbred simulator that will be daunting to some, Project CARS is surprisingly accessible thanks to its assortment of driving assists catering for players of all skill levels. "One of the first things you're asked in the game is to tell us where you feel most comfortable – do you feel more comfortable with pro handling model? With AI who are extremely tough and challenging? Do you want all on-screen HUD completely off so you have that purest point of view?"
"Then equally on the other end of the spectrum you can say 'I need more help. I need a little bit of steering assist. I need to have a novice handling model. I'm not quite comfortable with the car being so easy to get out of shape. And I prefer the AI to be a little bit easier and I'm probably going to play from a chase camera instead of cockpit. All that stuff is asked initially then after that we've exposed absolutely everything in the gameplay options – you can tailor it to each individual player. You can turn everything on or off at any time. There are different levels of traction control – you can have it accurate to the car you're actually in, so if the car doesn't have traction control in real life then you can't even turn it off or on. It is a racing sim at the end of the day, but it's dialable to your level of comfort."
Outside of the career, there are three main ways to play Project CARS: Solo, Online and Community, all of which are represented by the four main stripes of the logo. Solo and Online are self-explanatory, but the community aspect is driven by the Driver Network, a system that allows players to connect, compare, share and compete against each other. If it sounds like it was inspired by Need for Speed's Autolog, that's because it was.
"Back in Shift 2 we were thinking 'wouldn't it be great if you could compare lap times and share photos? At the time Criterion were doing a very similar thing – we looked at each other and thought 'oh no, we're making the same thing aren't we?' So we collaborated and they came out first with Autolog V1 in Hot Pursuit. We followed up with Autolog V2 in Shift 2, and that's really stayed with us. The game's been made by the community so we want to make sure we have community support in there at launch and beyond."
"Your profile is like your driving license – it tells you your stats of what you love playing and how you spend your time in Project CARS, whether it's areas like career, and solo modes, or whether you spend most of your time in the tuning setups as opposed to being on the racetracks. It tells you your affinity with different motorsports: there might be some things that you love driving and participating in but you're terrible at, so the game will tell you that this is an area to improve upon. It tell you your signature car – your go to car, the car you've driven the most miles in and also had the most successive wins in, as well as your online reputation and performance."
"Your online performance tells you how good you are online, so it's something to look at when you're in the lobbies and waiting for people so you can scope them out and see how good they are. It also shows your reputation – everyone wants to go out on a track where people don't smack into each other. It's hard to enforce that rule. We do have a flag and penalty system in the game, but equally we want to make sure if you do something wrong and are disqualified it's on your permanent record." Regular community events will also be held online, with real-world prizes up for grabs.
Then there's the asynchronous multiplayer, something that's becoming increasingly prevalent in contemporary racing games which is a sign of the times: "Obviously you can play online multiplayer against each other, but the chances of finding a friend who's online at the same time in today's modern world where you're checking your phone, on Twitter, checking Netflix and all that kind of thing is getting slimmer." Being able to compete asynchronously against people can also be a teaching aid, as Slihgtly Mad found when monitoring Oli Webb's driving: "We picked up tips just from following his racing line and braking points and that made us faster ourselves."
Completing the community support is the sharing aspect, where players can take photos, save replays and share them with other players. "We're also going to be curating the best bits that we got each month on our YouTube channel. It's a great way to keep the community involved, showcase key players, get players to compete against each other either online or asynchronously time trials, and be able to look you up and compare my stats with yours. We call it the ultimate driver journey – when we compare that kind of stuff, you'll see that no two journeys are the same because we all have different preferences of motorsport and car culture in real life."

"Side by side, there are probably minor differences, but gameplay-wise they're identical. Functionality-wise they're identical. It feels great on the pad just as it feels great on a steering wheel. When people start to do side by side comparisons, then of course there will be differences – especially when the PC version runs at 4k and 12k, which is a pretty exclusive experience."
"When we released the PS4 screenshots, the overwhelming reaction was 'oh, it looks pretty good!', when everyone was meant to be thinking 'oh no I bet it's a subpar version.' But if we never said they were PS4 shots, maybe people wouldn't have actually known. I think people were pleasantly surprised."
While the PS4 version is comparable to the PC (Slightly Mad say it's roughly equivalent to high settings on PC), the Xbox One version drew the short straw, arriving at a reduced 900p resolution compared to 1080p on PS4 and PC.
One area that is consistent on every format, however, is the frame rate. Indeed, Project CARS is a unique breed, running at 60fps across all platforms – a feat that console games have consistently struggled to achieve. Until now, Forza Motorsport 5 was the only current-gen console game that managed to run at 60fps, and it's now a year and a half old. DriveClub, on the other hand, runs at 30fps but only has 12 cars on track compared to Project CARS' possible 45 car races.
Achieving 60fps was important to Slightly Mad who believe it's essential for racing games, although Tudor admits developers have differing attitudes when it comes to prioritising frame rate or fidelity:  "There is a ton of stuff going on in the game, so if it came to the decision of not allowing weather on the PS4 because it affects the frame rate or making the weather not as good as other platforms? That's a tough decision. You can lock it to 30fps and it would still feel smooth and other games run at 30fps, but it was always our intention to achieve 1080p and 60fps."
"It's a very tricky balance – you want to throw as much at the gameplay as possible, so we wanted to throw as many cars on the track as possible as bigger packs are generally more fun. Do you reduce the cars to hit the frame rate? Do you reduce the polygon count of the cars? Do you reduce the complexity of the shaders? It's a tough call. So I think that's why it's so polarising. Adding weather in is not just making it look lovely, it adds to the gameplay – you need to change your tyres, go to the pits etc. We wouldn't want to remove that."
Unsurprisingly, throwing in elements such as intense weather effects and larger car packs can affect the frame rate on console, and you will notice some slowdown at certain points. But then what other racing game can you play on console with a full 45 car grid? Considering Project CARS is a multiplatform release requiring different developing techniques to get the most out of the hardware, the fact the console version has been virtually uncompromised is a tremendous technical achievement.
Project CARS has changed formats several times since its inception. Initially it was meant to be a free-to-play PC-only title, but by popular demand it soon turned into a boxed release for PC, PS3, Xbox 360 and Wii U. The last-gen formats were subsequently scrapped in favor of focusing development on PS4 and Xbox One.
The Wii U version in particular hasn't had much spotlight – despite a release targeted for later this year, we've still yet to see any screenshots or gameplay footage of Project CARS on Wii U. It's an interesting choice, because Nintendo's often-neglected console isn't exactly saturated with high profile racing titles – Mario Kart 8 is of course the obvious exception, but there's a clear gulf in the market for a realistic racer reserved for Project CARS. "It's a cool console", Tudor affirms. "The possibilities came flooding towards me on what we can do with it."
"We announced Wii U functionality quite early on and it's actually quite a good console. I think it gets a bad rap by some people unfortunately. It runs dynamic time of day, weather, night and all that kind of stuff and it looks good."
"When people saw that the Wii U version was delayed there were conspiracy theories going around: people would say 'oh my god why not delay all versions?' There's no conspiracy theories here. We're not going to rush it just so it comes out at the same time because it would look subpar – we're never going to release a game that doesn't look as good as our vision intended it to be. So we just kindly asked for a bit more time. And the Nintendo fans are crying out for a game like this – there's no game like this out currently. We can't disappoint the Nintendo fans. So when we release the game on Wii U we want to make sure those guys have an experience they're proud of and we're proud of."
"They're going to get a bespoke experience as well. They're going to be able to use the gyroscope in the actual gamepad, change the gamepad to be the rear view mirror or the actual dashboard with telemetry data, the overview map. They're going to get a great version of the game, but it's going to take a bit more time."

However, despite Tudor's enthusiasm, Project CARS' Wii U release now looks uncertain. Since this interview, there has been preveailing silence when it comes to news on the Wii U version until Ian Bell recently spoke out and admitted the team have been struggling to optimise Project CARS on Wii U. Depending on the outcome, we may have to wait until the release of the NX console to see Project CARS on a Nintendo platform.
While Project CARS' is often praised for its visual prowess, its authentic audio design is also a standout feature. While the standard for realistic engine sounds has been raised in recent racing games such as RaceRoom Racing Experience on PC and Forza and DriveClub on consoles, Project CARS still manages to hold its own – put your foot down in an LMP racecar, and don't be surprised if the walls start to shudder.
It's thanks largely to the team's previous experience back in the SimBin days: "We've been making games for years and have a sound team who get the engine sounds of the car idle, the interior car sounds and the exterior on a rolling road to get all the different acoustics of it all because it sounds very different to a car on a tarmac surface with a boom mic outside of the actual car, near the engine, near the ground etc. They go above and beyond all that stuff. It's not rocket science, it's just being accurate. And they are."
"We make sure we get it right on the emotional level as well. If you're sat in a muscle car for example, we simulate the roar of the engine and little things like tiny bits of rubber that are on the actual tarmac that are hitting the metal underneath your car: we give it a 'tink tink' like sound."
"I think some of the guys even over modulate the sounds a bit more so they sound a more raw. Because that's the experience you go away with – you may watch it on TV and think that doesn't sound right. Get in a car – that's exactly what it sounds like. Some people have the concept from having no knowledge about the subject. They've played it in either another game that hasn't gone to the extent that we have, they've watched it on TV where things are perfectly modulated and normalised and gone through the grandstand and TV station and things like that. When you're actually sat in the car and doing it yourself it feels and sounds very different."
Car damage is another area that often leaves a lot to be desired in racing games, but this is another area Slightly Mad haven't neglected, as they have pushed the damage modelling as far as the manufacturers will permit: "We can do as much as we want as long as it doesn't encroach the driver safety space. So no sharp things poking near the driver's head and body and no fires – we don't want to see the driver on fire. We go as far as we can – I think we go further than maybe our competitors do at least on console. It's based off impact points, so if I hit a car harder in front harder then it's going to dynamically affect the actual damage to my particular car as well, and also scratches and things like that on the windscreen. In Wreckfest's case they have an engine called soft body dynamic which means things crumple a bit more like cloth does than metal. But that's something maybe for the next iteration of our engine."
 Looking ahead, Slightly Mad are aspiring to be a leading supporter for virtual reality in racing games, as Project CARS already fully supports Oculus Rift and will also support Sony's Project Morpheus on PS4 – both devices are set to launch in 2016, which Tudor believes will transform the gaming landscape. "From day one when Oculus was announced I had to get hold of it. As soon as I did get hold of it I very publicly went onto the website and said 'oh my god this is amazing,'" Tudor recalls.
"I was playing Counterstrike and Half Life with it and it's a game changer. I think when people went from the old generation to the new generation of console, the graphical leap in quality wasn't as obvious as it was in previous generations. So when things like Oculus Rift come along, it's like 'oh this is next-gen, this is the next level of gameplay and experience'. I think it's absolutely brilliant."
"In 3D films, the best bits are usually when something comes out of the screen at you and your brain gets totally tricked and you dodge out of the way and feel like an idiot. But in racing games, all that data is coming from the horizon towards your eyes anyway and you're usually going in one direction hopefully. So all that data is just streaming towards you, so you don't get as motion sick. You get a greater sense of special awareness as you have the freedom to look around the cockpit and the new ones in Project Morpheus have head movement tracking so you can actually peer in at the dashboard, look left and see the rain coming at the side window, look behind and see the rollcage and all that kind of stuff.
Just as we've previously discussed on TeamVVV, racing games are a perfect fit for virtual reality, which Tudor attests: "We found it gives you a gameplay advantage – because your sense of depth is more acute, you can judge braking distances better, the distance of the corner, look into the corner you can physically do that. Using Kinect you would have to look away from the screen. We also found that players start to tilt their head into the corners like you would in real life to counteract the camber. Racing games are perfect for Oculus Rift – we hope Project CARS is a killer app."
"It's different in Project cars because you very consciously have things that are right in front of you like the wheel that your eyes can lock onto and get a guage of balance. And then you've got the dashboard beyond that, the road right in front of you and a horizon point as well. So there are four key things that keep your eyes and ears balanced. We found there's not as much motion sickness with a racing game than there is in something like Team Fortress where you're literally running down the corridor, looking around like you're moving and there's maybe some lag as well – we're doubling down on reducing the amount of lag in the game as well."
"You're not looking around as much in Project CARS either – you're tilting your head to the corners, you're not looking behind you at the grenade that's coming over and jumping and maybe disorientating yourself. It's much easier for your eyes and ears to get balanced. We tried people out with it and put the headset on but people don't look around because they're driving looking forward. They look around maybe when a car passes them and their eye is attracted to something in their peripheral vision which makes them look over, but then it's back to looking forward.
Whether you could tolerate wearing an Oculus Rift headset for extended periods remains to be seen, but there's nothing stopping you playing a virtual reality 24 hour Le Mans race in real time.  "I was thinking there must be somebody who has put the Oculus on and has never taken it off and they're trying to live their life in the Matrix," Tudor joked. "I'm sure there's someone out there who's actually doing it. If not I've just planted the seed for someone to try it!"
We've seen plenty of high profile racing game releases over the past few months, as Forza Horizon 2, DriveClub and The Crew jostled for position last year. But Project CARS sets itself apart by being the only thoroughbred racing simulation out of all the recent racing releases. "The Crew, Forza and DriveClub are all in the action arcade space," says Tudor.
"Forza has an open world, sliding round corners on your way to a festival earning XP, grinding for cash and unlocking things – very much a younger culture. DriveClub is an interesting one because it's in medium ground – the cars look realistic but you're still drifting round corners and doing some social things. The Crew is very much more like a Burnout – you're smacking into other cars and crashing through things. You can drive from one side of the country to the other – but very much the traditional 'get cash, upgrade your car, get faster, smack into this car, chase down this pursuit'. If you're looking for a Forza or Gran Turismo style of game with authentic real life racing cars and tracks, with features that the community on PC have had for a while that haven't really been experienced, Project CARS is going to satisfy that craving."
Tudor neatly summed up the diverse range of racing titles currently available – whether you like accessable arcade racers or hardcore simulations, track racing or expansive open worlds, there's finally something for everyone this generation.
Project CARS is undoubtedly one of the most seminal racing games in years. But if the dedicated racing simulation genre is to have a future on consoles, its success is imperative – given its debut at pole position in the UK charts, Project CARS already seems to be paving the way for future console racing simulations to follow.