The Nissan GT Academy has kicked off again in the UK. The online time trials in Gran Turismo 6 are now a distant memory and the real work has started, as Sony begins its search for a virtual racer with the skills to make it on real circuits.
The 2014 GT Academy UK National Final took place at Silverstone earlier this week and VVV was there to watch the action, and take part in the event as well. Along with a select group of automotive and gaming journalists, we took part in the same challenges as the actual contestants.
The fastest 28 GT6 players in the UK had to be whittled down to just six finalists in a single day. The chosen few will then go on to GT Academy Race Camp, to take part in the ITV 4 reality TV show that determines which driver will be given a shot at the big time in a real racing car with Nissan.
My day at the National Final started in the BRDC Clubhouse at Silverstone, where we were introduced to the competitors one-by-one through a mock press conference. We asked questions of all of the contenders, with the aim being to assess their media skills and personalities.
It was interesting to see a few familiar faces from the world of PC sim racing who had made the temporary switch to Gran Turismo 6, just for the chance to take part in GT Academy. Many of the guys competing had attended previous National Finals as well, and it was clear to see which of them were able to use their past experience of the challenges even at this stage. Those who had reached this stage of the competition for the first time this year were clearly more nervous and less well prepared.
From here, the competitors had their first dreaded fitness test; a general assessment of their fitness levels doing various exercises under the watchful eyes of Nissan Motorsport's personal trainers. It was hard not to feel guilty watching them struggle under the glare of a surprisingly hot British summer sun! Again, the experience of the guys who had reached the National Finals before was clear. You could immediately see which guys had been preparing in the gym for months in advance.
After lunch it was finally time for some driving. The finalists were taken to Silverstone's Stowe Circuit for an Autotest in Nissan Juke NISMO cars. Us journalists were allowed to take part as well. The course consisted of a two slalom sections, each ending in a pitstop simulation where you had to stop perfectly in your box. Penalty time was added for hitting cones, stopping short of your pit box or overshooting your pit box. The NISMO tuned Jukes were surprisingly quick, while still quite easy to drive, but many of the competitors (and the journos) complained about the visibility from the driving position. It was hard to tell where the front of the car ended, which lead to several penalties in the pitstop sections.
From there, now thoroughly sunburnt, it was time for the sim racing portion of the day. For the finalists, that meant three separate time trial events in Gran Turismo 6: Ascari Race Resort in the Nissan 370Z, Silverstone International Circuit in the Nissan GT-R GT3, and Suzuka in the Nissan GT-R GT3 as well.
Watching the finalists run their laps, it was no surprise to see everyone removing their shoes before settling in behind the Thrustmaster T500s, but it was a surprise that a handful of guys were using the chase camera. This even seemed to surprise some of the GT Academy judges.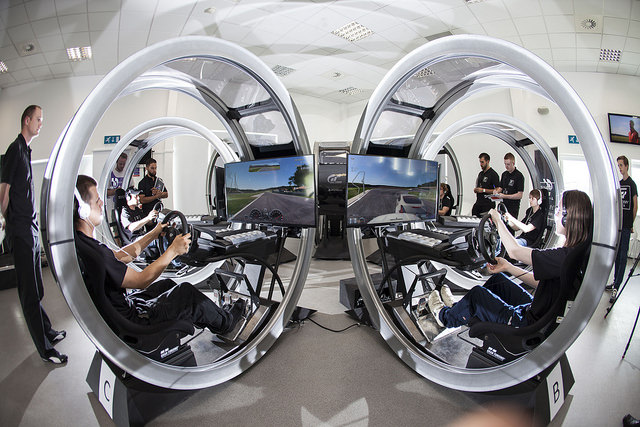 Considering that most of the finalists had come through the GT6 time trials, there was also a surprising variety of lap times. Some of the competitors clearly struggled to put a quick lap together under a strict time limit and with the pressure of the event, whereas you're free to do as many laps as you like in the online time trials. The journalists also had a GT6 time trial competition at Silverstone International in the GT-R GT3. I was the fastest writer at this stage of the competition, beating GTPlanet's founder by a tenth of a second.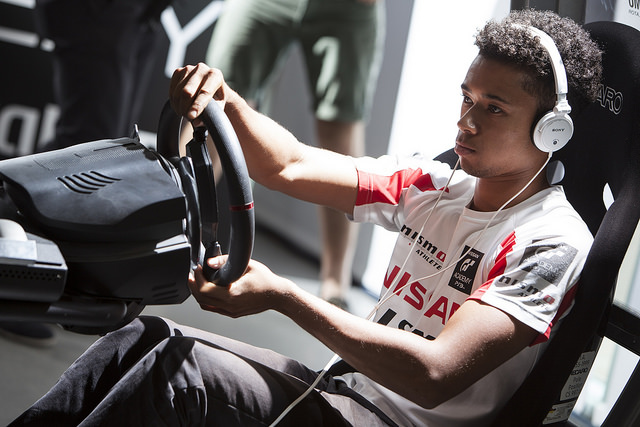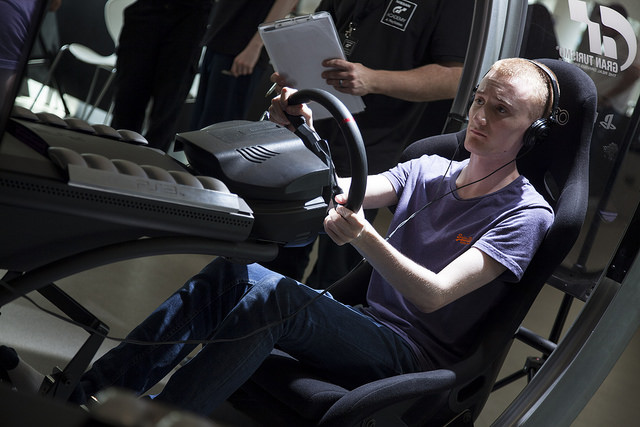 After the time trials there was a chance to sit down and chat with Jann Mardenborough, GT Academy winner in 2011, current GP3 driver and a member of the Infiniti Red Bull young driver programme. I've met Jann before so I decided to pick his brains in a bit more detail, about how to go from a consistent, quick sim racer, to something a little close to those freakishly fast 'aliens.' I really wanted to know how he learned to push himself methodically, using his head, instead of driving with his heart, which often gets me into trouble in iRacing! So how does Jann do it?
"It comes with a lot of practice and mental rehearsal about visualising the perfect lap," says Jann.
"You can't expect too much when you push for the first time. You can't afford to do anything drastically different to before. The laps before you push have to have rhythm, there has to be consistency. You can't just go out and blitz it because you won't know where the limit is. It takes a lot of experience in a specific track or car to know to expect when you reach that one lap where you have to give it everything."
I also asked Jann about this year's crop of Academy hopefuls and how he feels about some familiar faces reaching this stage of the contest for second, third or even fourth time.
"The guys who have been here before know what to expect. They haven't got a huge advantage though, because the cars we use might be different to last year and we're using GT6 now instead of 5," says Jann.
"We're using different cars in the Autotest now as well. There's different media down here now. The fitness tests are similar though, so they will know what to expect there and might be better prepared. Unless you're in the car with them you don't know who will be the one to watch at Race Camp."
Jann himself was never the quickest racer in Gran Turismo. In fact, he only came ninth in the time trial in the year that he went on to win GT Academy. He truly believes that you can't see a finalist's true ability until you've sat in the car with them. Many of this year's finalists told me that they have serious F1 ambitions and want to follow Jann into GP3 and beyond. Jann isn't sure whether these expectations are realistic for some of the successful finalists.
"It's hard to say if other winners will have the same chance I've had in single seaters, because it is a big risk for Nissan. It's a huge investment in an individual. It's great to see that so many of the finalists aspire to that though. Ultimately, the driver doesn't get to choose. It's up to Nissan what path the winner takes, whether that's GT, prototypes or anything else."
Finally, with all of Jann's time taken up by racing and promotion these days, does he ever get to play games for fun anymore?
"I used it for GT6 for Le Mans this year for night practice and to pick up braking and turn-in references. When I go home, I play online, but I don't do time trials or anything with the top guys. I play games for fun. It's my hobby. I have very limited free time so I want to relax!"
After our chat, I had the privilege of joining Jann in a NISMO 370Z for some laps around Silverstone's Stowe circuit. His car control was incredible. He was trail braking deep into every corner with the car squirming around all over the place, but he was always in total command of the machine. He even threw in a few cheeky drifts. The whole thing seemed effortless and it was a thrill to experience a track for real that I've done hundreds of virtual laps on. You really gain an appreciation for the massive difference in feel and force from sim racing to real racing.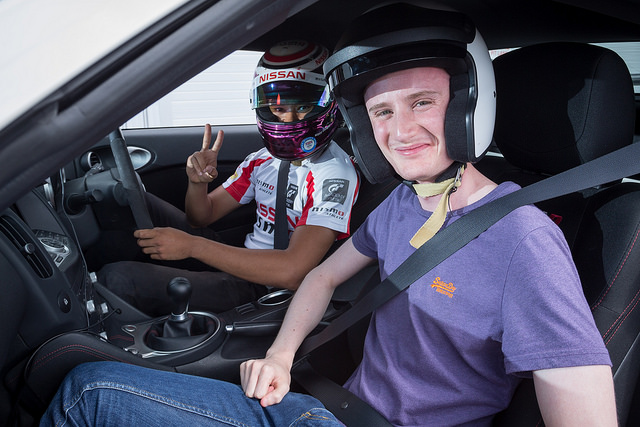 The day ended with the ultimate horror for the finalists. A bleep test in the old Silverstone paddock with the sun beating down on them. A beep test is a stamina challenge consisting of constant running between two points. You aim to hit each point as a bleep sounds, hence the name, but the longer you keep going, the shorter the time is between each bleep. Alex Porazinski, the oldest candidate at 36, blew the competition away, setting a new GT Academy bleep test record in the process. Just watching him was enough to make me feel knackered!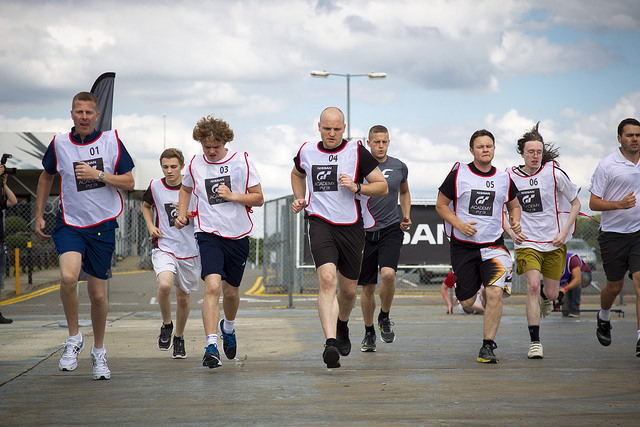 After some afternoon tea in the BRDC Clubhouse it was time to find out the results of the day. First up was the winner of the journalist contest, which combined scores from the Juke NISMO Autotest and the GT6 Silverstone time trial. I won the GT6 part of the contest, but the overall journo winner came from one of the auto magazines. he comfortably beat the rest of us in the Autotest.
Then of course, it was time for the real winners. David Wilson from Sony and Jann Mardenborough announced the names of the six drivers that would be going forward to GT Academy Race Camp and the ITV 4 reality show. They were:
Alex Porazinski, 26
Ben Spurge, 19
Karl Chard, 26
Luke Wilkins, 29
Stuart Millar, 21
I will definitely be watching the TV show this year to find out how these guys get on. I was thoroughly impressed by their performances in all aspects of the day. A couple of the successful finalists have failed at this stage two or three times before as well, so it was great to see them using their experience of past GT Academy National Finals to finally take the opportunity they've been dreaming of.
For more from GT Academy 2014, check out the image gallery below and tune into ITV 4 for the TV show later this year.