DriveClub's launch has been a colossal car crash, to put it politely. Nearly three weeks on, and after all the hype and a year-long delay that meant it missed the PS4's launch party, we're still left picking up the pieces from the wreckage as the online component still isn't working as intended. It also makes reviewing it fairly somewhat problematic when only the "drive" aspect of DriveClub works half the time.
Since acquiring DriveClub, I've only managed to have a handful online races without disruption. While things have improved considerably since launch, it still feels like you should feel grateful if you manage to connect online at all, and your chances dramatically decrease during peak hours. More often than not, the game will fail to connect when first booting up, greeting you with the distracting, and now all-too familiar, red "There has been a problem communicating with the DriveClub server" message scrolling across the screen mid-race, only for it to reconnect later on.
Despite on-going work behind the scenes, patches, and server updates, DriveClub's servers are still far from stable. Sometimes it will tease you and let you into the server browser, before failing to load any events. And then if you do manage to get into an event, it's not uncommon to encounter numerous network or matchmaking errors that subsequently boot you back to the main menu. Face-off challenges and leaderboards semi functional now, at least (although the leaderboards often take a considerable age to load), but the online challenges, one of DriveClub's most touted features and arguably the feature that will be one of the main hooks in the long-run, are still disabled at the time of writing.
It took me at least a week to create a club, too, and while this aspect seems reasonably stable in that it's successfully tracking my progress, it sometimes won't save changes applied to my club's livery. What's also frustrating is the fact that offline progress counts towards your club's ranking, so I've missed out on a lot of points I could have contributed to my club after completing about two thirds of the campaign.
For a game where the online components are so central to the experience, it's an unmitigated disaster, made worse by the fact DriveClub was meant to be the poster child for the PS4's online infrastructure. Now it's on the verge of being a write-off.
Worse still is the fact we're still in limbo about the whereabouts of the free-to-play PlayStation Plus Edition, which Evolution were hoping would go down like a sumptuous appetiser for the main feast, enticing players to take the plunge and buy the full version. Problem is, by the time DriveClub gets back on track it could be too little too late.
You only have to look at DriveClub's FaceBook page to find a myriad of disgruntled drivers eager to get racing online, continually pummelling Evolution for concrete information on the situation – it's perhaps not surprising that posts have been disabled on the page.
You can understand their frustration – after-all, people have paid £50 for a game that doesn't work as advertised. The community has been so vocal that Evolution weren't ruling out offering compensation, until they were silenced by Sony, prohibiting Game Director Paul Rustchynsky from responding to DriveClub-related queries.
The Guardian has even investigated this further. Debate has spawned over whether consumers are entitled to a full refund for a product that is technically faulty and not sold as advertised.  They spoke law associate Alex Tutty about its legality: "The Sale of Goods Act should apply," he said. "This includes provisions that the good is as described and of satisfactory quality. The multiplayer functionality in Drive Club is arguably one of its core components and so as it is not working correctly may be considered a breach of the Act. If that's the case the player can choose to reject it – in a reasonable time – and return it and obtain a refund."
However, it's not quite as black and white as that. "If a game does not work as expected but the publisher is then able to remedy that, is there a claim?" he continued. "If the game does not have certain functionality at launch due to factors outside of the publisher's control, is there a claim? We just don't know the definitive answers to these questions yet."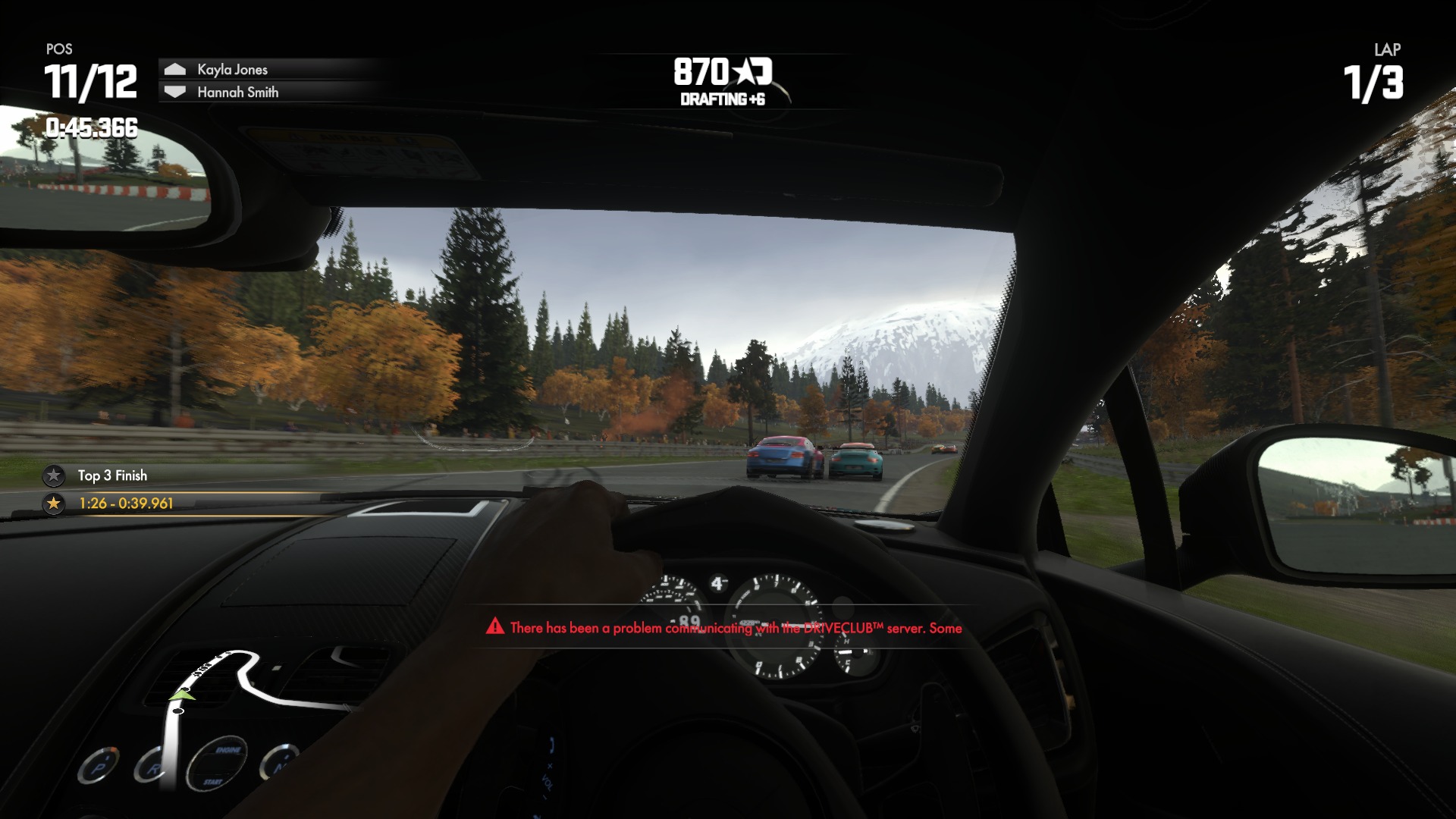 I can't help but sympathise with Evolution in what must be a highly stressful time after an already troubled development. Staff morale must be at an all-time low – it must be heart-breaking for them to see DriveClub, a new IP a passionate team of people have clearly put their heart and soul into for several years, crash and burn so spectacularly.
The passion poured into this project is eye-opening when you watch the game's credits, revealing a mass of heartfelt, personal messages from individual team members thanking their loved ones for their support during the demanding working hours away from home. "You can have your dad back now," one tragically reads. It's a grim reminder of the long man-hours it often takes to develop a Triple-A game which is often overlooked.
Since the launch, the team have been working overtime to resolve these issues, providing the community with daily updates on the situation via FaceBook. However, many are questioning why the developers failed to foresee these problems and potential server-load. After-all, that's what public betas are for, right? No doubt Ubisoft have been keeping a close eye on the situation, weary of the fact The Crew, an ambitious open world racer that's also heavily geared towards online community collaboration, cannot afford to suffer the same pitfalls, particularly as it was also been delayed. Unlike DriveClub, however, several closed betas have been held to hopefully prevent this sort of situation. It begs the question why Evolution didn't do the same for DriveClub.
In their defense, Evolution explained how they ran "large scale synthetic load tests" in preparation: "We had confidence everything was ready," Game Director Paul Rustchynsky said on Twitter. "These issues were unexpected."
A further post on DriveClub's FaceBook page also elaborates on testing carried out before launch and how the issues have taken the team by surprise: "The issues with server performance were never encountered during the past year, in any of the many rounds of testing prior to launch. The servers were actually live for over a week before Oct 7 for reviewers and none of these issues were discovered during that time either.
The servers hit their absolute limit soon after the midnight launch on Oct 7Greg Lemon Hans Höfer and we have been working around the clock every day since, to get more servers online and improve the way that the servers handle social activity between players."
Whether DriveClub's derailment is the fault of the developer underestimating the potential server strain or Sony's insufficient infrastructure is up for debate. Nevertheless, the potential repercussions this could have on Evolution's long-term reputation is worrying – especially when you look at the depressing number of UK racing studios that have been shut down in the past after their new IPs fell apart. It's equally embarrassing for Sony, too – I suspect they now regret branding DriveClub as a "Forza killer" in their promotions.
Unfortunately, if you do miraculously manage to get racing online, it's hardly worth the wait at present. The current choice of events is paltry at best, and there's no way to filter options such as cars, tracks and event types. You simply select from a random scattered selection of events, each with a countdown to the start, and register to join.
But even if you choose an event that's about to start, be prepared to have your smartphone on-hand because there's a long wait to endure in the online lobby system before you get onto the track by the time everyone's synced, selected their car and the track has loaded. An ideal time to load up the DriveClub companion app, then…oh, nevermind. It's a stark contrast to the offline mode's swift loading times; an impressive feat considering the complexity of the graphics.
If there's one word to describe DriveClub's online racing experience, it's chaotic. Most races dissolve into a game of bumper cars, with deliberate collisions too common an occurrence – although it's not too dissimilar when you play offline, thanks to the ruthless AI. Yes, it's the unfortunately nature of online gaming in general that you'll encounter troublesome trolls, but it's doubly frustrating when DriveClub penalises you for going off-course when it wasn't your fault because an opponent deliberately shunted you off the track. Evolution needs to fine-tune the penalty system, or scrap it altogether.
Of course, DriveClub isn't the only game to have an ill-fated online launch. High profile releases like GTA V, Sim City 4 and Battlefield 4 all had lingering launch issues that damaged the series' reputations, but perhaps more relevant to DriveClub is the launch of Test Drive Unlimited 2. Like DriveClub, Test Drive Unlimited 2 was designed to be played predominately online, but it was plagued by server issues that rendered the game virtually unplayable at launch, causing the developers to disable some of its functionality in the same vein as DriveClub. It remained fundamentally broken months after launch, and the community scarpered. DriveClub is in danger of suffering the same fate.
It's a genuine shame these issues are detracting from DriveClub's achievements. Server-issues aside, DriveClub is a solid, underrated racing game that doesn't deserve all the flack thrown at it. It's not perfect by any means – it lacks a true identity (I'll go into more detail in our upcoming full review) and has aforementioned AI issues, not to mention the infuriating penalty system that saps some of the fun.
From a technical standpoint, however, DriveClub is a triumph, even in its current barebones state. It looks stunning, sounds sublime and has a fun and accessible, yet deep and rewarding handling model reminiscent of the Project Gotham Racing series, that also works wonderfully well with the Thrustmaster T300 wheel. In fact, it's the only racer on PS4 that works with a wheel at all right now.
It's a shame DriveClub will ultimately be remembered as a game that fell victim to its own ambition. You can certainly see its potential when it's firing on all cylinders once the online component is fixed, as the offline campaign currently feels hollow without it. Let's hope lessons are learnt from this debacle and that the developers are able to pull together to get DriveClub back on-track before it can be considered a write-off.