There's no doubting that Spike Engine gave WRC 3 the graphical makeover the series sorely needed. And yet Milestone still needed to improve the overall presentation in order to give WRC3 a unique sense of character that would make it stand out from the crowd.
"We tried to simplify the navigation menus and make them more intuitive," Milestone's Lead User Interface Artist Luca Fadigati explains. "We also decided to include photos of the driver in the car selection. This way we can push the license more and give the player the feeling they are driving an official rally car."
But it's WRC3's alluring artwork that truly stands out amongst the host of interface improvements: navigating through the menus reveals a series of lavishly detailed rally car paintings that instantly impress.
To achieve this, Milestone enlisted the talent of Andrea Del Pesco, a local Italian artist who started his career back in 1996 where he worked as a designer at Disneyland Florida publically performing classical and modern Italian Renaissance art, before graduating at the Academy of Fine Arts of Brera.
Since then he has amassed a prolific portfolio of distinctive oil paintings specialising in wildlife and automotive art that led to him winning the Prix Arte Mondadori in 2008, an annual art competition held in his hometown of Milan.
Andrea has also recently produced work for a local sports newspaper and appeared in numerous exhibitions and TV guest slots, but Milestone's WRC3 marks his video game debut. "While we were collecting references for the game, we browsed a collection of DVDs from a sport newspaper which had nice illustrations of rally artwork," Lead Designer Matteo Pezzotti recalls.
"We thought these were very beautiful so we managed to contact the artist to get them to bring a rally atmosphere into the game. I'm quite satisfied with the result. It's something that has never been used in a video game so we're very proud of this."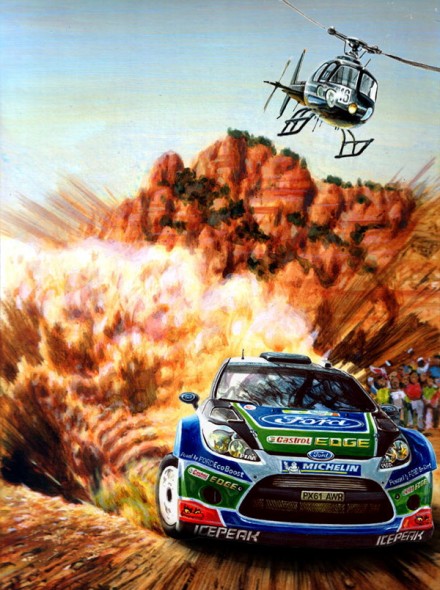 "We worked with the famous Italian artist Andrea Del Pesco who has a big background in racing illustrations. He had already done a lot of artwork with racing disciplines such as bikes, cars, F1 and of course rally," Luca explains.
The entirety of Andrea's outstanding work can be viewed on his personal website, which includes a comprehensive section dedicated to his rousing motorsport artwork spanning vintage and contemporary Formula One, Rally and Biking.
You can tell this is a man who is an avid fan of Formula One: standout pieces include prestigious paintings of Gilles Villeneuve's 1982 Ferrari 126 C2, Ayrton Senna's 1986 Da Silva Lotus 98T and Fernando Alonso's current Ferrari F2012. In 2009 he also created the poster for the World Bugatti Rally held in Maremma.
Andrea's consistently high standard of work and his connection with the world of motorsport has even led to him meeting top-tier racing drivers such as Michael Schumacher, Eddie Irvine and Roberto Locatelli.
"We decided to work with Andrea because we loved his style. We worked together and the final result is impressive in the menus," Luca continues. "The style of illustration is very deep with the contrast and details on the cars and the rally atmosphere that you can feel from the drawings that you see in the menus."
This bolder art direction was also implemented into the menu design: "We decided to use different styles of colours and very strong fonts to stand out from the previous games because we wanted to give a more intense feeling to fit the rally atmosphere."
During our visit to Milestone we were given the rare opportunity to see Andrea's original paintings in the flesh, allowing us to examine the exquisite detail applied to the isolated backgrounds and cars which you can see for yourself in the gallery below. "Andrea hand-painted the drawings. We then meshed together the designs on the PC because he painted elements like the background and the cars separately," Luca explains.
Integrating Andrea's art into WRC3 was a simple process thanks to Andrea's expertise. "Initial pencil sketches were provided so that Milestone could provide feedback on the details and sense of speed. Once we approved thm, he drew the background and cars on separate canvases before they were meshed together in Photoshop. No additional editing was required since Andrea provided a high level of detail."
As a final touch, several variations of WRC3's cover art were produced for different regions. "For the covers, we asked Andrea to make a different version of the car so we can use it for different countries. We tried to push the license more and use the famous driver of each region." Germany therefore has the new Volkswagen Polo R gracing their cover, whereas France and the Netherlands have a Citroen DS3 and the UK, Italy and Spain are represtented by a MINI John Cooper.
And so we reach the end of the road of our tour on WRC3's development. We hope you enjoyed the ride – here's a recap of the previous parts of our extensive interview with Milestone:
Milestone interview: "Our vision is now more complete with WRC3"
How Spike Engine has transformed WRC3
WRC3's Challenge mode explained: "DiRT doesn't have the rally authenticity that we have"
Check back soon for the final lap in our full review of WRC3 along with more coverage on the Vita version.