Despite being the fifth game in the series, WRC 5 was the first game to be developed by French firm Kylotonn Games who now specialise in racing games. Their first foray into the WRC series was a steep learning curve for the developer, who had the unenviable task of developing all assets from scratch in just 18 months.
Kylotonn recruited several racing game veterans to work on the WRC series, including Game Director Alain Jarniou whose previous experience includes VRally 3 and the Test Drive Unlimited series. "WRC 5 was a big challenge," Jarniou tells us during a recent visit to their Paris studio. "We had to develop many things from scratch such as the graphics and physics engine."
When designing the environments for WRC 5, Kylotonn decided not to utilise previous developer Milestone's existing assets. "We produced all the countries of the championship, which meant lots of different environments and hundreds of kilometres of stages. It was a huge amount of work."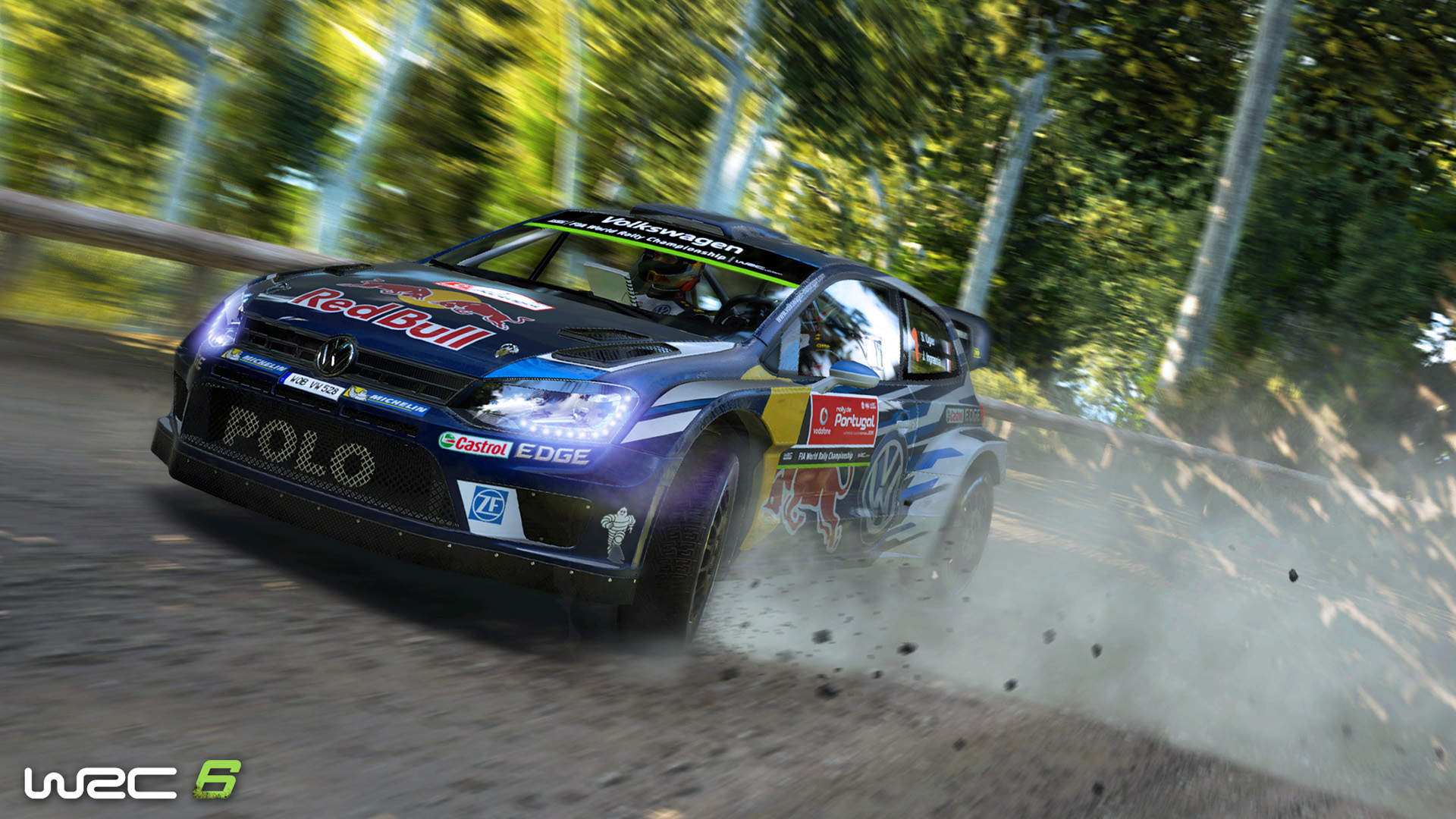 Despite the limitations, WRC 5 was a fun, accessible rally game and an impressive achievement considering it was Kylotonn's first attempt. There were, however, several nagging issues that left room for improvement: the graphics were dated, the handling was simplistic and the stages were unrealistically wide and not very challenging. For Jarniou, these were the key aspects that needed improving to take WRC 6 to the next level.
Fan feedback from WRC 5 influenced many of the design decisions in WRC 6. "That was our starting point for WRC 6 because WRC 5 was our first big racing game so we had a lot to learn. We listened to feedback and we've tried to enhance everything that needed to be improved in WRC 5 and make it better in WRC 6."
The first thing you will notice is that the special stages have been redesigned in WRC 6 with longer, narrower and bumpier roads, and the result is a more realistic representation of the real life locations. "People were saying the roads were too wide and it was too easy to cut through the edge of the road. So we worked on this and changed the shape of the roads," says Jarniou.
Dips on the edge of the road are no longer flat in WRC 6 and there are more track-side obstacles such as protruding rocks and trees which make corners less easier to cut and add to the sense of danger. "You don't want to put a tyre out of the road because it's too dangerous. As the roads are narrower you have to listen to your co-driver more and be more cautious about your driving which is a more realistic rallying experience."
However, unlike Sebastien Loeb Rally EVO the special stages in WRC 6 haven't been scanned to replicate the real stages. Instead, they're fantasy stages inspired by their real life counterparts. Kylotonn know their limitations -scanning all 14 locations simply isn't practical for an annual series with limited development time.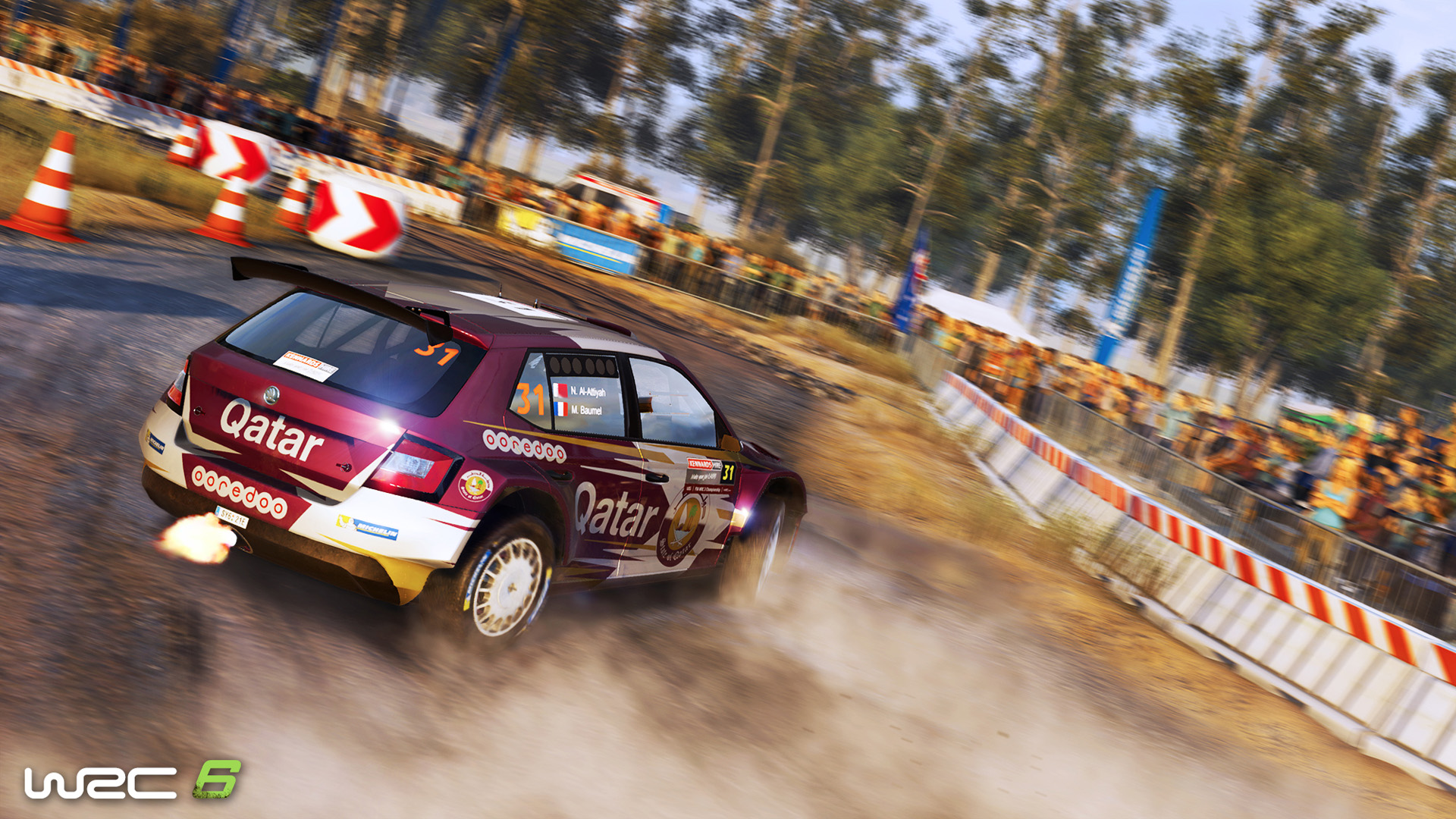 Jarniou doesn't think the technology is advantageous for an officially licensed rally game, however. "We are using this technology in another project at Kylotonn," he hints. "It's great technology for the Super Special Stages we made in 1:1 scale, but we don't really need it for special stages because it takes too long. Instead, we reproduced some of the well-known sights of each country. You want to feel like you're in Sweden or Monte Carlo – that's what is important. The technology is interesting but I don't think it's important for a rally game. I think the gameplay is more important."
There have been plenty of enhancements under the bonnet, too. The vehicle dynamics in WRC 6 have been improved so you get a better sense of the car's suspension and weight when driving with a wheel of pad. "There are lots of parameters to manage with the handling engine," says Jarniou. "In WRC 5 we did a first version of it and we found many flaws and things that we didn't manage too well. This time we added those parameters and tweaked a lot of them to make it more realistic."
WRC 5's physics were often quite glitchy, but this is no longer the case in WRC 6. "If you make a mistake you don't have the sense that it's a mistake from the game engine but your own driving. The driving experience in WRC 6 is much better than it was in WRC 5."
Kylotonn consulted with real rally drivers to make the driving physics more authentic in WRC 6. "There are drivers in the championship who are big gamers," Jarniou explains. "We had the chance to get them in the studio to try the game. They played WRC 5 and then played the first version of WRC 6's new handling and they could really tell the difference. They would say: 'This is like what I feel when I am in my car. That was not the case in WRC 5 but now I can feel the weight shifting when I brake.'"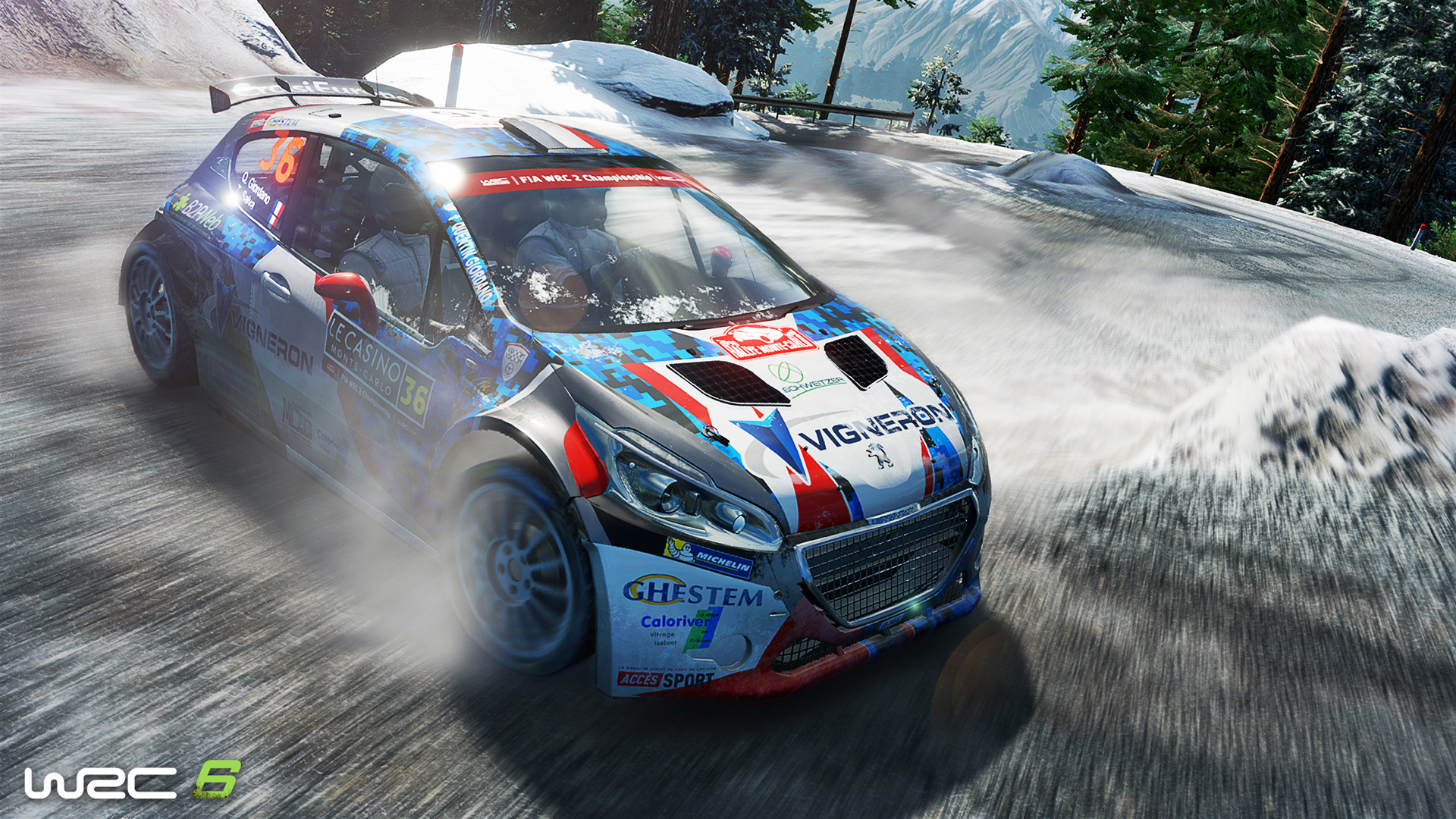 Following his involvement during development of WRC 5, WRC3 champion Sébastien Chardonnet returned to Kylotonn, using his experience to advise the team how to further improve the car handling in WRC 6. "I started to work with Kylotonn Games and BigBen for WRC 5 in the middle of the development of the game so most of the game was already done," says Chardonnet. "For WRC 5 I did a bit of everything because the time was quite short until we started working on WRC 6."
"We worked with Sébastien a lot together to get his advice on what was happening in the car to get something that is more realistic," says Jarniou. "He worked closely with the programmers and showed us how the car's behaviour is affected by parameters like the suspension and weight change which is very important. Sébastien is also a mechanic which helped us develop vehicle handling that's very coherent."
Crucially, the way the car reacts to surfaces such as tarmac, gravel and snow is more realistic than it was in WRC 5 thanks to Chardonnet's input helping the team set up the cars for each condition. "With rally, when you drive in snow, gravel or tarmac the cars are completely different to drive," he explains.
"The pedals, dampers and suspension settings are all completely different in real life. My big target for WRC 6 was to get three different handling cars for the three different surfaces like in real life. It was a big challenge but now we've improved it and the studio now has a better understanding about rallying and how it should be in the game."
https://youtube.com/watch?v=aZbW7tdEo7Y%3Flist%3DPLm6s2R0xIGY6UegNOQCEkh5QVipIdBsad

Indeed, you're more likely to lose control if you aren't smooth with your inputs when driving with a wheel without assists, but this is still a forgiving drive compared to the punishing experiences of DiRT Rally and Sebastien Loeb Rally EVO. The handling is responsive and it's relatively easy to catch a slide thanks to the improved handbrake control. WRC 6's driving physics strike a good balance between authenticity and fun – something that is essential for a licensed rally game trying to attract a broad range of players. DiRT Rally, this is not.
Of course, during Milestone's WRC game reign there were no direct competitors in the rally game market. Things are very different now, though, as WRC 6 will be competing with Milestone's Sebastien Loeb Rally EVO and Codemasters' seminal DiRT Rally.
Despite being one of WRC 6's main competitors, Jarniou has a lot of respect for Codemasters' achievements. "DiRT Rally is quite impressive. It's a very good rally game made by passionate people. But Dirt Rally is maybe too hard for many people. I think more people can play WRC 6 than DiRT Rally but you can get something that is quite hard and simulation-like if you push your driving in WRC 6."
"We have something that's easier to get into and lots of countries that DiRT Rally doesn't have: we have 14 countries of the championship whereas they only have six so we have more diversity, plus the official cars. This makes WRC 6 special in terms of handling and content compared to DiRT Rally."
"Today if you talk to drivers or gamers who like simulation games they will say the reference one is DiRT Rally because the physics are incredible. They spent three years developing that game. It's only been two years since we started WRC 5," says Chardonnet.
"For WRC 6, we had eight months to completely rebuild the game, so it was a really short time. If we do another version of WRC then this version will be further improved because every day we learn and try to do different things. It's just a question of timing. I have a lot of ideas for the dynamics and physics of the car. My target is to do something like in real life."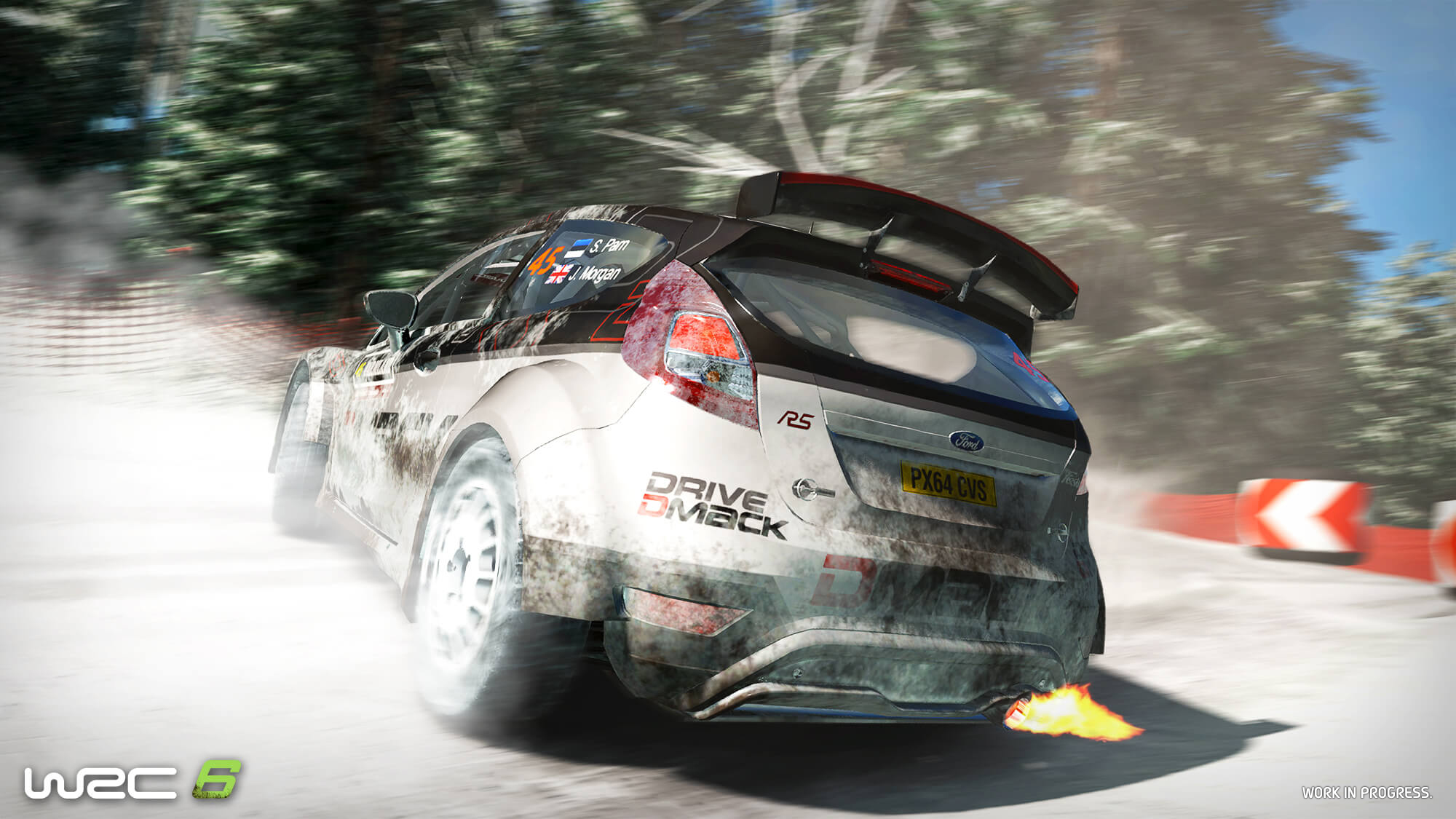 "DiRT Rally is 100% simulation. Our game's aim is to listen to people who like simulation, who like real rally and get the feeling like it is in reality. But there are also some gamers who just don't know rally games or racing games. When they play WRC 6, they should be able to drive it and go from the start to the finish line. Of course they will crash a few times but we can't do something that's really difficult. It's a very big compromise between what we can do, what simulation fans want us to do and the best thing to do for all players."
Being a licensed game representing the 2016 World Rally Championship, WRC 6 doesn't feature the extensive range of rally cars found in its competitors. However, this has allowed Kylotonn's Lead Vehicle Artist Stéphane Cambier to improve the accuracy of the existing car models for WRC 6. "We improved the shading of the car so it now looks like a shiny metal – before it was a bit glossy plastic-looking," he explains.
The Hyundai i20 and Volkswagen Polo have been rebuilt from the ground up because Cambier wasn't happy with some of the vehicle designs in WRC 5. "In WRC 5 the Polo's spoiler was different and not accurate, the wings on the side were not good and the front bumper was too square. It's very smooth on the real car. It was less accurate, but it was as accurate as we could at the time considering WRC 5 was made from scratch and we were new in the business so it was hard to spend a lot of time. The Citroen DS3, Ford Fiesta and Skoda Fabia have been improved too."
WRC 6 also benefits from a new dynamic deformation system that makes the damage more realistic compared to WRC 5. "In WRC 5 it was pre-rendered and imprecise – you could hit on one side of the bumper and the other side would get damaged which was not very good. So we finally used a physics rendering system so now if you hit on the left side the damage is on the left and not on the right, so we have something more realistic. It's completely dynamic. Everything is deformable."
Cambier also explained that development of the damage system took up almost the entire production time of the game. "Even on the last few days we were still working on it. We have ideas how to improve it that we couldn't do but will probably do for the next game. It's always going to be a work in progress."
Visually, WRC 6 is a significant step up from WRC 5. Running in crystal clear 4K resolution on PC, the improvements were clear to see: environments have been noticeably spruced up with more detailed textures, there's a richer variety of trackside vegetation and crowds are denser which makes the stages more atmospheric. You also now see competitor's pull away at the start of each stage, but they don't appear to be true staggered starts, unfortunately.
On PS4 and Xbox One, there was a drop in fidelity as you would expect, but the graphics still looked defined in the lower resolution and the frame rate seemed smooth on the stages I played, but Jarniou confirmed that the console versions run at a variable frame rate between 30fps and 60fps as with WRC 5. A locked frame rate would probably have been more ideal, particularly as WRC 5 suffered from noticeable slowdown on some stages.
Developing WRC 6 exclusively for current-gen platforms has allowed Kylotonn to push the hardware further than before. "In WRC 5 we had to manage the PS3, Xbox 360 and PS Vita versions as well as PS4 and Xbox One. We had to make compromises to get something that could run on the lower-gen consoles," says Jarniou. "WRC 6 has only been developed for the PS4 and Xbox One and PC so we can push the graphics and performance. We enhanced the graphics engine in many ways. The lighting, shadows, polygon management, the draw distance – everything has been improved."
"The technology for the roads has also been improved – there are now multiple layers so it's more realistic. Nearly everything has been improved in the visuals for WRC 6. You can see the graphics are clearer and sharper and have more ambience so it's more realistic. If you put WRC 5 and 6 side by side you will definitely be able to tell the difference."
According to Kylotonn, 95% of the audio has been reworked for WRC 6. It's fair to say the cars sound less artificial and more aggressive, but they still don't match the authenticity of DiRT Rally's masterful audio design.
I noticed co-driver pace notes are more accurate in WRC 6 (they were often too late in WRC 5) thanks to a new system devised by Sébastien Chardonnet and you can switch between simple and advanced commands, but it's still obvious the recordings have been cut and pasted rather than recorded specifically for each stage which disrupts the flow.
Sadly, WRC 6 will be the first game in the series since WRC 3 not to be released on the neglected PlayStation Vita handheld. "Obviously the Vita is the least powerful console so this is where you have to make the biggest compromise," says Jarniou. "It's a similar kind decision when you stop development for the PS3. I know that people who have a Vita want more games for it, but it's the platform where you have to apply the most compromises so we stopped developing for it as well."
Jarniou still looks back fondly on the Vita version of WRC 5, however. "We got good feedback on it. It was a big challenge to make the game fit on the platform, but I think it's a good Vita version," he says. "I think this kind of platform deserves its own development. It's not easy to get something that works on PS4 and get the same result on the Vita. With a PS4 you have so much power in terms of physics and graphics that it's very hard to scale it down to also run on Vita. It would be great to set up a project using assets or the driving engine from a game like WRC 6 but make it specifically for Vita. When you want to share too many things from those two platforms it's very difficult to get something good on the Vita."
As for the career mode, WRC 6 looks to continue in a similar vein to WRC 5. "We got good feedback on WRC 5's career. In WRC 6 you have to start in Junior WRC and get to champion in WRC. We've enhanced everything that happens in your team. You will get objectives that will also have an influence on the morale of your team. You feel more involved with the team than before."
Despite Kylotonn's focus on improving the old assets, there's plenty of new content in WRC 6 as well. Chief new addition is the inclusion of 11 Super Special Stages (five of which can be played head-to-head as in real life) which have been faithfully reproduced in WRC 6 in 1:1 scale. Set predominately in atmospheric cities and stadiums, these purpose-built courses provide a different challenge with their tight bends, narrow sections and close head-to-head matches where two cars compete on different tracks to set the best time. "It's a very cool feature in WRC 6. I'm very proud of it," says Jarniou.
"Super special stages are short stages in big cities so people can come to see the rally in their town. They are smaller stages so we could produce them in 1:1 scale – they are exactly the same as in reality. It's the same scale of roads so the stages are more difficult in the game because they are the same as they are in reality, so you can compare your time with the real drivers on those new stages."
The Rally China also makes its debut in WRC 6, but the bland design of the mountain tarmac course looks somewhat sparse and uninspired compared to other more developed locations. Ironically, the Rally China was added to the official calendar this year for the first time since 1999, but had to be cancelled due to storm damage – WRC 6 is the only way you can experience it this year.
Split-screen was another surprise announcement in an era where local multiplayer is becoming extinct. It runs smoothly in WRC 6 in time trial special stages with ghost players and competitive head-to-head Super Special Stages. "We haven't had split-screen in the WRC series for a very long time so it was important to add it," says Jarniou. "We have had to tweak the visuals because we have to calculate two images instead of one so we had to optimise the code to get good performance and frame rate."
Following its successful debut in WRC 5, eSports will be returning to WRC 6 and will be more accessible this time. Launching earlier this year in January to coincide with the WRC calendar both as DLC and a standalone release, eSports has been very successful venture for Kylotonn and has kept players returning to WRC 5. The competitive nature of eSports made it a natural fit for WRC. "We got very good feedback for the eSports in WRC 5," says Jarniou. "It was paid DLC before but this year it won't be the case – we want the maximum number of people to play eSports in WRC 6."
"The schedule will be the same time as the actual rally like in WRC 5. We worked closely with the ESL and they did a very good job and were very responsive with the players. We're still going to have weekly challenges. This year in WRC 6 we'll have a hardcore challenge every week and an easier challenge at the same time each week."
I also had a chance to experience WRC 6 in VR using the Oculus Rift headset and came away impressed, if a tad dizzy. Despite not being able to use the wheel whilst playing in VR and relying on a controller, the level of immersion was heightened. It took some adjusting, but driving felt more natural with the ability to look out the window and I started to look into corners instinctively.
Unfortunately, WRC 6 won't support VR at launch. At this stage it's essentially a tech demo, but consumer reaction to VR will determine if it ever gets released commercially according to Jarniou. "We have the technology and some stages are already working in VR. But it takes a lot of time to develop, so we want to see if people are interested in the technology before going further. I don't think anyone knows if it will be a success or not. It's maybe not for everyone – it's an experience that not everyone can have without feeling sick."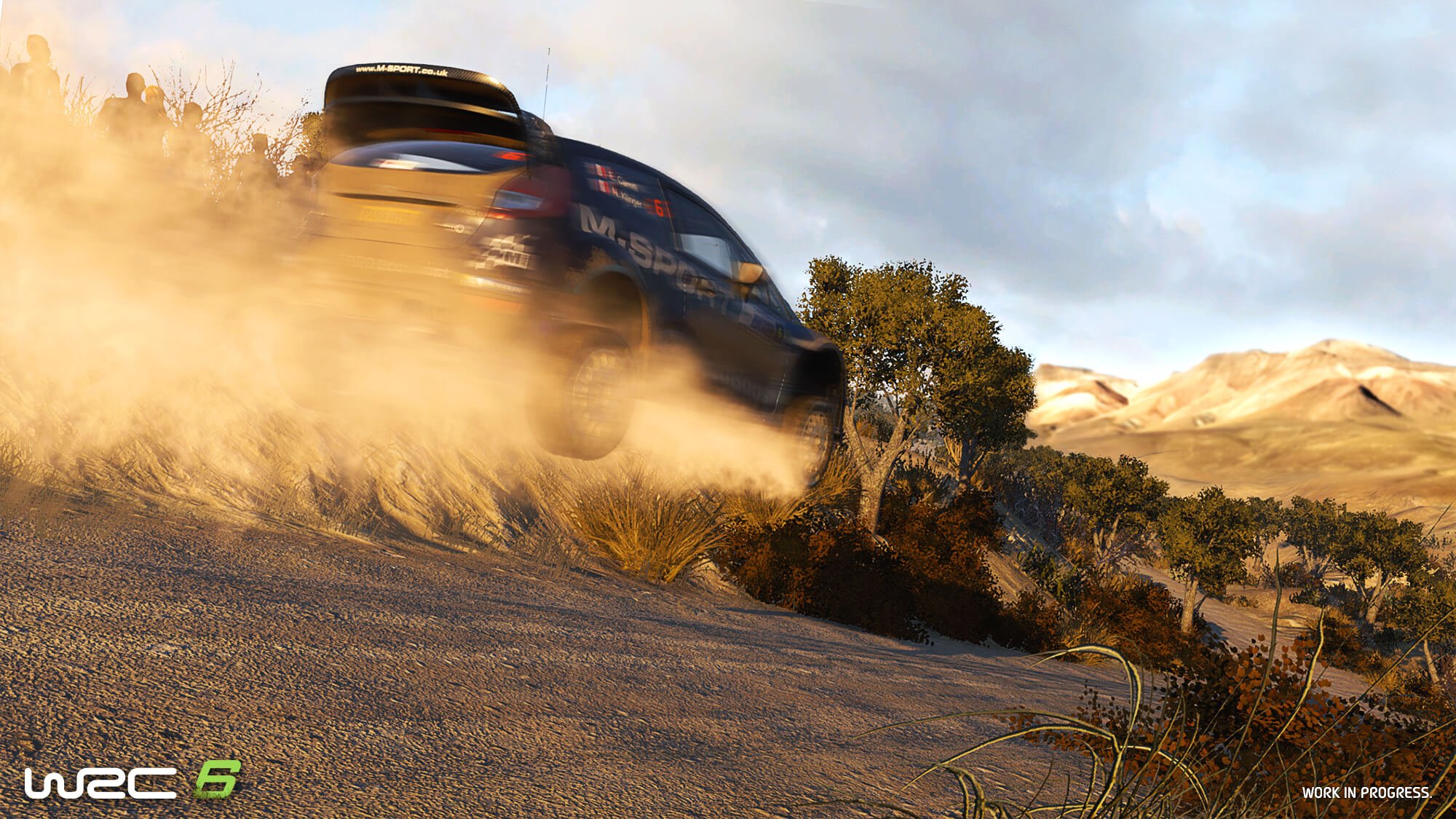 "VR is a very difficult technology to work with. It's very important to have a very good frame rate and good balancing so that people don't feel sick, so it's something you have to do properly and spend a lot of time on it."
"We could launch the full game in VR but we have to check that every level and every weather condition is able to run in a consistent frame rate. To get good performance everywhere in all conditions would take a lot of time and optimisation. No-one has the same configuration on PC, so we don't want them to have a bad experience. WRC 6 is a really big game. That's why we need to be sure a VR version is a good step."
Looking ahead, Kylotonn also plan to support PS4 Pro, as Jarniou confirmed that WRC 6 will benefit from improved resolution and performance. "It's not 60 frames guaranteed but it's a better frame rate. In Pro it won't be native 4K but it's better than normal HD resolution. You can see there are more pixels. It's a good enhancement."
It's encouraging to see just how much Kylotonn has managed to achieve in such a short space of time in response to fan feedback. WRC 6 is shaping up to be a very solid package that improves on the foundation set by WRC 5 in every conceivable way, from the visuals and stage designs to the car handling, while new features such as the Super Special Stages and split-screen mode elevate WRC 6 to the next level.