Another month passes, and another DLC pack for Forza Motorsport 4 has been announced. This time, it's the 'August Playseat Car Pack', which will be released during - yep, you guessed it - August. More specifically, August 7th on the Xbox Live Marketplace for 560 Microsoft Points.



As always, the pack comes with ten new cars from across the genres of motoring, whether they're small British roadsters or modern sports coupes, right up to the latest muscle cars and homologation specials.

We've got a brief summary of each car in the Playseat pack below. Enjoy!

1962 Lincoln Continental


Bit of a spoiler here, but the Lincoln Continental is the 'black sheep' of this month's pack - whereas all the others have a sporting element to them, the Lincoln Continental is by quite some margin the most cumbersome car to be offered in this DLC.

Still, we can't fault Turn 10 for choosing one of the definitive American land yachts of the 1960s, and quite possibly one of the most iconic luxo barges of all time. After all, it just oozes cool, and we're hoping that, if the trailer is anything to go by, it'll be a right hoot to drive!

1962 Triumph TR3B


In 1962, British car maker Triumph was worried about the possibility of the TR4 being a sales bomb, with no one finding it to be an appealing ownership prospect (it actually ended up being a huge success, with over 40,000 being made). So, to keep the cash rolling in, Triumph kept the TR3 in production for a bit longer in 'TR3B' guise.

In essence, the TR3B was a standard TR3 with a few alterations to the way the bodywork and bits of trim were attached, and the same syncromesh gearbox and 2.1 four-cylinder engine with 105hp that came from the TR4. And remember, it weighs less than 1,000 kg, so it should also be quite a nice car to thrash about.

Of course, we should also point out that this is just the latest in quite a long line of post-war back-to-basics British roadsters to be released as DLC in Forza 4, so maybe it's about time we start comparing them all...

Peugeot 205 T16


Group B rallying is, by quite some margin, one of the greatest racing series of all time, and certainly the best defunct one. Not only did we get loads of fantastic drivers trying to tame 600hp+ monsters, but thanks to the homologation rules, we also got fabulous road going versions of the cars that would regularly spit flames and powerslide on rally stages. And one such machine was this: the Peugeot 205 T16.

The brainchild of Jean Todt (yes, the same Jean Todt who was once the Ferrari F1 team boss and now leads the FIA), the road going T16 was sadly no where near as exciting as the rally car it was based on - though it shared the same 4WD and mid-mounted turbocharged four cylinder motor, the road cars only came with 200hp. In contrast, the rally cars were lighter, and had over double the power.

Still, it's nothing a few trips to the Tuning Shop and Livery Editor can't fix, and in a matter of moments, you can have an in-game replica of Juha Kankkunen's former company car.

1989 Mercedes-Benz Sauber C9


We're being a bit nitpicky here, but we'd like to point out that the Sauber C9 wasn't a car that (initially, at least) debuted in 1989 - the C9 had in fact debuted two years earlier, with mixed results, especially during 1987. That said, the German/Swiss joint venture was considerable more successful in 1989, so that would explain why Turn 10 chose that particular moment in time.

And by successful, we truly mean successful. Thanks in part to a redesigned 5.0 turbocharged V8, the C9 ended up winning all but one race in the '89 season. Thankfully for the team, that one race wasn't the 24 Hours of Le Mans, so there was the extra bragging rights with that.

This particular C9 is also important, in that it holds the fastest speed ever recorded at the French track - as it hurtled down the Mulsanne straight during qualifying, it reached an officially verified 247mph. Many people say that the ballistic pace of the C9 in a straight line lead to the introduction of the chicanes, so if that is the case, it also ensured its record will stand for eternity.

2003 Aston Martin DB7 Zagato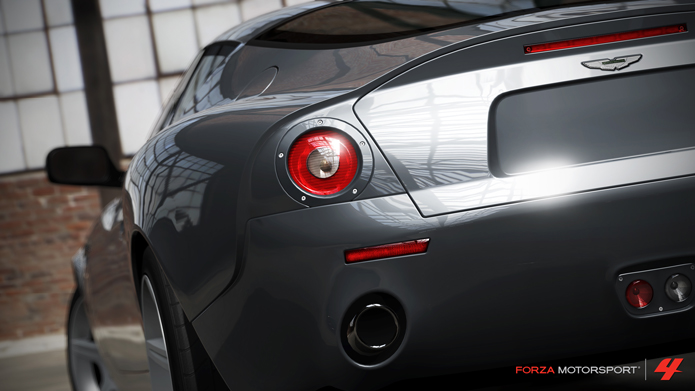 Aston Martin has had a very long history with the Italian design house Zagato, with collaborative portfolio between the two being bookended by the sublime DB4 GT Zagato and the latest V12 Vantage Zagato. Right slap bang in the middle, though, is this: the DB7 Zagato.

Based on a shortened version of the DB7 V12 Vantage (so was a few kilos lighter than the donor machine), the DB7 Zagato came with, along with a unique exterior and interior design, a 450bhp 5.9 V12, a wider rear track and enough performance to worry a Vanquish. It also had the price tag to worry a Vanquish, as each of the 99 made (not including the extra one made for Aston Martin's own collection) were sold for £160,000 a pop.

So, for many people, unless you live near the Aston Martin Museum or know someone who owns one, the DB7 Zagato's inclusion into Forza 4 is the closest quite a few people will ever get to seeing one in person.

2012 Chevrolet Camaro ZL1


Fans of muscle cars will know that the ZL1 tag is quite an important one in the history of the Camaro. One of the all-time icons of the NRHA Super Stock drag racing series, just 69 of these monstrous machines were ever built, and a 'replacement' would have to be more than worthy enough to be associated with such an esteemed name.

Thankfully for Chevrolet, that seems to be the case, and not just because the new ZL1 is, with 580bhp from a supercharged 6.2 V8, the most powerful road going Camaro ever. The Chevy engineers were also very focused on making sure the ZL1 could handle the corners properly, and be a match for the greatest performance cars on the planet.

If you think that's just GM being all talk and no trousers, remember the Camaro ZL1 was able to set a 7:40 lap time around the Nurburgring. So, yeah, it's quite a solid piece of kit.

2013 Ford Mustang Boss 302


You know we just said the ZL1 tag is one of the most highly regarded names in the lore of muscle cars? Well, here's another one: Boss 302. In the world of Trans-Am racing, hardly anything could touch the 'school bus yellow' Stangs as they roared and rumbled around the great race tracks of North America.

Much like the ZL1 (though we will stay that Ford got their first), the new Boss 302 is a homage to the original, though unlike the Chevy, the Boss actually makes an effort to resemble the car it's imitating. Not only are there the decals and such, but the new Boss 302 has been honed for track work, and has been hailed by many to be the best modern American performance car.

Of course, in regards to pure stats, the Ford is outgunned by the Chevrolet so, unless the new 660hp Shelby Mustang arrives, you'll need to spend a short while upgrading the pony car if you're participating in a drag race against a ZL1.

Hyundai Genesis Coupe 3.8 Track


Over here in the UK, the most performance orientated Hyundai on sale is the Veloster. On the other side of the pond, though, things are quite different, as the flagship performance Hyundai of the Americas is the Genesis.

The one chosen to be rendered in Forza 4 is the pinnacle of the range, coming with the 'Track' trim that seems to only bring with it a rear spoiler, and a 3.8 V6 with 345bhp. Oh, and it's rear wheel drive and comes with a manual gearbox, so it has all the makings of a very good performance car.

And, of course, New Zealand-born racer Rhys Millen used to compete in drift tournaments in prepped pre-facelift Genesis coupes, so we'll be stunned if something with that much power going to the back can't spin the rear tyres up as stock!

2013 Lexus GS 350 F-Sport


Despite the fact Lexus has made many class leading performance cars, such as the LFA and IS-F, the Japanese firm still isn't a company you'd associate with going fast. But that image is slowly changing, with the introduction of models such as the GS F-Sport slowly eroding the perception of sensibility that lingers on.

This spec of GS does have quite a few attributes that make it stand out from most other Lexus models. For starters, it's rear wheel drive (always a good sign if you want your car to be sporty) and comes with a 305hp 3.5 petrol V6 that DOES NOT come with a bolted-on hybrid system. It's also got a few F-Sport trinkets such as a unique bodykit, so it looks fairly athletic as well.

Whether or not it'll be any fun in the game is another kettle of fish, though we'd be quite stunned if A) it's the worst Lexus in the game and B) it doesn't make a good drifter once you start fiddling with the engine.

2013 Scion FR-S


When the Scion FR-S made its gaming debut on Gran Turismo 5 a short while ago, we all knew it would only be a matter of time before Turn 10 would release it in Forza Motorsport 4. And, woe and behold, here is the Scion sports car in all its Boxer powered glory.

The stats of this car have been said so many times that it's highly likely you know of them already, but in case you don't know, here's a quick run-through of what makes the FR-S such a fresh piece of thinking: not only does it share the tyres used by the Prius and a reworked version of the 2.0 flat-four 'Boxer' engine from the Subaru Impreza, but it also has the lowest centre of gravity of any sports car on sale and, Scion claims, aims to 'put the fun back into driving'.

Of course, you're also most likely aware of the fact that the Scion FR-S is a rebadged Toyota GT86, which in turn is a version of the Subaru BRZ. So, much like the real car, it may end up being the case that we wait ages for this new sports car to arrive in a racing game, and three identical variants turn up in quick succession!